When farmers, families and besieged Hillsboro residents gather this evening for a public hearing on a controversial permit proposal by a coal company to build a second 77-foot-high high hazard toxic coal slurry impoundment within city limits, the stakes will go beyond the threatened health of this iconic central Illinois farm town.
Overwhelmed by one of the biggest coal rushes in the nation, led by an absentee coal baron from West Virginia, Illinois citizens will be facing a rogue state division in the Office of Mines and Minerals/Department of Natural Resources that has lost any local or statewide confidence in the application of appropriate safeguards in the design, construction, and inspection of coal mines and high hazard coal slurry impoundment dams.
In effect: As the nation watches once again the mind-boggling spectacle of a notoriously gutted, biased and inept state agency, the blatant subversion of democracy is at stake this evening -- along with the health and welfare of a small farm town and its surrounding areas.
"The location of the second impoundment is disastrous," said Mary Ellen DeClue, a long-time resident and respected mine whistleblower, who has testified and attended public hearings in her area for years. "I didn't think any location could be worse than that of impoundment # 1 situated in the watershed of Old Hillsboro Lake, but impoundment # 2 is even a greater concern."
The concerns of Hillsboro residents are hardly unfounded for the second high hazard coal dam, which will stretch 10,800 feet and have an impoundment capacity of 8,500-acre feet. Earlier this spring, only days after record rain fall and flooding in central Illinois led to a state of emergency, the federal Office of Surface Mining Reclamation and Enforcement released part of a study of similar coal slurry impoundments in West Virginia, the majority of which failed to pass required standards. In addition, a recent study by the non-partisan Downstream Strategies found that Illinois loses $20 million annually to maintain the state's coal industry. In essence: Coal is not only too dangerous, but too costly.
According to DeClue and members of local Citizens Against Longwall Mining, Hillsboro Energy's permit # 424 fails to answer a slew of unanswered regulatory questions, and would compromise the health and safety of the community and threaten farmland and water resources.
"The proposed second impoundment is too close to city residents, the first impoundment, and active mining," DeClue added. "Failure of the impoundment will produce tragic loss of life and property. The second impoundment will cover a considerable area of abandoned mine workings. Has there been a careful study to prevent any breakthrough from this impoundment? What methods were used to determine the exact size, depth, water content, stability of the mine voids below the impoundment?"
Here are maps of the proposed impoundment inside Hillsboro's town limits: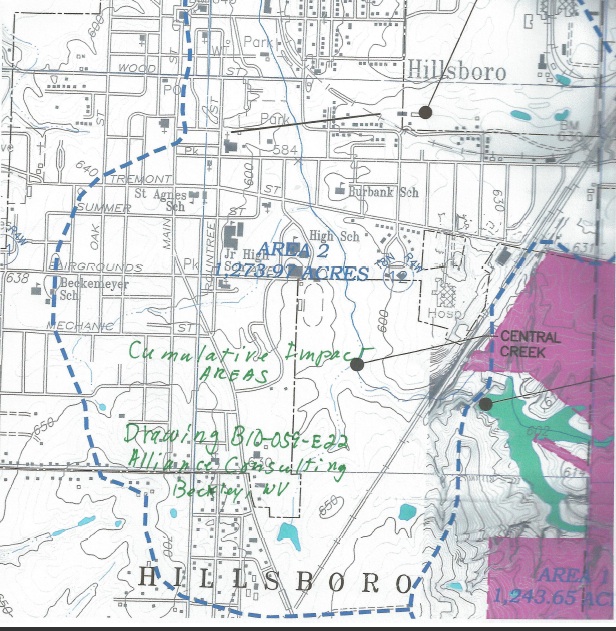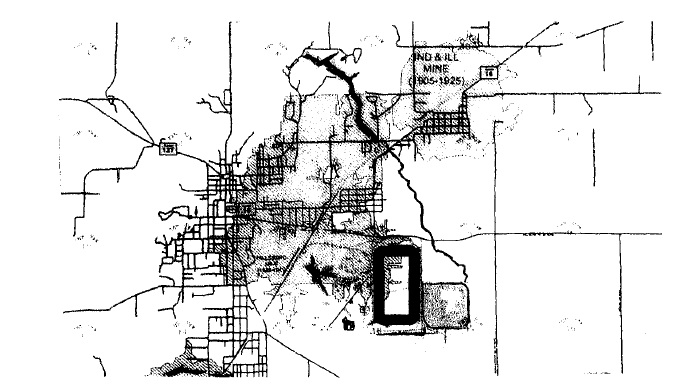 Two years ago, the same rogue Illinois agencies attracted national attention--and federal agency scrutiny--for the shameless way in which they rammed through a violation-ridden high hazard dam in Hillsboro.
Tonight: The besieged residents of Hillsboro--and the deeply rooted farmers in the surrounding areas--desperately need help from law enforcement officials, public interest organizations, farming groups, and community rights activists.
And they're not alone: Residents dealing with the toxic fallout of coal mines, coal slurry and unenforced land reclamation disasters across the state of Illinois--from eastern Murdock, to central towns of Banner and Canton, to my own stripmined Eagle Creek in Saline County--have appealed for help in dealing with the rogue actions of the Office of Mines and Minerals.
Once again, the time has come for intervention by Illinois state Attorney General Lisa Madigan and federal enforcement agencies.
Once upon a time, the Illinois Department of Natural Resources was charged with the mission "to manage, conserve and protect Illinois' natural, recreational and cultural resources, further the public's understanding and appreciation of those resources, and promote the education, science and public safety of Illinois' natural resources for present and future generations."
If there ever was a moment for someone to file a historic writ of mandamus--"to command a public official to perform some ministerial nondiscretionary duty in which the party seeking such relief has established a clear right to have it performed and a corresponding duty on the part of the official to act"--now is the time.
Just a little over a decade ago, with Illinois' collapsed high-sulfur coal industry languishing in the pits of irrelevance, the state unable to compete with the Powder River Basin in Wyoming or central Appalachian mining areas despite massive Illinois welfare and subsidies, Turris Coal Company president and eventual Illinois Mining Institute president Roger Dennison made a desperate appeal that "somebody has got to help Illinois coal."
Dennison's underling at Turris Coal--Scott Fowler--must have heard his boss loud and clear.
In the 1990s, Dennison and Fowler worked closely together to mine coal and even co-sign contracts to sell coal to the City of Springfield. Dennison and Fowler are still selling coal to Illinois politicians in the Springfield capital--this time, though, Fowler is on the inside of a state agency.
Within a year of Dennison's appeal for "help," Fowler would eventually become a Division Supervisor at the Illinois Department of Natural Resources in the Office of Mines and Minerals, and literally oversee various permit hearings and procedures for Dennison, who became head of the new Hillsboro Energy mines.
Has Fowler or the IDNR ever made a public disclosure of any conflict of interest for the very person intimately part of the permit process for the state's coal mines?
Here's a screen shot of Fowler and Dennison's coal sales as business mates in the 1990s: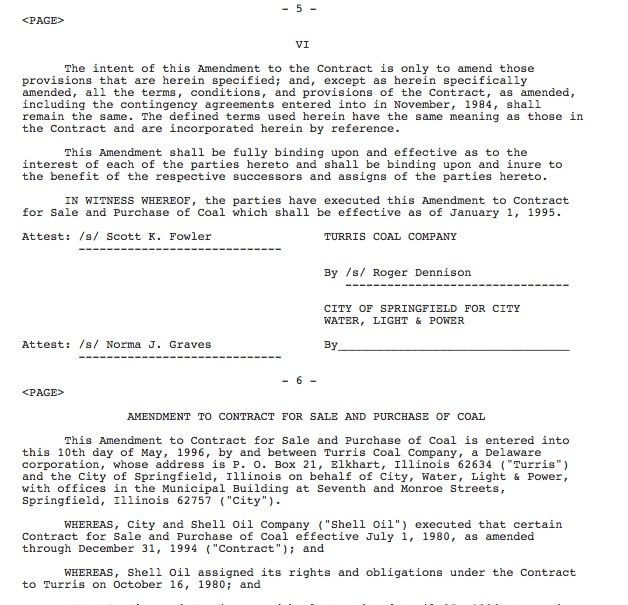 If there ever was a moment for citizens groups and environmental organizations in Illinois to join other states, such as West Virginia, and file a formal administrative law petition with the Federal Office of Surface Mining Reclamation and Enforcement (OSMRE) to terminate Illinois' approved regulatory role and implement a federal regulatory takeover--now is the time.
In the meantime, the nation will continue to watch if democracy--and the health and safety of farmers and town residents--will prevail in Hillsboro tonight.
Popular in the Community