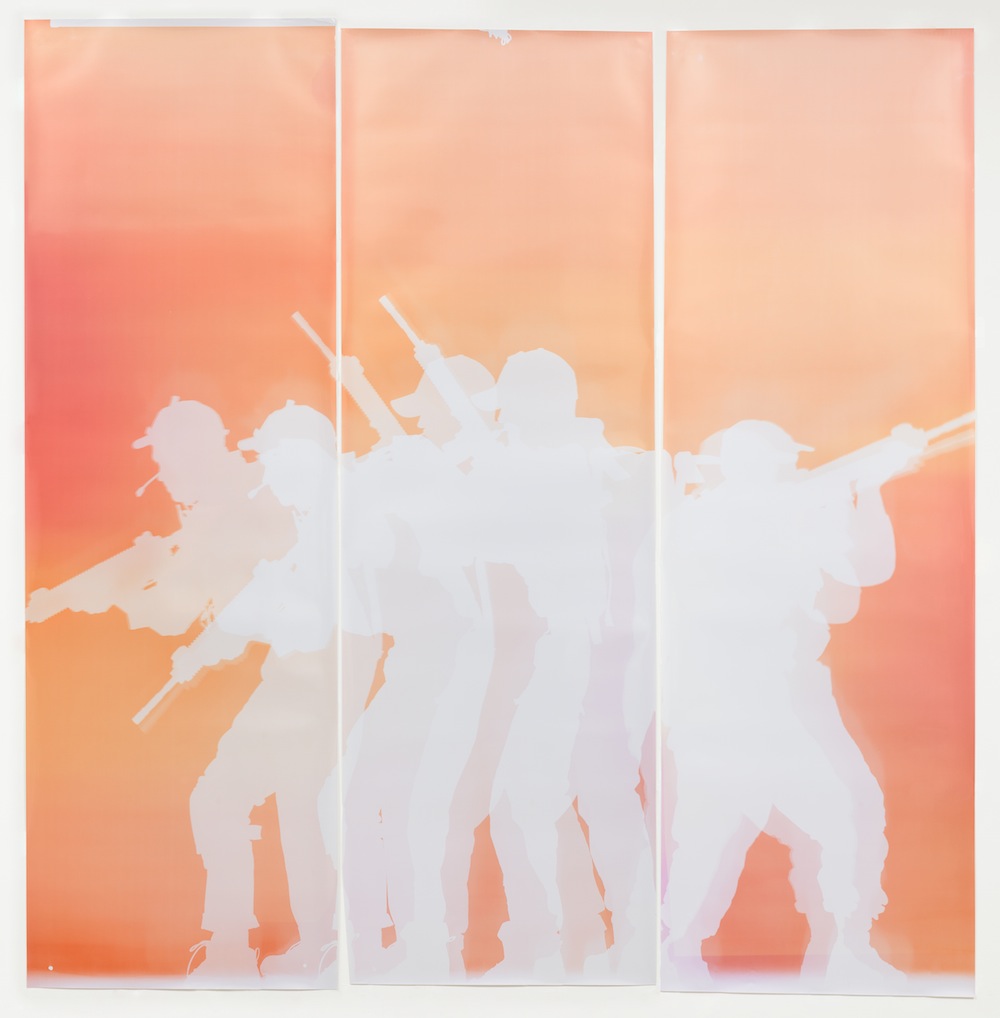 Farrah Karapetian, Muscle Memory, 2013, unique chromogenic photogram (from performance), Three panels, each: 108 x 35 in. (274.3 x 88.9 cm)
Rogue Wave was initiated in 2001 as a group survey exhibition examining Los Angeles-based artists. This is the fifth group exhibition in L.A. Louver's ongoing program. Co-curated by the gallery's Chief Preparator Christopher Pate and Founding Director Peter Goulds, this exhibition includes 15 artists whose work encapsulates the vibrancy and excitement of art being made in Los Angeles today.
"At the start of this millennium," notes Peter Goulds, "I invited Chris to co-author an exhibition program at L.A. Louver which intended to reflect upon the emerging artists of Los Angeles. For this project, it was important to me that we stay open, and not be influenced by age, creed or gender, medium, experience, exhibition history or, by way of contradicting my opening maxim to this introduction, word of mouth!"
Here are five of the 15 artists featured in Rogue Wave 2013.
Farrah Karapetian | Merging sculpture and photography, Farrah Karapetian stages elaborate, life-sized photograms that ghostly silhouette soldiers in the midst of combat, accompanied with a display of military weaponry cast in resin.
Karapetian received her BA in fine art from Yale University (2000) and her MFA from the University of California, Los Angeles (2008). She has been a MacDowell Fellow (2010) and an artist-in-residence at the Wende Museum and Archive of the Cold War (2009) and earned a Creative Capital | Warhol Foundation Arts Writers Grant for her blog Housing Projects (2012).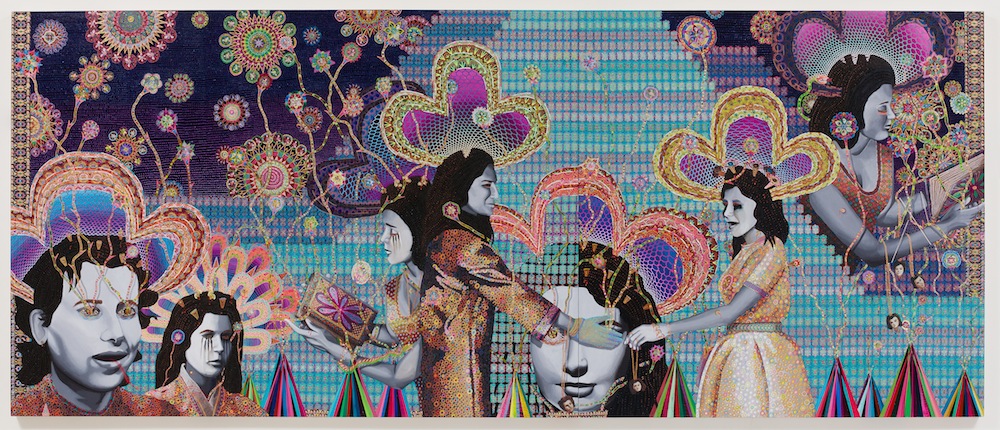 Asad Faulwell, Les Femmes d'Alger #28, 2013, acrylic, oil, paper and pins on canvas, 60 x 144 in. (152.4 x 365.8 cm), signed, dated, and titled in ink, verso. Copyright Asad Faulwell, image courtesy of L.A. Louver.
Asad Faulwell | In his paintings, Asad Faulwell pays reverence to the unsung female freedom fighters who took arms against the French occupation of Algeria in the 1950s and 1960s, adorning them with elaborate motifs and collage elements reminiscent of Moroccan and Persian textiles.
Faulwell graduated from UCSB in 2005 and Claremont Graduate University in 2008. While at Claremont he was awarded a Joan Mitchell Foundation Grant. His work is featured in many private and public collections including The Oppenheimer Collection at The Nerman Museum of Contemporary Art in Kansas City, The Rubell Collection in Miami and The Franks-Suss Collection in London. His work has been shown at Nerman MOCA, University Art Museum-Long Beach, Wignall MOCA, Nassau County Art Museum, Kravets/Wehby Gallery, L.A. Louver, Lawrie/Shabibi Gallery and Marc Selwyn Fine Art among others.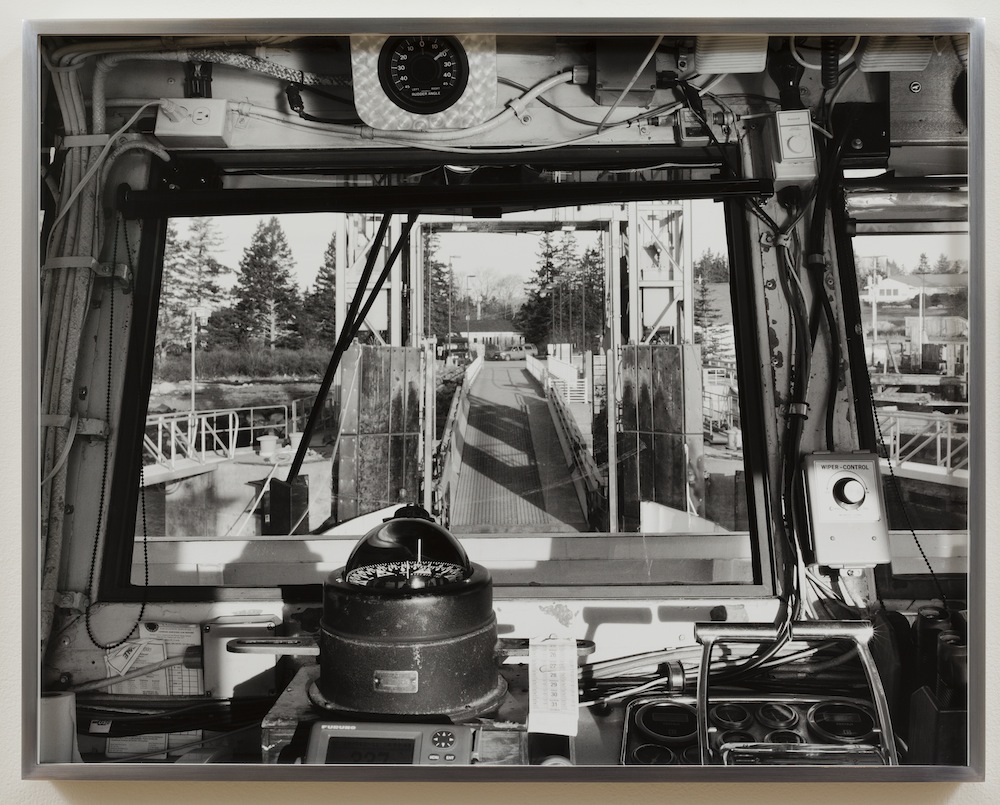 Peter Holzhauer, Wheelhouse, 2012, gelatin silver print 17 1/4 x 22 in. (43.8 x 55.9 cm), Framed: 17 5/8 x 22 1/4 in. (44.8 x 56.5 cm), Edition 1 of 6 signed, dated, and numbered, verso. Image courtesy of L.A. Louver, copyright Peter Holzhauer.
Peter Holzhauer | Holzhauer's black-and-white, exquisitely crafted photographs document fragments of the personal, the textural and the urban, with sensitive visual acuity.
Holzhauer received a BFA from the Art Institute of Boston and MFA from the University of California, Los Angeles. He is currently a member of the Adjunct Faculty, USC Roski School of Fine Arts, Intermediate Color Analog Photography and Digital Photo Studio.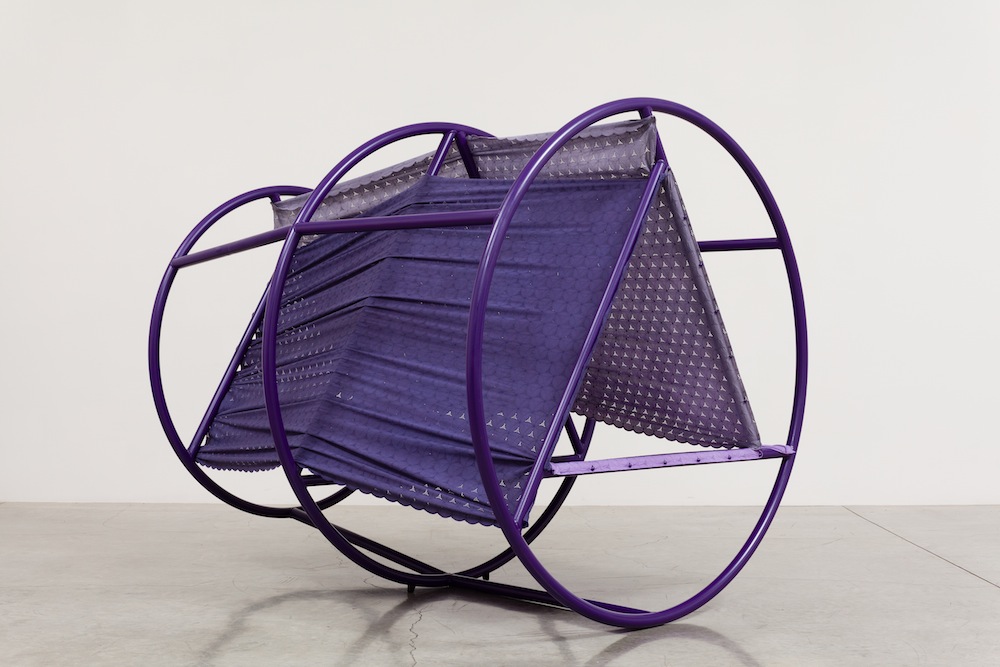 Ashley Landrum, I Know What I Said. Or Whatever, 2013, steel, fabric, paint, fabric dye, 63 x 74 x 63 in. (160 x 188 x 160 cm). Copyright Ashley Landrum, image courtesy of L.A. Louver.
Ashley Landrum | Sculptor Ashley Landrum fabricates minimal geometrical structures of wood and metal tubing, with segments concealed by patterned steel panels and fabrics.
Landrum received her BFA from Art Center College of Design in 2008 and her MFA from UC Riverside in 2010. She has recently shown at Autonomie, Durden and Ray, and Andi Campognone Projects. Landrum currently lives and works in Los Angeles.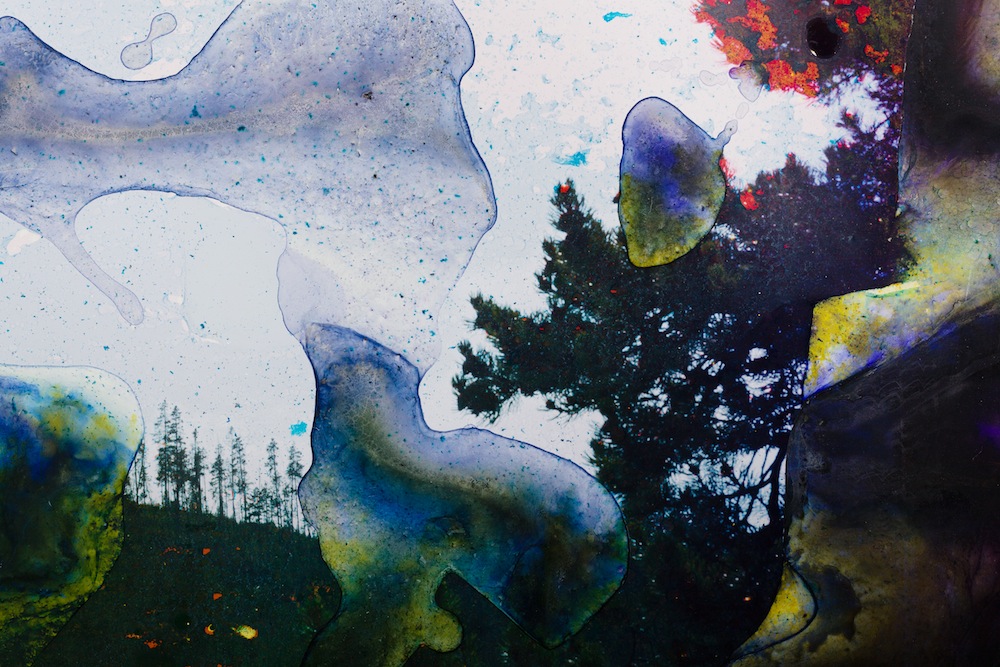 Matthew Brandt, Rainbow Lake WY G1, 2013, c-prints soaked in Rainbow Lake water, 12 works, each framed: 22 1/8 x 32 1/8 in. (56.2 x 81.6 cm), signed, titled, and dated, verso. Copyright Matthew Brandt, image courtesy of L.A. Louver.
Matthew Brandt | Photographer Matthew Brandt pushes the chemical processes of the darkroom and commercial printing to dramatic effect by incorporating water sourced directly from his landscape subjects.
Matthew Brandt received his BFA from Cooper Union in 2004 and MFA from the University of California Los Angeles (UCLA) in 2008.
During Rogue Wave 2013, L.A. Louver will host weekly artist talks every Thursday night at 6:30 pm, providing visitors the opportunity to walk through the exhibition spaces with the artists, as they speak about their work. Reservations are recommended. Please RSVP to (310) 822-4955 or rsvp@lalouver.com.
For the most comprehensive calendar of art events throughout Los Angeles go to Artweek.LA.
Related
Popular in the Community