More than half of the Rohingya refugees who have fled violence and repression in Myanmar are children, UNICEF announced Tuesday.
UNICEF estimates that of the more than 330,000 refugees who have crossed into Bangladesh since Aug. 25, 200,000 are children. More than 1,000 of them have been identified as unaccompanied, and the organization expects that figure to rise.
"The first thing you see here in the different Rohingya camps is the large number of children," Jean Lieby, UNICEF Bangladesh chief of child protection, said Tuesday in a statement.
The types of threats they face, Lieby said, are endless. They're weak and hungry. They're exposed to numerous diseases. They're traumatized and in need of psychological protection. Mothers aren't giving birth in safe environments.
Conditions for Rohingya children within Myanmar's Rakhine state are no better. The World Food Program estimated in July that 80,000 Rohingya children under the age of 5 will suffer from acute malnutrition in the next year.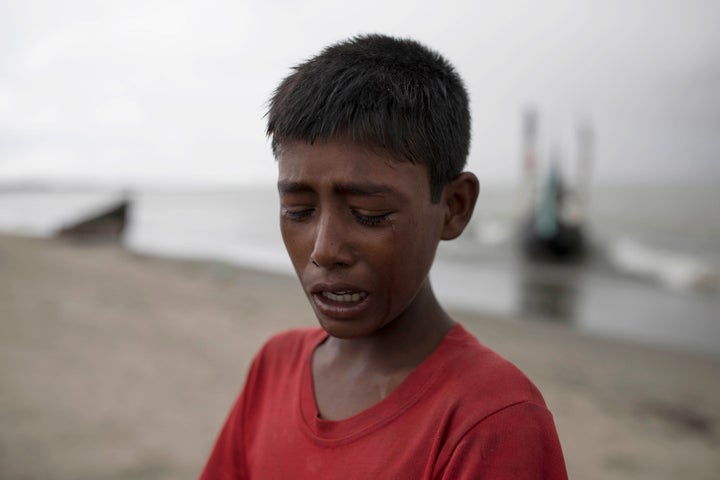 Tensions between Myanmar's government and the stateless Rohingya population date back to the 1970s but have reached alarming levels of intensity in recent years. The government now systematically cracks down on the Rohingya in response to militant attacks.
U.N. Human Rights Chief Zeid Ra'ad Al Hussein on Monday went as far as to call the crisis a "textbook example of ethnic cleansing."
Bangladesh, meanwhile, is struggling to cope with a mass influx of refugees in a compressed time period.
"Just to give you an idea: 220,000 people entered Bangladesh in only 6 days ― between 4 and 10 September," Lieby said. "We have no indication that this influx will stop soon. This is a growing humanitarian crisis and children are at the heart of this crisis."
UNICEF has opened a supply hub in Cox Bazar in southern Bangladesh, but is appealing for more assistance.
Myanmar's de facto leader, Aung San Suu Kyi, has remained conspicuously silent on the crisis. She canceled a planned trip to the United Nations General Assembly in New York this week, with her office citing ongoing terror attacks.
The U.N. Security Council plans to meet Wednesday to discuss the situation.
Popular in the Community