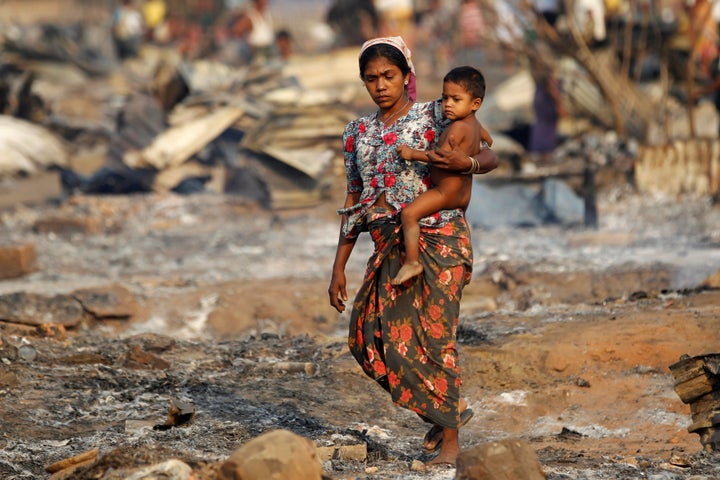 Devastating reports of growing violence against a Muslim minority group in western Myanmar have prompted humanitarian groups to call for urgent foreign intervention, even as Myanmar's government denies the mounting allegations.
The Rohingya people have long been victims of ethnic and religious discrimination in Myanmar's Rakhine state, where they have limited rights and are classified as illegal immigrants rather than citizens. Hundreds of people were killed or displaced in riots between the Rohingya and Rakhine Buddhists in June 2012, and more deadly clashes followed.
Communal tensions, coupled with decades of government repression, led the Rohingya militant group Harakah al-Yaqin to kill nine Myanmar police officers on Oct. 9, 2016, prompting the army to retaliate against Rakhine Muslims. On Nov. 12, 2016, Harakah al-Yaqin militants killed a senior army officer and further heightened hostilities.
The army has responded to the Rohingya insurgency with gruesome acts that the U.N. says may amount to crimes against humanity, and has already pushed more than 66,000 Rohingyas into neighboring Bangladesh. Many are living in makeshift camps where there isn't enough water or sanitation facilities for the growing number of refugees.
Harakah al-Yaqin reportedly has ties to Saudi Arabia and Pakistan. As The New York Times points out, some analysts fear the group could draw foreign jihadists to Myanmar, enabling the government to intensify its brutal crackdown on Rohingyas.
A video showing Myanmar police beating Rohingya civilians surfaced this month, amid widespread reports that Myanmar security forces were setting homes on fire and killing, raping and arbitrarily arresting Rohingyas. Myanmar authorities opened an investigation and detained three officers, but reports of violence continue.
Malaysian Prime Minister Najib Razak called on other Islamic countries to help bring an end to the bloodshed, which his government has described as "ethnic cleansing" and which protesters call "genocide." Malaysia, a Muslim-majority country, is currently housing tens of thousands of Rohingya migrants.
"It is incumbent on us all to do what we can to save them from the humanitarian tragedy they are suffering," said Najib. "We call on the government of Myanmar to cease all discriminatory actions and attacks against the Rohingyas immediately, and for the perpetrators to be brought to justice."
Though evidence of targeted violence and malnutrition in Rakhine state is mounting, Myanmar officials claim the reports are false, and state counsellor and civilian government leader Aung San Suu Kyi has largely remained silent.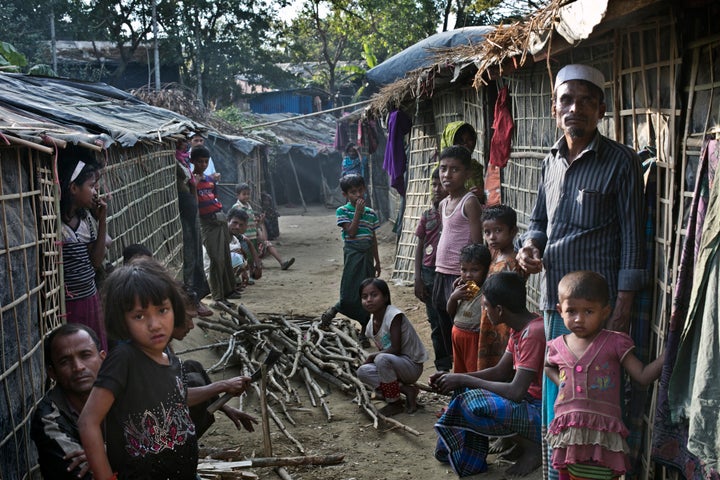 An official government report in a local state-run newspaper this month dismissed the "external allegations" of human rights abuses against Rohingyas as "fabricated news and rumors." Another article in the paper claims that media and rights groups' reports are "intentionally fabricated in collusion with terrorist groups."
The Myanmar government's defensiveness makes it "less and less credible," said Yanghee Lee, the U.N. human rights envoy who was denied access to Rohingya villages. "I must remind again that these attacks took place in the context of decades of systematic and institutionalized discrimination against the Rohingya population."
"The Myanmar military has targeted Rohingya civilians in a callous and systematic campaign of violence," Djamin said in a recent report. "Men, women, children, whole families and entire villages have been attacked and abused, as a form of collective punishment."
Calling all HuffPost superfans!
Sign up for membership to become a founding member and help shape HuffPost's next chapter
BEFORE YOU GO
PHOTO GALLERY
Muslims Hide In Myanmar