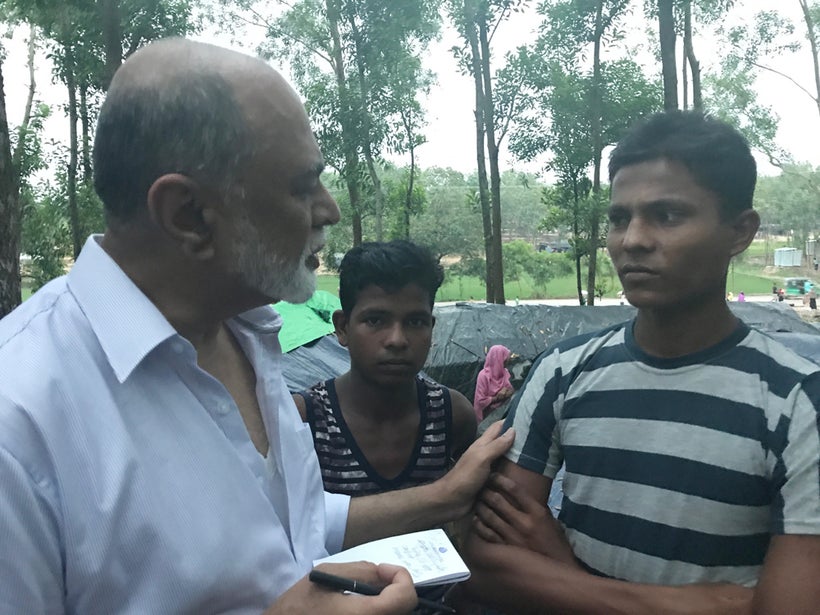 The sombre-faced 16-year-old was standing silent, as I talked to others in a narrow alley between two recently erected rows of huts at the Bangladesh-Burma border.
I asked Noor Muhammad where his hut was. He did not have one. "I just hang around the nearby TV tower." He's one of the younger survivors of the Aug. 30 massacre in Tula Toli. That's the area where 288 Rohingya villages in Myanmar were torched, as documented through satellite by human rights organizations.
In the Rakhine state of Myanmar, about 60 percent of all Rohingya villages have been destroyed. Other villages continue to be burned down on the daily basis as the genocide continues.
Noor said his mother and father were murdered, along with his four sisters and two brothers. He was the youngest, and the only survivor.
Not quite knowing what to say, I hugged him. I could feel his fast-beating heart as he sobbed.
There are thousands of parentless children and youth like Noor. They all walked, as other villagers did, for several days to reach Bangladesh. Eighty percent of the 500,000 refugees arriving in the last month have been women and children. Among the women, a United Nations survey found that 52% had been raped.
Each time I asked a group of Rohingya how many had witnessed anyone being killed, more than half raised their hands, including children. Asked who had killed their loved ones, they said, in unison: the Burmese military.
The survivors of Tula Toli village estimate that 1700 Rohingyas were killed in his village alone. That is more than half of all Rohingyas of the village. Many survivors also revealed that the Buddhist mayor of the village told the Rohingyas a day before the massacre not to worry - only their houses would be torched but no one would be killed.
The next day, however, helicopters heralded the arrival of the military, which massacres villagers as their homes were torched. They ran but were easy prey for soldiers.
Rohingyas, an indigenous people of Burma, have been living under apartheid. They cannot attend school, hold jobs, marry, or travel freely. They were citizens until their citizenship was taken away in 1982.
Since then, repeated military attacks have displaced over a million Rohingyas.
The Rohingyas are victims of genocide, as French President Macron and some other world leaders have rightly stated.
In 2015, seven Nobel Peace Laureates, at my request, issued a signed statement that what Rohingyas are facing is a textbook case of genocide. That was issued in a Burma Task Force conference at the Nobel Peace Institute in Oslo, Norway. If the world had heeded the warning then, we may have avoided this "final solution".
The world must support Bangladesh Prime Minister Hasina Wajid's request at the United Nations to establish a safe zone for Rohingyas inside Myanmar with a UN peacekeeping force.
In addition, we need a massive airlift of aid -- food, shelter, medicine, and other urgent supplies.
Finally, the refugees are in immediate and grave risk of epidemics and death due to lack of basic sanitation in the camps. I literally walked in sewage to reach different hut hamlets.
I left the Bangladesh-Burma border late September as new villages were being burned by the military. A genocide is being committed, but the world is failing to stop it.
Calling all HuffPost superfans!
Sign up for membership to become a founding member and help shape HuffPost's next chapter
This post was published on the now-closed HuffPost Contributor platform. Contributors control their own work and posted freely to our site. If you need to flag this entry as abusive,
send us an email
.