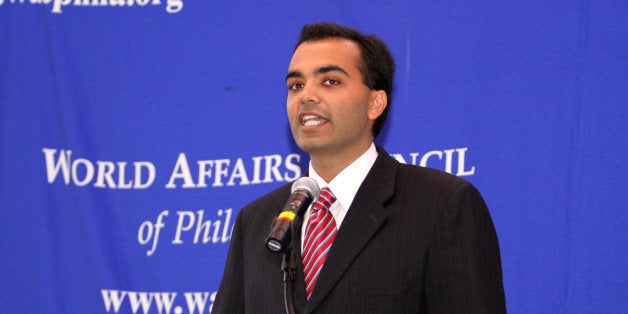 The revolving door between federal financial regulators and the industries they oversee doesn't usually spin in the direction of aiding low-income college students trying to learn a trade. But that's exactly what happened on Wednesday when Rohit Chopra, until recently of the Consumer Financial Protection Bureau, sent a scorching letter to Wall Street warning money managers about their investment in a troubled for-profit college chain.
ITT Educational Services Inc. is an Indiana-based for-profit college operator that ranks among the nation's largest, enrolling some 51,000 students at Daniel Webster College and ITT Technical Institutes across 143 campuses in 39 states, as of March 31. The company faces pending lawsuits from Chopra's former employer for allegedly swindling students on their student loans and deceiving them about their future job prospects, and from the Securities and Exchange Commission for allegedly misleading investors. ITT also faces pending lawsuits or investigations from attorneys general in 19 states and the District of Columbia.
Until Monday, Chopra oversaw student loans and campus financial products for the CFPB. On Wednesday, he joined the Center for American Progress, a Washington-based policy organization with close ties to the Obama administration and Hillary Clinton's presidential campaign. And in his letter to some of ITT's biggest investors, Chopra could barely contain his contempt for the company.
"I have serious concerns that ITT is not properly managed," Chopra wrote. "Unless investors provide more vigorous oversight over management and the board, ITT will continue to harm both its students and its shareholders."
"As it stands now, the company is not well situated for survival," he added.
The letter contains stark warnings about the value of the investors' stake in ITT and the company's ability to survive. Chopra also unfavorably compared the company to Corinthian Colleges Inc., the for-profit school chain that nosedived from an enrollment exceeding 110,000 students across 120 locations to bankruptcy and became synonymous with student loan fraud.
"Too often, company management engages in boosting short-term enrollments rather than creating high-quality programs that lead to student success. When this occurs, responsible investors must act," Chopra warned ITT's investors. "The collapse of Corinthian Colleges should serve as a strong reminder: when for-profit colleges operate a business model built on misrepresentations, students, taxpayers, and investors all lose. If investors are committed to improving programs and avoiding the same fate as Corinthian, it will be critical to take action to make long overdue fixes."
Big publicly traded for-profit schools, which are largely supported by taxpayers in the form of federal student grants and loans, have seen a sharp decline in their share prices in recent years as student enrollment has fallen and the federal government has beefed up its efforts to curtail alleged abuses.
Senate Democrats condemned much of the industry in a stinging 2012 report that effectively indicted schools for putting the interests of their shareholders above those of their students and the taxpayers who foot the bill for much of their tuition.
Federal and state regulators and Senate investigators have accused for-profit schools of misleading students about their future job prospects, improperly inflating their graduation rates, and neglecting student success to the point where schools spent more money marketing themselves than they spent on classroom instruction.
ITT's share price has fallen about 95 percent over the past five years. In addition to two federal lawsuits and the various state investigations, the U.S. Department of Education also has recently stepped up its scrutiny of the company by limiting its access to federal student aid. But the Education Department efforts haven't been as aggressive as those of the CFPB and the SEC.
Consumer advocates have been targeting the for-profit college industry for years. Last year, the Education Department said that although students at for-profit schools constitute only 13 percent of total enrollment at higher education institutions, they represent nearly half of all defaults on federal student loans.
Corinthian Colleges declared bankruptcy following a string of government actions, including a lawsuit by the CFPB accusing it of misleading students and restrictions by the Education Department on the company's ability to tap federal student aid.
Corinthian has denied the allegations against it contained in lawsuits from the CFPB and several state attorneys general. ITT has similarly rejected the allegations being brought against it. Last month, in a letter to Sen. Dick Durbin (D-Ill.), a frequent critic of for-profit colleges, ITT's chief executive, Kevin Modany, said the company "vehemently disagree[s] with the substance" of the claims made by the consumer bureau and the securities regulator.
Nicole Elam, a spokeswoman for ITT, criticized Chopra for sending letters to the company's investors.
"Mr. Chopra is apparently attempting to impact investors of a publicly traded company, having been involved with the company while in an official capacity at a U.S. governmental agency as recently as last week," she said in an email. "His letter demonstrates the common government bias against taxpaying educational institutions. The fact that he would write such a letter to investors days after leaving the Consumer Financial Protection Bureau, trumpeting mere allegations against the company, suggests also a personal bias against our institutions and an unwillingness to allow for due process to work, the cornerstone of the U.S. legal system."
"Allegations are not facts and we think our investors will not take action based on simple assertions from someone with an ideological axe to grind," she added. "Moreover, government officials who enter the private sector and immediately seek to trade on their government experience raise serious concerns involving government ethics rules and the appearance of sharp practice."
In an interview, Chopra said he has no "financial interest whatsoever" in the for-profit college sector. Instead, he's trying to urge investors to clean up a company its management and board of directors appear to have no interest in cleaning up.
"There's a false dichotomy that you need to rip students off in order to make big profits," Chopra told The Huffington Post. "I hope long-term shareholders will realize it's in their best interest to make sure students are actually getting a good education that helps them land a job and they're not being deceived in the process."
In his letter, Chopra took aim at both ITT's management and its board of directors, a body that's supposed to oversee the company's executives on behalf of shareholders. According to Chopra, neither management nor the board should be proud of their lackluster performance.
"For ITT's shareholders, share prices have fallen over 70 percent in the last year alone, prolonging a multi-year slide," he said. "Since its 2011 peak, the market capitalization has declined by over 90 percent."
"Given the poor performance by ITT's management when it comes to student success and returns to investors, it seems appropriate for shareholders to determine whether the board is sufficiently independent from management and adequately engaged in policing the activities of the corporation," he added.
Investors, Chopra said, would be well served to "ensure the board's decisions will correct the underlying cultural problems with management."
A first step could be cleansing the board of long-serving directors who have presided over the company's recent decline. Chopra noted in his letter that two of the board's three directors up for re-election at the company's upcoming annual meeting, Joanna T. Lau and Samuel L. Odle, have served on the board since 2003 and 2006, respectively.
"It is unclear why they should be rewarded with an additional term, given the immense decline in value during their periods of service," Chopra said. "Other companies have sought to avoid regulatory problems by recruiting directors with more expertise in operating higher education institutions in order to improve programs that will lead to student success. Rather than simply maintaining the status quo, investors should seek new board members who can provide necessary supervision and direction."
Chopra also urged ITT's investors to take a hard look at the ways in which the company pays its executives. The company claims Education Department rules prohibit it from using student performance as a means to determine its executives' pay. Chopra said that's wrong.
"These restrictions generally do not prohibit compensation structures strongly linked to student success factors," Chopra said. "Absent stronger incentives for management to provide a quality education and at a competitive price -- key ingredients for a sustainable long-term business model -- then ITT is likely to continue its decline, further eroding the investment of long-term shareholders."
Chopra is one of the few former CFPB officials who has spurned opportunities to represent companies that the agency regulates. Several of the bureau's former officials now work for financial companies or represent their interests at top law firms.
By targeting ITT, Chopra is effectively continuing the work he did while employed as a federal regulator.
"There's a lot more work to be done to fix our broken student loan system," he told HuffPost.
Calling all HuffPost superfans!
Sign up for membership to become a founding member and help shape HuffPost's next chapter
BEFORE YOU GO
PHOTO GALLERY
Celebrities Who Attended Community College