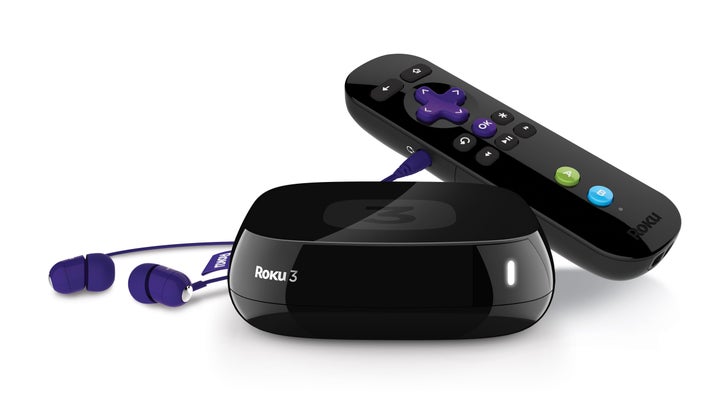 You're probably familiar with this scenario: You're lying in bed with your husband, wife or significant other, and he or she is snoring and roaring away like a fat, dyspeptic bullfrog. You're not tired at all, so you pick up the remote and turn on the television to distract yourself; but as soon as the sound from the TV kicks in, your dozing lover wakes up and curses your noisiness with much anger and groaning. You sigh, turn off the television, shut your eyes and try to will yourself to sleep.
The Roku 3 -- the latest Internet-connected streaming media box from Roku, officially announced on Tuesday night -- offers an innovative solution to this all-too-common bedroom problem. The Roku 3's remote control features a headphone jack and volume buttons on the side, so as soon you plug in a pair of earbuds, the sound from the TV mutes and plays through the remote.
This works for any content you watch through your Roku: If you pop your headphones into the remote, you'll be able to hear your program in your ears without disturbing your sleeping spouse (or anyone else in your home, either). The Roku 3 will ship with purple earbuds and will cost $99 on either the Roku website or Amazon.com.
Indeed, the small Saratoga, Calif., upstart is at war with a much larger Californian counterpart for sales in the United States. Roku executives say sales are neck-and-neck with Apple, and combined with the Cupertino giant's Apple TV make up about 90 percent of the media streamer market. With Apple's acquisition of HBO Go for Apple TV earlier this year, Roku must now distinguish itself with its larger channel lineup; its offering of video games, including Angry Birds, Wheel of Fortune and Jeopardy; and, now, the new remote control with a headphone jack.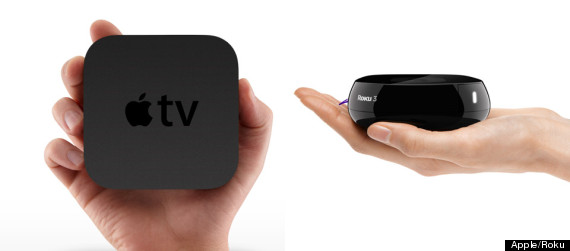 The Apple TV, on the left, and the Roku 3, on the right, will do battle again. All hands on deck! (Apple/Roku)
Apple, meanwhile, continues to fight against Roku with its elegant hardware, its exclusive connection to the widely-used iTunes store, and its easy configuration with iPhones and iPads, which allows for streaming movies from a device to the television without an app download.
The newest Roku didn't just add earbuds, of course. In addition to the nifty remote control, Roku has also updated its media streamer with a faster processor and stronger Wi-Fi for more reliable performance. The interface has also been redesigned and simplified, supplying what Roku execs said was faster and more intuitive discovery of content than on any other device.
"Some of our competitors are about as graceful as a duck-billed platypus," said Ali Vassigh, the chief designer of the new Roku interface, in a meeting last week in New York City.
You can see a screenshot of the new Roku interface -- which is presumably far more graceful than a duck-billed platypus and will also be heading to older Roku boxes through an update soon -- below, and we have many more at the bottom of this post.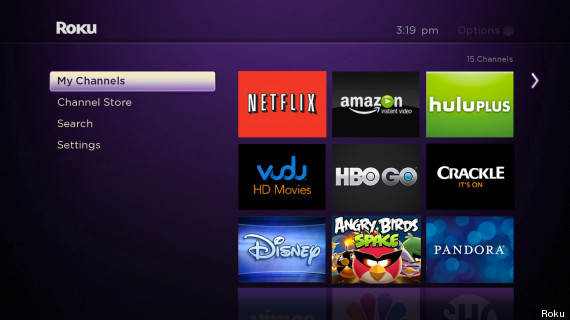 In other ways, the Roku 3 is much like the Roku boxes that preceded it: a hockey puck-sized box that connects to your Wi-Fi or ethernet connection and gives you access to several different television and movie streaming apps, including Netflix, HBO Go, Hulu Plus and about 750 others. The remote of the Roku 3 also contains a motion sensor, so that you can use it to play games like Angry Birds using your remote as a tool, much like the Nintendo Wii's Wiimote controller.
The Roku 3 will also work with the Roku app for iOS and Android, which allows a user to control the Roku via smartphone or tablet, just in case you lose that little remote. That app also lets you play photos or music (but not video) from your device through your television, similar to the way iOS devices allow you to "mirror" your content from iPhone or iPad through the Apple TV onto the big screen.
From my brief time with the Roku 3, there seems to be little reason that the newest device won't continue the company's forward momentum and solid sales against juggernauts like Apple and Google. The redesigned software is fast and easy to use, and the idea of a remote control with a headphone jack seems appealing for several non-ideal TV-watching situations, both marital and non-marital.
Those are just first, fleeting impressions, however. HuffPost will have a full review of the Roku 3 in the coming days; until then, you'll just have to watch the TV with the volume really, really low (and pinch your husband's nose if his snoring becomes unbearable). Or, if you're feeling lucky, you can order a Roku 3 for $99 from the Roku website starting now.
For more photos of the Roku 3 and its new remote control and interface, scroll through the images below: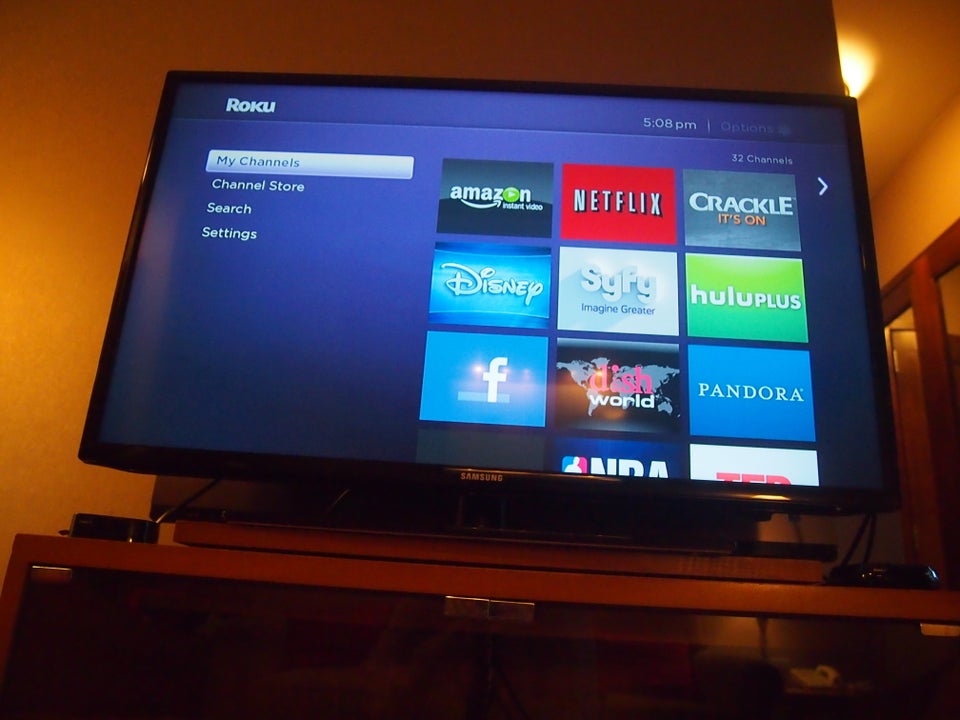 CORRECTION: A previous version of this article stated that Roku was a Canadian company; it is, in fact, an American company founded and based in California.