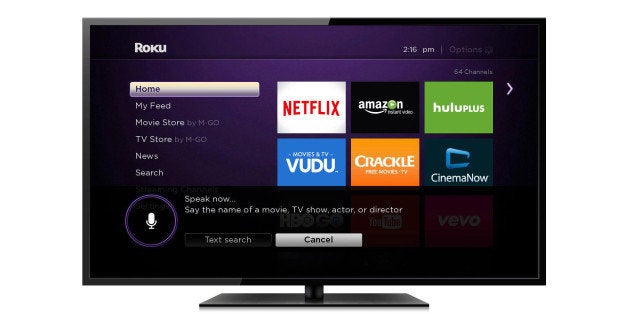 Roku has finally done something about the slow and tedious process of using a remote control to steer a cursor, one character at a time, through a grid of letters and numbers to search for TV shows and movies.
The company on Monday announced new versions of two of its streaming devices, which connect to your TV and to the Internet to let you stream video from services like Netflix, Hulu Plus and more than 2,000 other sources, which the company refers to as "channels."
The most useful new feature is the ability to use your voice to search for a TV show, movie, actor or director. This is similar to the feature that Amazon debuted on its own streaming box, the Fire TV, a year ago -- simply press the microphone button on the remote, speak a name or the title of a movie or TV show into the remote, and it will appear on the screen.
Roku's search feature works across multiple apps, meaning that if you search for a movie or a TV show, Roku will show you different apps it's available on, and how much it costs to view it. For example, "The Lego Movie" is currently available for free to people who have HBO Go, or can be purchased from Vudu, Amazon Instant Video, M-Go or CinemaNow.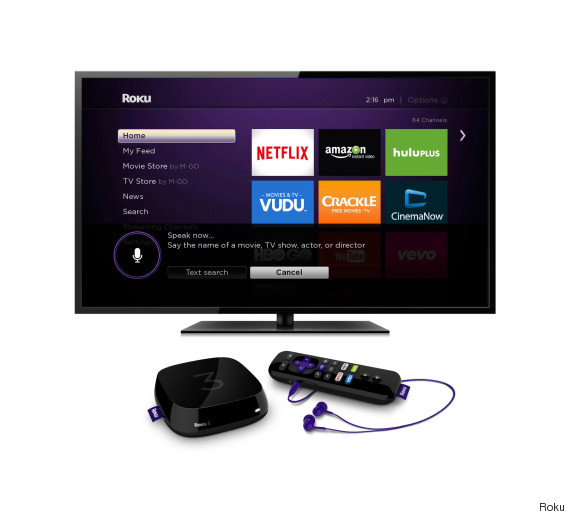 The new voice search function only comes on the latest version of the Roku 3, the company's top-of-the-line product, which costs $99.99. As with the older version of the Roku 3, customers can also use the remote as a game controller, and plug headphones into the headphone jack so they can watch a movie or TV show without interrupting others. (It's a great feature!)
Speaking of the headphone jack: One big change to the lineup is that Roku has pulled the headphone jack from the Roku 2 remote. The new Roku 3 and Roku 2 are actually the same devices on the inside -- it's just the remote controls that are different.
Roku is also adding a new feature to its menu that lets people "follow" movies. Customers can add titles to the "Roku Feed," as it's called, so they can stay up-to-date about when a movie becomes available for rental.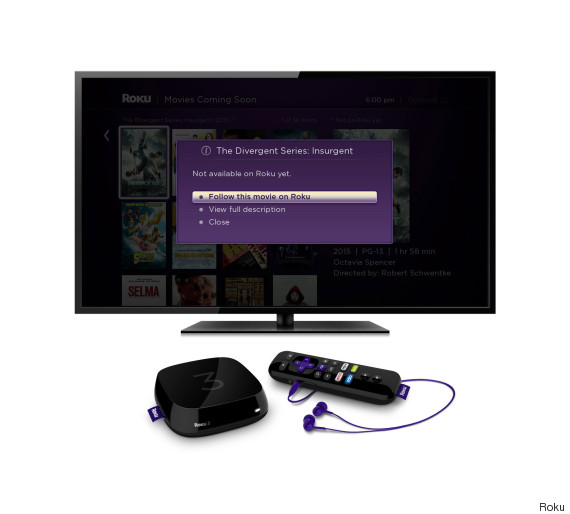 The Roku Streaming Stick, a portable and less-powerful version of the player, and the Roku 1, which is designed for older TVs, remain unchanged, though the Streaming Stick will get a firmware update that the company promises will make it faster.
Roku's refreshed products come as the company faces increased competition from the biggest tech companies. Roku was an early leader in making devices that stream video, but Google and Amazon have in the past two years released their own devices.
Calling all HuffPost superfans!
Sign up for membership to become a founding member and help shape HuffPost's next chapter