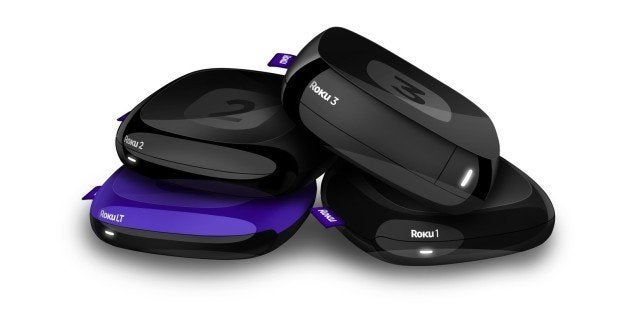 Facing increased competition from Google and Apple, Roku is trying to stay in the streaming game by refreshing its products without raising prices.
The company announced on Wednesday that it's giving its lineup of set-top boxes, which stream video from the Internet to your TV, a facelift, as well as making it easier to purchase new releases and popular TV shows.
The announcement comes as Roku faces fierce streaming competition from some of the biggest tech companies.
Lloyd Klarke, Roku's director of product management, said in an interview last week that Roku sales actually got "a bump" after Chromecast was introduced.
Roku is refreshing three of its four streaming boxes, leaving alone only its flagship Roku 3, which went on sale in April for $99. Aside from improvement to video quality and Wi-Fi range on less expensive Roku models, most of the change is cosmetic; the three new set-top boxes -- named Roku LT, Roku 1 and Roku 2 -- look less boxy and more curved, like the Roku 3.
The most significant change is the addition of a headphone jack built into the remote control of the $79 Roku 2, a feature that up to now was only available on the $99 Roku 3. This allows people to listen to whatever is on TV by plugging headphones into the wireless remote. This feature is great for those who want to watch TV while another person is asleep, working or listening to something else. It's also something that Apple TV and Chromecast don't have.
"What we're trying to do is up the feature set for each price," Klarke said.
Roku also announced a small change to its home screen, adding "movies" and "TV shows" menu items to give people a shortcut to rent or buy content. Roku is partnering with M-Go, a DreamWorks Animation and Technicolor-backed company that, like iTunes and Amazon Instant Video, rents and sells movies and TV shows á la carte.
Clicking on a movie or TV show after searching for it in one of the new menu options will take a person to M-Go's app to pay for it and start streaming. Movies purchased or rented on M-Go can be streamed on some smart TVs, PCs and iPads and Android tablets, so a person can rent something and start watching it on Roku and then finish streaming it from their tablet. While there's an M-Go app for Android, there's not yet one for iPad, so iPad owners will have to stream it using the browser.
Roku makes money each time someone buys something from M-Go, so simplifying the purchasing of TV shows and movies is in Roku's best interest. And having quick access to a catalogue of new releases and popular TV shows is something that Apple, Roku's biggest competitor, already has with iTunes on Apple TV.
M-Go is what's called a transactional video on demand service, like iTunes and Amazon Instant Video. Unlike Netflix or Hulu Plus -- subscription services that let you stream as much as you want for a monthly fee -- people pay transactional services on a per-movie or TV show basis. This is why you can rent new releases like "World War Z" and "Epic" on iTunes and M-Go, but not stream them on Netflix or Hulu Plus.
But it's unclear whether M-Go integration will actually make Roku significantly more attractive to potential customers. Jonathan Gaw, a research manager at IDC, a technology market research firm, said people typically don't buy streaming devices to watch the movies they rent or buy.
"People buy them because they want to get Netflix and then after that they find other stuff that they want to do with it," Gaw said. "There's a big psychological difference between buying or renting per download and subscribing."
"I think that's been a speed bump in the download and rent category," Gaw added
Klarke pointed to Roku's huge lineup of channels -- it now has more than 1,000, and is adding a new one roughly each day -- as what most sets it apart from Chromecast. "Content -- that's what drives everything," Klarke said.
For $15 more than Chromecast, Klarke said, you can get the Roku LT, which has 1,000 channels and a remote control.
While there's a channel for pretty much everything, from food to fitness to traveling to bowhunting, Dan Rayburn, the executive vice president of StreamingMedia.com, said most people only watch a handful of channels on Roku.
Roku doesn't release numbers, but Rayburn said "the vast majority of traffic" comes from people using Roku to watch Netflix, Hulu, HBO Go, Amazon Instant Video and sports channels.
"Nobody cares about a channel Joe Shmoe made that nobody's watching," Rayburn said.
But Rayburn emphasized that a lot of consumers want the choice, and nothing beats Roku when it comes to choice.
"Roku is the simplest, easiest [and] nicest box to use with the most amount of content," Rayburn said. "How could you not like it?"
Roku LT ($49), Roku 1 ($59) and Roku 2 ($79) are available for preorder and go on sale in October. The new boxes will come with the updated Roku home screen, and older boxes will get the update in October.
CORRECTION: An earlier version of this story misstated the share of streaming devices Apple sold worldwide last year. It was 56 percent, not 78 percent. Additionally, we have since clarified that Roku's 5 million devices sold figure reflected only U.S. sales.
REAL LIFE. REAL NEWS. REAL VOICES.
Help us tell more of the stories that matter from voices that too often remain unheard.
BEFORE YOU GO
PHOTO GALLERY
Roku Refreshes Lineup