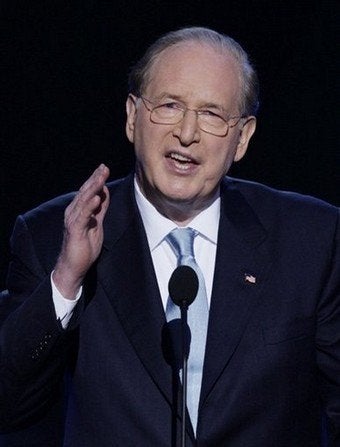 The health care bill that Sen. Max Baucus (D-Mont.) unveiled Wednesday without GOP support has no room for legislative error. Democratic Sen. Jay Rockefeller's declaration a day earlier that he would oppose the measure in its current form gives the chairman a one-vote margin on the Finance Committee, which includes 13 Democrats and ten Republicans.
On the House side, the Baucus proposal falls very, very short.
Rep. Anthony Weiner (D-N.Y.), who has become something of a spokesman for House progressives opposed to any bill without a public option, quickly convened reporters to respond to the Baucus offering and declared it "dead on arrival."
And Rockefeller (D-W.V.) said he has company in his reservations in the Senate.
"A lot of them have come up to me and thanked me because I said what they're thinking. And because I sit next to Baucus and am senior, my saying it, I think, was good leverage and helpful and made it easier on people," Rockefeller told the Huffington Post.
The committee will consider amendments next week, hoping to pick up some GOP support without losing an additional Democrat. Opposition might come from an unlikely committee source: Florida Democrat Bill Nelson.
Nelson represents a large population of senior citizens who are nervous about proposed cuts to the Medicare Advantage program. While it's mostly a boondoggle, offers little benefit to seniors and costs on average 14 percent more than standard Medicare plans, seniors are attached to it. Politically speaking, it's perilous for a Florida politician whenever the words "cut" and "Medicare" are found in the same sentence, regardless of the details.
Nelson, a finance committee member, told the Huffington Post he plans to offer an amendment that would grandfather in -- an apt term, come to think of it -- those currently enrolled.
"It's the right thing to do," Nelson said. "Don't cut our senior citizens [off from] something that they already have."
Democrats have calculated that cutting Medicare Advantage could save $156.3 billion over the next ten years, according to a July Congressional Budget Office estimate. Grandfathering in grandma and grandpa would save billions in the long-term, but over the crucial ten-year window would do little to save money, meaning tax hikes, fees or cuts would be needed elsewhere.
How it would work isn't quite clear, either, because the proposed cuts don't end the program but rather reduce the reimbursement rate to make it closer to standard Medicare.
And if the amendment fails, will Nelson vote for the bill anyway?
"I can't answer that yet," Nelson said. He's up for reelection in 2012.
If the finance bill moves through committee, it'll be merged with a more generous health committee package which includes a public health insurance option.
If there is no public option in the bill that hits the floor, said Sen. Roland Burris (D-Ill.), he'll vote against it.
"I will oppose any bill that does not have a public option," Burris told the Huffington Post.
How firm is that commitment?
"I would oppose any bill that doesn't have a public option," he repeated. "Now, if they tell me they're going to work it out in conference, I'll have to think about that."
In other words, Burris may offer his vote for a weaker bill if promised by leadership that it will be strengthened in negotiations with the House.
Burris was appointed amid much controversy by disgraced former Illinois Gov. Rod Blagojevich. At the end of his career, he has little to lose. He has so far been a reliable Democratic vote. If he begins to act independently, he'll be one more vote Senate leaders will need to fight for.
Sen. Russ Feingold (D-Wisc.) was disappointed by the Baucus bill, calling it "health care reform in name only."
"My goals for health care reform include a strong public option, long-term care reform and reform of the Medicare reimbursement system that has disadvantaged Wisconsin for far too long," he said. "I am disappointed that the Finance Committee bill, as written, comes up short on all three fronts. I hope my colleagues on the Finance Committee will change the bill to ensure it is not just health care reform in name only."
Sen. Sherrod Brown (D-Ohio) also said he was unsure he could support a Baucus-like bill on the Senate floor. "To me, it's got to have a public option. This is giving too much to the insurance industry to start off, and you don't negotiate that way," he said.
"If I vote for a bill without a public option it has to have very strong language in other places, and I think Baucus probably falls short on that."
Rockefeller will work to amend the bill in committee, he said, and will press the president Wednesday afternoon at the White House. He strongly supports adding a public option and wants to remove a tax on expensive insurance plans, a move he said unfairly hurt West Virginia coal miners. He'll present Obama, he said, with a list of alternative revenue sources.
The several months that Baucus' Gang of Six spent in pursuit of a bipartisan bill were a waste of time, Baucus said, because the GOP has no plans on cooperating. "The Senate and the president to some extent have been like a child looking for a unicorn. I don't see it," Weiner said. "The Senate is [often called] the cooling saucer of our democracy. It's starting to seem more like the meat locker of our democracy."
Baucus, however, said he was confident. "I know this bill can pass," he told reporters. "I think that certainly by the time the Finance Committee in this room votes on final passage of health care reform there will be Republican support."
Jeff Muskus contributed reporting.
Popular in the Community