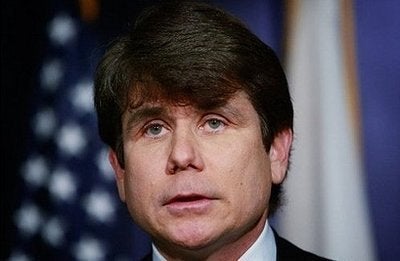 Senate Democratic Leader Harry Reid released a statement today in response to reports that Illinois Governor Rod Blagojevich will nominate Roland Burris to fill the vacant Illinois Senate seat, calling the move "truly regrettable" and "unfair." Earlier this month, all 50 members of the Senate Democratic Caucus called on Blagojevich to step down and under no circumstance make an appointment to fill the seat.
President-elect Obama has echoed Reid's sentiment in his own statement.
"Roland Burris is a good man and a fine public servant, but the Senate Democrats made it clear weeks ago that they cannot accept an appointment made by a governor who is accused of selling this very Senate seat. I agree with their decision, and it is extremely disappointing that Governor Blagojevich has chosen to ignore it. I believe the best resolution would be for the Governor to resign his office and allow a lawful and appropriate process of succession to take place. While Governor Blagojevich is entitled to his day in court, the people of Illinois are entitled to a functioning government and major decisions free of taint and controversy."
"It is truly regrettable that despite requests from all 50 Democratic Senators and public officials throughout Illinois, Gov. Blagojevich would take the imprudent step of appointing someone to the United States Senate who would serve under a shadow and be plagued by questions of impropriety. We say this without prejudice toward Roland Burris's ability, and we respect his years of public service. But this is not about Mr. Burris; it is about the integrity of a governor accused of attempting to sell this United States Senate seat. Under these circumstances, anyone appointed by Gov. Blagojevich cannot be an effective representative of the people of Illinois and, as we have said, will not be seated by the Democratic Caucus.

"Next week we will start one of the most important debates of the year - outlining an economic recovery plan to create jobs and invest in America. And in the coming weeks, we will be working to protect homeowners and consumers, make America more energy independent, strengthen our national security, and improve health care and educational opportunities. There is much work to do and a lot at stake. It is thus critical that Illinois and every other state have two seated Senators without delay.

"We again urge Gov. Blagojevich to not make this appointment. It is unfair to Mr. Burris, it is unfair to the people of Illinois and it will ultimately not stand. The governor must put the interests of the people of Illinois and all Americans first by stepping aside now and letting his successor appoint someone who we will seat."
Popular in the Community