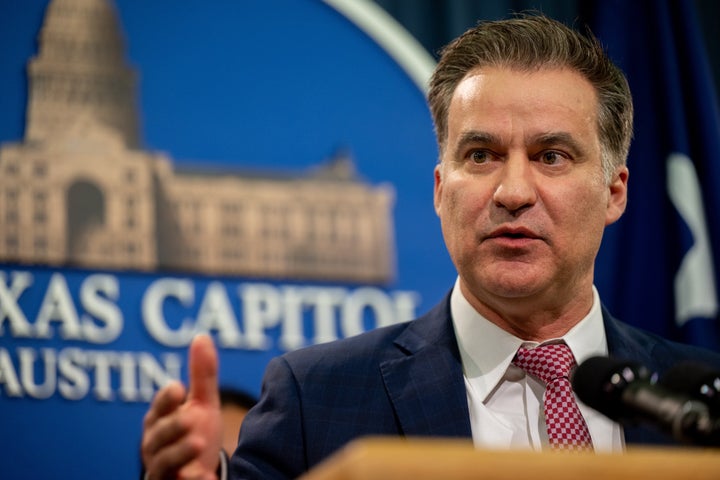 Few Republican lawmakers inspire as much contempt from Democrats as Sen. Ted Cruz of Texas.
It's perhaps fitting then that there are now two Democrats vying for the chance to take him on in 2024.
But on Monday, Texas state Sen. Roland Gutierrez, an immigration lawyer from San Antonio whose district encompasses a vast swath of the southwestern portion of the state, also jumped in the race, setting up a potentially contentious Democratic primary in March.
Gutierrez, whose district includes Uvalde, the site of one of the country's deadliest school shootings, has been an outspoken critic of Cruz and other Texas Republicans' response to the May 24, 2022, massacre.
"I'm tired of Republicans picking on marginalized people and blaming them for the real problems facing Texas," said Gutierrez, citing what he sees as Cruz's effort to scapegoat immigrants and LGBTQ+ people for the state's pressing problems.
Although Gutierrez is most impassioned speaking about his response to Republican state-level policies that he believes have led to low wages, decreased health care access, and more deaths from winter storms and gun violence, he faults Cruz for siding with Republican Gov. Greg Abbott and the GOP-controlled Texas Legislature rather than using his federal perch to run interference.
He also notes that Cruz voted against the resources that President Joe Biden's bipartisan infrastructure bill provided to Texas and that he famously decamped for a family vacation in Cancún, Mexico, in February 2021 when power grid failures during a severe winter storm led to more than 200 deaths.
"We didn't expect him to go sit on a utility pole and try to fix things," Gutierrez told HuffPost. "We expected him to be here with us and understand what we were going through."
The primary contest is just beginning, but early polling suggests that Gutierrez faces an uphill battle against Allred. Allred has the support of 33% of Democratic primary voters, compared with 22% for Gutierrez, according to a public poll commissioned by the Texas Hispanic Policy Foundation, which came out in May before Gutierrez had officially announced. An even greater share of Texas Democratic primary voters (41%) said they are undecided.
"I have probably done more than Colin Allred and Ted Cruz in government."
The same poll surveyed all voters on a hypothetical head-to-head matchup between Cruz and Allred. It found that Cruz starts off with a 7-percentage-point lead over Allred in the Republican-leaning state.
Aware of his underdog status against Allred, Gutierrez had some fighting words for him, noting that he represents more people in the state Senate than Allred does in Congress. (Gutierrez's state Senate district is home to nearly 900,000 people, while Allred's district has just over 755,000 people.)
"I've worked hard all my life in politics," said Gutierrez, who has served in the state legislature since 2008 and was a San Antonio City Council member before that. "I have probably done more than Colin Allred and Ted Cruz in government."
"Colin Allred is a nice guy, I'm sure," he added.
For his part, Allred declined to talk about the race at the U.S. Capitol on Friday, saying he would prefer to be interviewed later in the day, but aides declined to set up a call, citing travel.
Allred, 40, played in the NFL for four seasons with the Tennessee Titans before pursuing a law degree and serving in the general counsel's office at the Department of Housing and Urban Development during the Barack Obama administration. He won his congressional seat in 2018, upsetting Republican Rep. Pete Sessions, a 10-term incumbent who at the time served as chair of the House Rules Committee.
"I've beaten a 22-year Republican incumbent," Allred told Spectrum News this week. "I've had the national kind of Republican Party do their thing of dumping millions of dollars trying to attack me. I know what that's like. I've been through that. I know I can win in this race as well."
Gutierrez, the 52-year-old son of Mexican immigrants, has his own electability argument to make. He flipped a state Senate seat held by a Republican in 2020. The circumstances were unusual, though, since the geographic area encompassed by the seat had historically been held by Democrats. The incumbent Republican whom Gutierrez unseated had won in a low-turnout special election to replace a Democrat who had resigned after being convicted on corruption charges.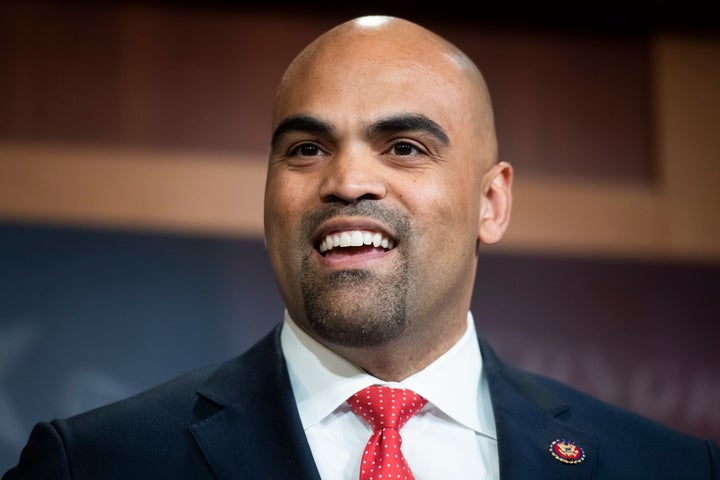 It's unclear at this stage whether the contest between Allred and Gutierrez will actually become competitive. In the 2022 election cycle, then-Rep. Conor Lamb (D-Pa.) was believed to be in contention against John Fetterman, but Fetterman, now a U.S. senator, defeated him by more than 32 percentage points in the May 2022 primary.
The Democratic Senatorial Campaign Committee ― U.S. Senate Democrats' campaign arm ― has not weighed in on the primary and is not expected to unless it believes one of the candidates jeopardizes the party's prospects of flipping the seat. The party committee is not strictly averse to getting involved in primaries, but last cycle, the DSCC did not endorse in any Democratic primaries where a Democrat was not the incumbent.
A race between Allred and Gutierrez would likely not provide a stark ideological contrast. Allred, a member of the business-friendly New Democrat Coalition, might be a bit more moderate than Gutierrez, who racked up the second-most progressive voting record in the Texas Senate this session.
In his interview with HuffPost, Gutierrez declined to distinguish himself from the national Democratic Party on abortion, LGBTQ+ rights and efforts to regulate guns. He supports, for example, at least trying to pursue a national floor on abortion rights and a national ban on military-style rifles.
Gutierrez did suggest that he would avoid supporting policies that harm the oil and gas industry, which is a critical source of jobs and tax revenue in his state Senate district and in the entire state.
"I live in South Texas, where young men and women work out in those oil fields and they make $80,000 and $90,000 a year," Gutierrez said. "We're going to be supportive of those jobs and their ability to go out and raise a family. But we're absolutely going to be supportive of wind, solar and other alternative energy sources so we can create more jobs."
"If you look at climate change and you want to lay blame on any particular region, I think China and India are absolutely far more responsible than any state in these United States for changing our climate," he added. "As a world leader, we have to sit down at the diplomatic table" and work something out with those nations.
"As the future goes, whichever party is able to win over Latinos will have a huge advantage, but we're not there yet."
More critically, though, Gutierrez and Allred, who is Black, represent different demographic branches of the Democratic Party coalition in Texas.
Allred, who has a record of success in the Dallas suburbs, represents the emerging suburban contingent of the party that drifted away from the GOP under former President Donald Trump. And Black voters, who make up a sizable portion of Texas' primary electorate, are expected to favor him.
Gutierrez, meanwhile, represents a predominantly Latino constituency in South Texas that has been drifting away from the Democratic Party in recent election cycles.
Gutierrez, who is fluent in Spanish, could pitch Democratic voters on his candidacy as a way to expand their support among Latino voters.
"The Latino electorate is the future of Texas in the sense that the Anglo electorate is slowly declining, the African American electorate is pretty much stable and the Latino electorate is growing," said Mark Jones, a political scientist at Rice University in Houston. "As the future goes, whichever party is able to win over Latinos will have a huge advantage, but we're not there yet."
Sri Preston Kulkarni, a Democrat who ran for Congress twice in the Houston suburbs, is neutral in the race but hopes for a competitive Democratic Senate primary.
"Increasing turnout in the primary is going to be better for Democrats in November overall for sure," said Kulkarni, who now runs an Austin-based Democratic organizing firm, Relational Futures.
HuffPost asked Kulkarni whether, if Gutierrez loses, he would be a good candidate to challenge U.S. Rep. Tony Gonzales (R-Texas).
Kulkarni emphasized that he respected Gutierrez's Senate candidacy on its own terms.
But if he fell short, Kulkarni added, "Roland would make a great congressman for sure. He's been a strong legislator."
Support HuffPost
The Stakes Have Never Been Higher
Popular in the Community