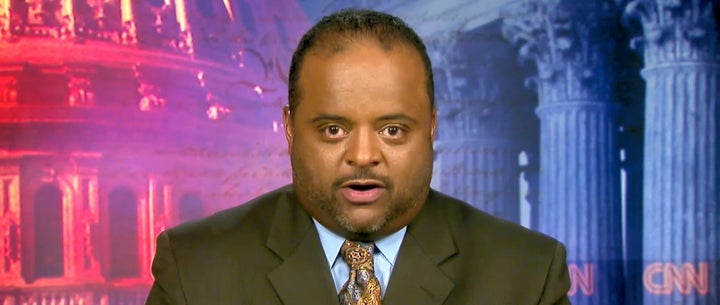 "Roland Martin's tweets were regrettable and offensive. Language that demeans is inconsistent with the values and culture of our organization, and is not tolerated. We have been giving careful consideration to this matter, and Roland will not be appearing on our air for the time being."
The move came three days after Martin caused an outcry by tweeting that people should "smack the ish" out of any male fans of an underwear ad starring David Beckham. He also made fun of a New England Patriots player who arrived wearing a pink jumpsuit. "He needs a visit from #teamwhipdatass," Martin wrote.
CNN did not initially make any statement about the controversy, and Martin was on the air for the network's election coverage on Tuesday night.
After news of the suspension broke, GLAAD issued a statement of its own.
"CNN today took a strong stand against anti-LGBT violence and language that demeans any community," GLAAD spokesman Rich Ferraro said. "Yesterday, Martin also spoke out against anti-LGBT violence. We look forward to hearing from CNN and Roland Martin to discuss how we can work together as allies and achieve our common goal of reducing such violence as well as the language that contributes to it."
National Black Justice Coalition, the nation's largest black LGBT civil rights organization, also responded to news of Martin's suspension. "While we are encouraged by CNN's stance against language that incites anti-gay violence, we hope they also will make a commitment to shine more visibility on the hardships LGBT people of color face when trying to participate fully in their communities," said Sharon Lettman-Hicks, Executive Director of the National Black Justice Coalition. Lettman-Hicks also blogs on The Huffington Post.
Popular in the Community