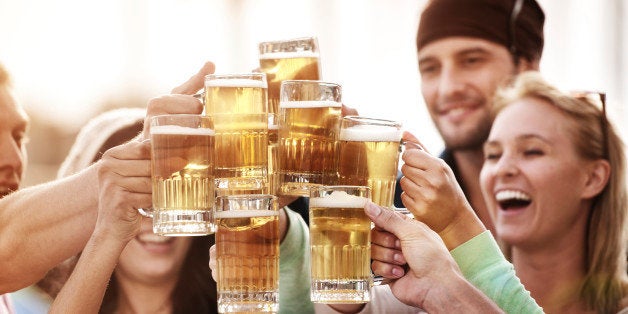 My family is always excited for Fourth of July Weekend. Whether we have barbecues with friends or family time at the beach, we try to celebrate the beginning of summer. However, as we all head outdoors for these sun-soaked get-togethers, be mindful that alcohol consumption is often higher during this time of year. In our role as parents, it is important to be cognizant of our own drinking, be aware of others' consumption and be prepared for questions from our teens.
At this point in their lives, teens are taking in all kinds of information that help to form the views they will hold for years to come. They are intensely perceptive, carefully watching the world around them; and they pay particular attention to the actions of their parents.
Communicating effectively about alcohol is difficult in its own right, but an adult who has too much to drink or allows their teen to drink can make it even more complicated. How do you navigate a situation where you tell your teen one thing and another parent's poor judgment contradicts your advice? Or how about the delicate situation of prohibiting your teen from drinking when you yourself are drinking? These situations make direct communication pivotal.
Understandably, these conversations can be daunting. Over the course of my career, I've heard all kinds of questions from parents about effective role modeling strategies and have included some of the most important questions below:
Why should I worry about my teenager having a few beers at our annual July Fourth barbecue? My parents let me drink on special occasions at his age and I turned out fine.
Beware of the "double message." By allowing your teen to drink even once, you may be signaling that it is OK for them to drink alcohol, regardless of the occasion. There is a reason that the drinking age is 21. Teenagers do not have the experience or knowledge to conduct themselves safely while drinking. Teens who drink are more likely to be involved in accidents or engage in risky behaviors. And they do not know their limits so are more prone to overconsumption. Additionally, there are negative effects of alcohol on the still-developing adolescent brain. So if you allow them to drink, even once, you are implicitly sending the message that drinking is OK at other times.
Is it OK if I drink just a little at a party and then drive home?
We demand that our children not drink, let alone drink and drive. However, many parents feel it is permissible to drink moderately and then drive. According to a recent National Highway Transportation Safety Administration report, drivers with a BAC of 0.05 are approximately 2 times more likely to crash than drivers with no alcohol in their systems, and drivers at the legal limit of 0.08 BAC are approximately 4 times more likely to be involved in an accident. This is at or under the legal limit. So be careful, and remember to not only talk the talk, but walk the walk.
Are there other ways that I can be a better role model for my teenager?
Absolutely. And while these tips are relevant to the summer holidays, they certainly can apply year-round.
Be the adult who doesn't always drink when the others are drinking. We ask our kids to have a good time in social situations without the use of alcohol. Show that we, as parents, can do the same.
If you do drink, do not drink excessively. Be an example of a responsible and moderate drinker. If you have too much, you can not only create an embarrassing situation for your teenager, but you also undermine your own credibility for when you talk about drinking in the future.
Finally, just remember that you as a parent have a critical role in teaching your child about acceptable social behaviors. And you do this primarily by setting a positive example. We are not perfect, but it helps if we are cognizant about how important our own actions are to our children's development and their future decision-making.
For more information and resources on how to talk to your teen about alcohol, please visit the Health Alliance on Alcohol website and follow us on Twitter @DiscussAlcohol.
Have more tough questions? Please ask in the comments section!
Related