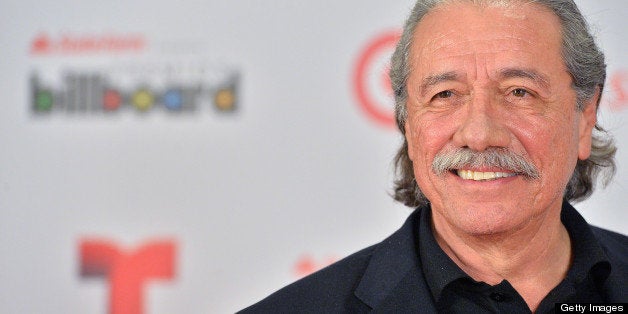 Like most people aspiring to be actors, Jeremy Ray Valdez moved to Hollywood more than a decade ago. He quickly realized that the opportunities for Latino actors in Hollywood are limited. He said there are not as many roles for Latinos to play in Hollywood.
Despite this, Valdez has been able to make a name for himself. The 32-year-old actor, who was born in New Mexico to Latino parents and was raised in Arizona, has appeared in nearly 40 television and film roles over the last decade. In 2010, he was awarded the Imagen Award for best supporting actor in "La Mission," a film in which he played the leading role of a gay young man. Throughout his career, he has also appeared in Disney Channel shows, like "Drake & Josh" and "That's So Raven," as well as in major television series, like "NCIS" and "Castle."
"I'm thankful to the mainstream Hollywood community for all the work I've gotten there, but at the same time, I'm not going to be waiting around for my phone to ring," Valdez told VOXXI. "I have to make films that are about my stories and the stories of my community."
He recently produced and starred in the film "Dreamer." In it, he plays the role of Joe Rodriguez, an undocumented young immigrant who is raised by a white family after his mother moves back to Mexico. The film highlights the struggles Dreamers face in the United States because of their undocumented status.
Latino actors producing and directing their own films
Having Latino actors become producers and directors is nothing new in show business. In fact, this has been occurring for decades.
One Latino actor who exemplifies that is Edward James Olmos, a well-known Mexican American actor. In 1980, he launched his own production company and named it Olmos Productions. His company produced the film "Stand and Deliver," a 1988 film in which Olmos played the leading role of math teacher Jaime Escalante.
"Many actors who are in the mid level of their careers start creating production companies so that they can get vehicles that they feel comfortable with and they can sell," Cuban America actor Manny Alfaro told VOXXI. "The only thing is that in these vehicles, they make sure that the Latino is portrayed in a way that is reflective of the general population, and that's important."
Alfaro is currently the executive director of Hispanic Organization of Latin Actors (HOLA), a New York-based organization that advocates for the positive image of Latinos in film, radio, television and theater.
He said despite Latino actors' talents, many of them are still being assigned stereotypical roles of housekeepers or criminals, ignoring the fact that there are many Latinos who have blue color jobs.
"It's very hard for an actor to break the mold of a stereotype until he starts making a name for himself," Alfaro said. "But even then, when he makes a name for himself, he is in a stereotype mold for a while until he breaks away."
Alfaro added that the good news is that Hollywood producers and directors are starting to provide Latino actors with better acting opportunities.
"There are improvements simply because they recognize the rather voluminous purchasing power that Latino audiences have," he said.
Latinos influencing change in Hollywood films
Alex Nogales, president and CEO of the National Hispanic Media Coalition, agreed with Alfaro and added that the change in Hollywood "isn't because people love Latinos so much."
Instead, Nogales said it's happening because of the rapidly growing Latino population and their increasing purchasing power.
Another Nielsen study released January 2013 shows that compared to other ethnic groups, Latinos were "the heaviest moviegoers" in 2012. And although they represented 18 percent of the moviegoing population, Latinos accounted for 25 percent of all movies seen in 2012.
Nogales told VOXXI he would like to see more filmmakers pay attention to these numbers. He added that one group of filmmakers who did pay attention to these numbers are the ones who created the latest "Fast & Furious 6." The movie was released Friday, but this film and other "Fast & Furious" sequels almost didn't make it to theaters.
Instead, there were talks that the Universal Pictures' movie would go straight to DVD. But filmmakers with Universal decided to give the latest "Fast & Furious" films a new look and direction. One major change they did is diversify the cast to include Latino, Asian and African American actors like Michelle Rodriguez, Sung Kang and Chris "Ludacris" Bridges.
"There is only one film that I will stand in line to see on opening day and that's the 'Fast & Furious 6,'" Nogales told VOXXI. "It is because it's an action thriller and it's so diverse."
Calling all HuffPost superfans!
Sign up for membership to become a founding member and help shape HuffPost's next chapter
BEFORE YOU GO
PHOTO GALLERY
27 Celebs You Didn't Know Were Latino