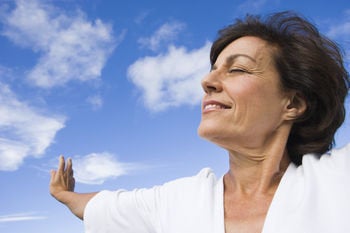 Jessica Maxwell is a funny woman. She's a nationally acclaimed travel writer who sees her father's face in the sky soon after he dies. So does her sister who lives 1000 miles away. Thus our Miss Maxwell "marched," as she says, "into the divine principal's office" and told to quit goofing off and start paying attention.
Spirituality is a delectable path. There are as many variations on it as there are souls. Ms. Maxwell's is particularly juicy and more than a little hilarious. I could not put this book down.
From the vision of her papa's benevolent face blessing her from the skies to her original spiritual teacher, the Holy Pig Farmer, we are allowed to share both adventures and misadventures as Jessica Maxwell gets her bearings on the spiritual path.
She had me in her Invitation introduction on page xi: "One can only hope that fear-wracked control-freak us-against-them extremists of all faiths come to their senses and recognize the truly radical promise of peace that is at the heart of every one of the world's great religions." She's right, and it's a statement that only someone who has been through a spiritual becoming can see.
Peace, dear one, is at the center of all spiritual seeking. I can assure you that Jessica has created a modicum of peace through her authentic seeking and finding. Let's follow what her best friend refers to as "Lucille Ball Trips Over God."
The Holy Pig Farmer, Lory Misel, guest spoke in a creative writing class for Jessica and that was it. He became her touchstone on the path. We all need one. His primary lesson? You are here to bless the world. We all are, dear one.

The Holy Pig Farmer meets Jessica at the level of spirituality, and at the level of religion. She needed it. "Grace," he says, "is perfect peace." Amen. Her journey starts to feel like a runaway train. One day she knows it's time to get a divorce. Just like that. The spiritual path can be that way.
I loved it when Jessica had the same reaction I do to that dreadful bumpersticker, God is my Co-Pilot. I always want to pull them over and set things straight. Darling, I fantasize about saying, scoot over. Let God be the pilot. Jessica writes, "one would assume that, if anything, one is God's copilot." Amen, sister.
After her divorce, she ends up in a relationship that clears her karmic clock, and then, she ends up in a church with a friend where she eventually meets and marries her soulmate.
"Peace," she says. "It always gets back to peace." Yes, it does.
Then, one day, she's in Portland, Oregon and ends up having lunch with Deepak Chopra. It was a God job.
And so the journey continued, and, I'm sure, continues. Jessica Maxwell and her book are the real deal. Inspiring, encouraging, full of enough good humor and awkward learning to make anyone on the spiritual path laugh and keep going. That's my kind of adventure.

For spiritual nourishment, visit Dr. Susan Corso's website and blog, Seeds for Sanctuary. Follow her on Twitter @PeaceCorso and Friend her on Facebook.