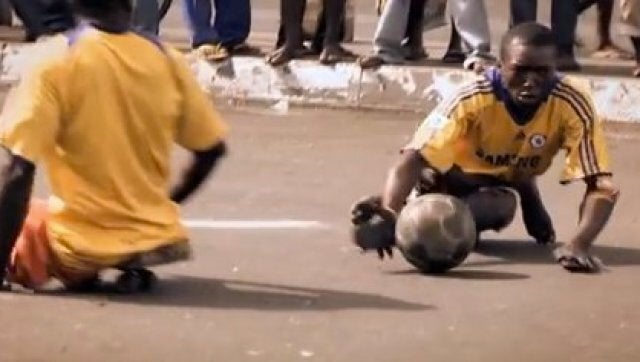 A soccer game in which you can use your hands?
A new Kickstarter-funded documentary, Rollaball, hopes to give skate soccer -- a burgeoning extreme sport -- the push it needs for national recognition and Paralympic status.
Skate soccer is fast and extremely physical; played by people with disabilities it combines skating, soccer and handball. Players roll around the concrete field on homemade skateboards, and have to hit the ball into the net to score.
Sounds cool, right? But what's even cooler is that the documentary tells the story of an unlikely but extremely inspiring band of players for whom the game is almost redemptive in nature.
The Rolling Rockets are a team of Ghanaian polio survivors who've found new purpose in life through skate soccer --despite living with the stigmas of being both disabled and homeless.
Living on the fringe of society, the players must resort to begging to feed their families.
Training for skate soccer, however, keeps their spirits up.
"On Saturday I am going to sleep early because I know that tomorrow morning is Sunday and I'm going to play ball," one player says.
"Even if I don't have anything, I know, even right now if you drop a ball in front of me, I can play," another chimes in.
Director Eddie Edwards hopes the documentary will help improve the lives of the players and also make skate soccer a Paralympic sport.
"Despite all the odds, they're incredible athletes who deserve to be stars. They have inspired something in me and I believe they'll inspire many others. Both on and off the field, their stories are legendary," Edwards said in a press release.
The producers of the film are currently crowdsourcing funding to help complete the documentary project, and a 30-day campaign is under way on Kickstarter.
Related
Popular in the Community