Reddit user copywriteher was shocked when she saw pictures of herself taken at national amateur photography event -- because, unbeknownst to her, she wrote, the photographer had Photoshopped the images to make her look slimmer.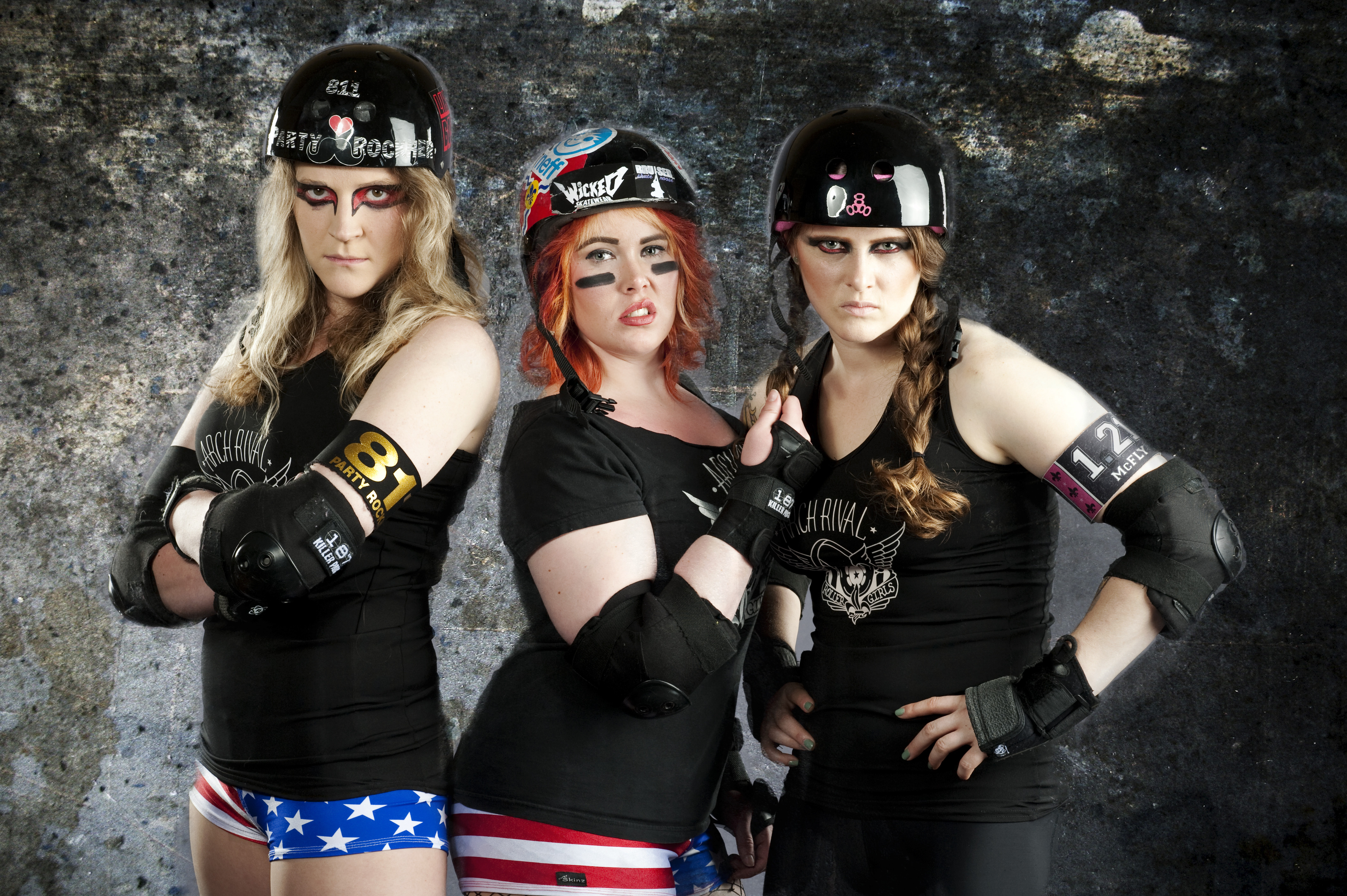 Copywriteher, center, says she was Photoshopped in this image.
Copywriteher, who has been skating in a roller derby league since January, volunteered to have photographs taken at a photography conference in her town, she told the Huffington Post in an email. She was upset to see an image online which had been visibly edited to make her look thinner. She posted on Reddit: "I thought taking some photos would be fun, but now seeing myself get a magazine cover treatment, I'm just angry."
In an unpublished blog post shared with the Huffington Post, Copywriteher expanded on her disappointment that the image didn't celebrate her body as it is:
I have fat on my bones. I get it; I'm fluffy, chunky, chubby, whatever. To some I might seem skinny, to others I'm fat -- obesity is in the eyes of the beholder. But I'm OK with how I look, I'm confident in who I am.
Furthmore, she feels that the photographer's actions are at odds with the spirit of the roller derby community:
One of the reasons I've fallen in love with roller derby so much is that it does not body shame anyone. Big girls, skinny girls, tall or short, nobody gives a f**k what you look like, they only care about your contributions on the track. It is a sport where you are admired for your determination, your strength, and your sportsmanship.
We're all for a community that celebrates strength, not size.
UPDATE: The photographer who took the photo contacted The Huffington Post Monday stating that she changed only the background of the photo and did not intentionally alter Copywriteher's shape. The photographer, who asked not to be named, provided the original photo illustrating her point:

"The photo was taken at a Photography training workshop ... this photo was an example of a technique I had learned in changing backgrounds... The truth is she looks that way completely unaltered... turns out she is skinnier than she gives herself credit for," the photographer wrote to HuffPost in an email. "I didn't retouch her or modify her body by any way, I alternated just the background and added some texture. As a portraiture photographer I try to make people look as good as possible, which I did that by posing her right, not photoshopping."
When contacted for comment and provided with the image above, Copywriteher told HuffPost in an email, "Upon seeing the [original] photo, I don't think it was intentional to photoshop me thinner, but rather the artist had difficulty in trying to transpose the photo onto a different background... She smoothed out some lumps on my back that most people wouldn't notice, but I think with the initial viewing of the photo and seeing the heavy contrast of the blurred edges and lines on my body compared to my teammates, [this] is where confusion like this could occur."
In response to the multiple comments on this piece criticizing Copywriteher for complaining about an image created at a photography learning event, she added, "It was never my intention to shame or disappoint anyone, but rather open a discussion of desired skills an aspiring photographer should have, and if slimming down people is a skillset that is a requirement in the photo community."
CORRECTION: This story previously stated that the photo was taken as a "roller derby event." It was taken a photography event attended by roller derby players.