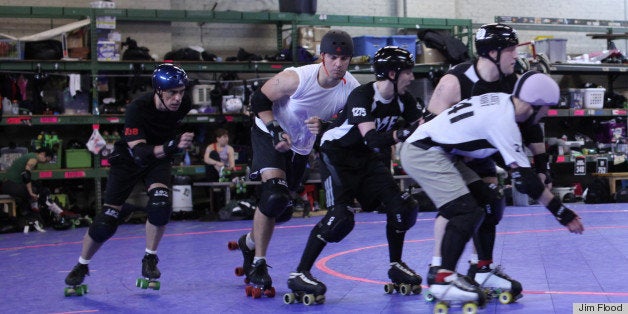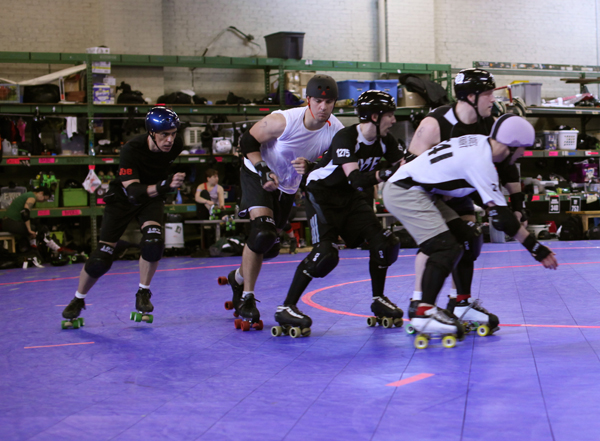 New York Shock Exchange players scrimmage at a recent practice. (Photo by Jim Flood)
This year, even before NBA player Jason Collins came out as gay, the lack of out gay men in pro sports was already a major theme in the media. The focus has often been on speculation about the fears and prejudices of straight athletes: Will they accept a gay teammate? Can they handle taking a shower next to a gay man? But at other levels -- high school, college, recreational, amateur -- there are plenty of straight men who have already played alongside gay men in team sports.
One such sport is roller derby, where openly gay and bisexual men have competed for years on teams across the country, in big cities and smaller towns, without much controversy.
John Wyatt, a head coach and player for the New York Shock Exchange who is known as Abe Drinkin in the derby community, said that there have been openly gay skaters since he first joined in 2007. "There never was a question about it being anything other than OK," he said.
In conversations with dozens of men's roller derby players by phone, email, Facebook and IM, I heard similar comments across the board: Gay and bisexual players feel comfortable being out, and the straight guys value everyone on the team equally, regardless of sexual orientation.
Joe Andreone, aka Truth Hurtz, said he thinks of his two gay teammates on Baltimore's Harm City Homicide as "brothers" just like the rest of the team. Andreone said that roller derby accepts anyone who wants to compete, regardless of race, sexual orientation or body type. "It has changed my life for the better," he said, "and I wish that other sports would take notice of the roller derby community and all it has to offer anyone that's interested."
Several of the players I spoke with credited the women who revived roller derby as a modern sport for setting a precedent of openness and acceptance toward sexuality and other types of diversity that they have followed. The Men's Roller Derby Association (MRDA), which started in 2006 as a group of guys inspired by the women's game who wanted to play roller derby for fun, has grown to 31 leagues in the U.S. and beyond. Some of those leagues feature multiple teams, while smaller ones may consist of a single team. Men's teams unaffiliated with the MRDA have also cropped up across the country.
When asked whether having openly gay men as teammates represented a "distraction" in the locker room or otherwise, a common argument from those who have voiced negative views about pro athletes coming out of the closet, several derby players said it was a "ridiculous" suggestion.
Ryan Ricard, aka Fire Wally, of Minnesota Men's Roller Derby, has had several gay teammates. "I couldn't expect someone to trust me, and expect me to trust them, if they had to come to every practice and dance around this issue of trying to conceal their identity," he said. "I think that is totally antithetical to teamwork."
One of Ricard's gay teammates, Joe Herman, aka David Deckhim, suggested that pro sports teams should welcome openly gay players. "The gay community is largely an untapped market for many sports teams," he said. "Teams should be clamoring to have a gay player so they can reach new fans."
One thing that may be keeping some gay male pro athletes in the closet is the persistent stereotype that gay men are inherently not as strong or as tough as straight men. Jason Collins alluded to this stereotype in his coming-out statement. It's one that gay men in roller derby contradict just by playing.
Anyone who has seen a roller derby bout knows that it's not a sport for wusses. Whenever they step onto the track, the men and women who play the sport risk getting injuries ranging from bloody noses or bruises to broken bones. "The worst injury I've ever seen at a roller derby bout was someone that was gay," said New York's Abe Drinkin. "His ankle basically just snapped and was hanging off sideways. He's as tough as anybody I know."
Bob Fowler of the Quadfathers, a team from Utica, N.Y., competes as The Raging Homo. Fowler, whose 18-year-old son and partner of eight years both play on the team as well, says he chose that derby name because he wanted "to show teens and other young adults who may be struggling with these issues that they can still play sports, be who they are and still be accepted by others."
Tony Correnti, aka Percy Controll, is president of the St. Louis GateKeepers league and co-captain of the league's "A" team. Correnti, whose partner also plays in the league, was voted Most Valuable Blocker in the country in a 2011 Derby News Network reader poll. His teammate Ryan Fagala, aka Inquadable Hulk, said that playing derby with several openly gay men is no obstacle to team unity. "I have played other team sports but have never felt as close and tight-knit as I do with my roller derby teammates," he said.
Like most endeavors that involve hundreds of straight guys, men's roller derby doesn't have a perfect record on homophobia. A couple of gay skaters said they've encountered anti-gay slurs from opponents in the form of trash talking during games. But they described those experiences as the exception. Incidents of that type result in disciplinary action if reported, according to James Brains, a spokesman for the MRDA who plays for the Lane County Concussion in Eugene, Ore.
Almost every player I communicated with said that negativity toward gays would be a problem for their teams. This was equally the case for teams that currently have out gay players, and for others, such as the Dallas Deception, the Sioux City Kornstalkers and the Carolina Wreckingballs, that do not (or aren't aware of any).
Michael "Dee Bags" Lunning, Sioux City's captain, noted that civility isn't necessarily the main goal of roller derby, where "we're trying to crush some poor guy because he has a star on his helmet, and we don't care if it's on concrete or at full speed." However, he said, "intolerance wouldn't be acceptable on our track."
While some derby guys played football or hockey when they were younger, many told me that they had never played organized sports before. "When you start a team with a lot of people who were on the social fringe growing up, I think you end up with a group of people who are more accepting of different personalities," said Eric Harris, aka Biff Quick of Fargo, North Dakota's Rock City Riot.
Harris' teammate Collin Lindhorst, aka Angus Beef, considered it a compliment when a player on his former team, Minnesota's Twin Cities Terrors, acknowledged that he'd been homophobic before he got to know Lindhorst and other gay teammates and changed his views. We can hope the same thing will happen in the NBA now that Jason Collins is out, and ideally in other pro sports if more athletes follow his example.
For more information on the Men's Roller Derby Association, click here.
Calling all HuffPost superfans!
Sign up for membership to become a founding member and help shape HuffPost's next chapter