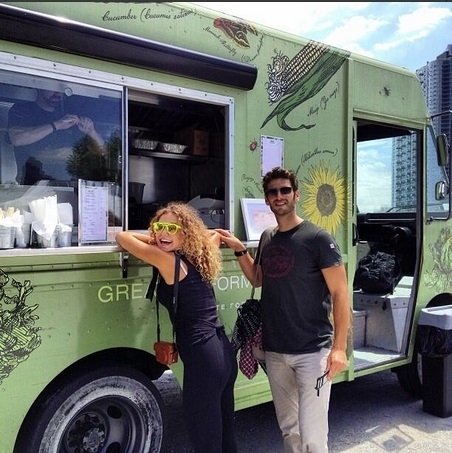 We are a food town with a wide range of places to eat; from coffee shops and cafes to bars and taverns; from Michelin Star restaurants to casual, local eateries -- and everything in between. We are notorious for eating on the run, a characteristic we don't appreciate until a visit to a city like Tokyo where walking and eating in public is practically illegal.
New York City has a deep history of street food vending, from the original local fare of oysters and clams to the romanticized pushcarts of the Lower East Side. Waves of early European immigrants broadened the offerings to include pickles, sausages, knishes and corn. It is estimated that in the early 1900s there were thousands of street food carts in the city.
The emergence of food trucks paralleled the evolving cart culture. Their genesis traced to the western chuck wagons of the late 1800s and then to a more urban setting with the lunch wagon. These lunch trucks and food carts sold either food already prepared or had on-board facilities where operators prepared meals from scratch. If we have a favorite memory of a local greasy spoon or a long gone lunch counter, then how about a recollection of the legendary roach coach with its bitter coffee and plastic wrapped/plastic tasting food? It was the iconic food symbol of construction sites or transient neighborhoods with fluctuating street traffic.
What New Yorker cannot remember the true sound of summer? The jingle of the neighborhood Mr. Softie in the early evening is indelibly etched in the early folklore of ice cream trucks. As for my truly favorite food, dirty water dogs (I cannot remember how many I ate in my economically lean years), they are fast, cheap and delicious.
Surprisingly, over the past 10 years, food trucks became trendy, gourmet and a choice destination for a meal. They were flash points of conflict between their operators and bricks-and-mortar landlords. They went beyond an option for enterprising individuals and nurtured entrepreneurial dreams of would-be restaurateurs, chefs and food aficionados. While they were always an option for unskilled (though food savvy) labor, the new generation of carts and trucks unleashed a wealth of ethnic food diversity and offered myriad benefits: employment, higher quality food options in broader communities and a stepping stone to other potential jobs in the culinary world.
The force behind this major shift in mobile food culture is the convergence of several forces:
The recession closed many high-end restaurants and chefs/cooks were looking for new work options. Diners were interested in more casual and cheaper food options as well.
Social media made it fun and easy to track the location of food trucks adding cache to dining experience.
KogiBBQ in Los Angeles (serving Korean favorites like short rib tacos with kimchi, and Kogi sliders or dogs) is credited as the first truck to gain widespread recognition and inspire a succession of other ethnic food trucks, from Indian to Vietnamese and Brazilian to Greek and Middle-Eastern -- not to mention upscale ice cream trucks, vegan, or cupcake and waffles concepts. The list is endless.
We love eating out and discovering new options. Over the past 10 years, we have watched the emergence of an experiential food dining culture. The food truck phenomenon has both fed this trend while it's been fed by it at the same time. Once Hollywood grasped the storyline, the country followed. The Great Food Truck Race on The Food Network was a hit. "Chef," the movie, romanticized the struggle of a frustrated and talented chef who found fame and fortune (and love) behind the wheel of a nomadic food truck.
Now the reality: trucks are expensive and it is all about a good working vehicle. Truck breakdown or cooking equipment malfunction means loss of revenue. Regulations are formidable. To operate a truck, you need to pass a course on food safety and vehicle regulations. You need licenses and insurance as well as a depot/commissary for nightly upkeep and resupply. To take a truck onto the street, it first needs to pass rigorous inspection and then you need a permit; only the catch is that the city is not issuing unrestricted permits. The city's mobile vending laws were last updated in 1965, when a first-class postage stamp was 5 cents. Restricted permits are easier to get once the operator has a contract with a site that is willing to allow a food truck to operate on its premise. Hence, the interest in contracts at regulated destinations such as Governors Island, designated parks, private property, etc.
For every diner who looks for the lobster roll truck, there is a resentful restaurant owner -- angry that the truck has no rent or overhead, and might poach his/her customers. Of course, trucks have real operating costs but their flexibility is enviable compared to a long-term lease. Trucks bring vibrancy to neighborhoods, while creating community and entertainment. The NYC Food Truck Association seeks to bridge the gap in the hospitality world and regulation landscape by bringing together truck operators, local government, community organizations and the public. One of its goals is to "Promote community-oriented vending behavior to ensure food trucks are operating as good citizens."
Here's my confession. I had a bad case of food truck envy. In 2010 I had contract food clients in Wave Hill in Riverdale who closed their café while they renovated the historic building that housed it. I jumped at the chance to offer them a food truck for a two-year period. Thus, the Katchkie Veggie Truck was born, inspired by our farm and our love for vegetables and healthy eating. We rolled it out at a Zagat food truck event where I received lesson #1. People line up for delicious food -- but vegetables come in last. There are lines for sliders, souvalaki, dim sum, ice cream, pizza, any form of pork, even greasy mac n' cheese -- but rarely for veggie burgers. Last year we successfully bid on placement of a food truck at Governors Island, putting that lesson to work. The Dog House, a pint-sized converted Cushman Truckster, is at the food court every weekend selling designer hot dogs and becoming a destination in its own right.
The annual Vendy Awards are the Oscars of the food truck world. Held in September, they feature close to 20 trucks competing in several 'Best of' categories. This and other food truck rallies from Montauk to El Barrio provide opportunities to spend an afternoon eating from truck to truck.
There are trucks with social missions like Snowday Food Truck from Drive Change, an organization dedicated to helping formerly incarcerated youth find employment, learn skills and establish new lives. The Cinnamon Snail, currently off-line as a result of the permitting situation, achieved a giant following and awards, with its all-vegan menu. In fact, many trucks are dedicated to serving healthful and locally-sourced ingredients.
The regulatory landscape for food trucks merits revision. These trucks are essentially small businesses, subject to a lot of regulation on top of the challenges of operating on the street. Small businesses are the heart of our country, employing vast numbers of workers, providing entry level opportunities, nurturing entrepreneurial dreams, being incubators of creativity, all while feeding and even educating us about cuisine and the marvelous array of individuals behind the window & wheel. As for my mobile vehicle wish list, there are a few concepts on the drawing board -- from the Chicken Coop to the Pickle Barrel. However, I am not giving up my day job.
This piece was originally published in Our Town.