Think, for a minute, about the little white lies we tell our loved ones in order to save face and make sure that a family secret remains a secret:
Instead of telling children that their beloved pet has died, some parents say that Fido went to stay on a farm (as an impressionable child, I was convinced that goldfish found their way to heaven through the toilet bowl).
I also believed that my grandfather had his own private entrance into the IRT subway station where we dropped him off at the intersection of Flatbush and Nostrand Avenues in Brooklyn. Later, while attending Brooklyn College, I discovered that Grandpa's "special entrance in to the subway" was in fact a local bar where he could down a few comforting drinks before going home to his wife).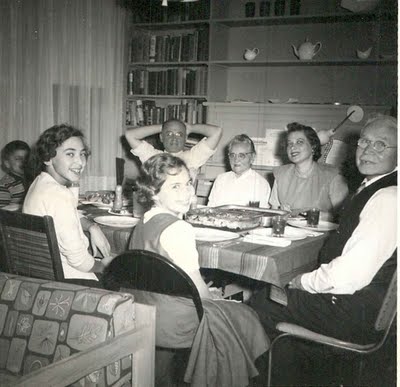 During a family dinner in the mid-1950s, I'm on the far left, my
grandmother is in the middle, and my grandfather on the right
Julie Salamon, the author of Wendy and the Lost Boys: The Uncommon Life of Wendy Wasserstein, writes:
"In the last three years, I've been consumed with the subject of secrets while I've been writing a biography of Wendy Wasserstein, the New York playwright who dedicated herself to controlling narrative, in both her life and her work. She grew up in a family so private that when relatives died, it was said, 'They went to Europe.' She was in her 20s when she learned that her two oldest siblings had a different father from that of the other children. She was almost 50 years old when she first met one of her brothers, who had lived apart from the family since boyhood, when illness left him developmentally disabled."
In mid-August, when the hypocrisy of homophobic Indiana State Representative Phillip Hinkle was exposed, the 64-year-old married man's insistence that he was not gay didn't surprise me in the least. After all, that's been the modus operandi for closeted Republicans like Ed Schrock, David Dreier, and Larry Craig.
According to Jillian Rayfield's article on TPMMuckraker:
"Megan Gibson told the [Indianapolis] Star that later that evening she went back to the JW Marriott to show Hinkle's daughter the e-mails. She soon after received another phone call from the woman claiming to be Hinkle's wife, who offered her10,000 not to tell anyone. Still another call came from Hinkle himself later, and she told him what she had told his family members. 'You just ruined me,' she says Hinkle responded."
This is what I love about closeted Republicans. It's always someone else's fault that they got caught!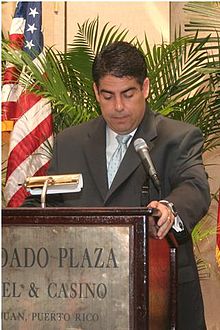 Former Senator Roberto Arango (Photo courtesy of Wikipedia)
Two weeks later, Puerto Rico's homophobic Senator Roberto Arango was forced to resign after some fleshy rearview pictures of him posing in a "doggie style" position (purportedly taken by Arango to show off his recent weight loss) surfaced on Grindr, a popular geosocial networking app for gay men trying to get laid. Perhaps the funniest comment posted online about Arango's body shots stated "Ansel Adams spins in his grave!"
The cost of maintaining a family secret often turns out to be far more dramatic than previously imagined. This summer, the San Francisco Silent Film Festival screened two classics that showed the devastating effect such secrets can have on a family.
In her recent piece of investigative journalism for The Huffington Post entitled Sex For Tuition: Gay Male College Students Using 'Sugar Daddies' To Pay Off Loan Debt, Amanda Fairbanks showed that, in a depressed economy, the world's oldest profession shows no sign of weakening. Ironically, her article was published only six weeks after the screening of a beautifully restored print of 1916's Shoes at the San Francisco Silent Film festival.
Shoes starts off with a dire warning to fathers, insisting that they immediately take action to ensure that their daughters avoid the horrible fate depicted in the film. Weber would, no doubt, be shocked by the way casual sex is used as currency by today's youth.
In Shoes, Eva Meyer (Mary MacLaren) is a young woman working in a five-and-dime store. While her mother (Mattie Witting) struggles to feed Eva's three younger brothers and their father (Harry Griffith), Eva has become the sole support of the family. Eva's soles, however, are in miserable shape. She desperately needs a new pair of shoes.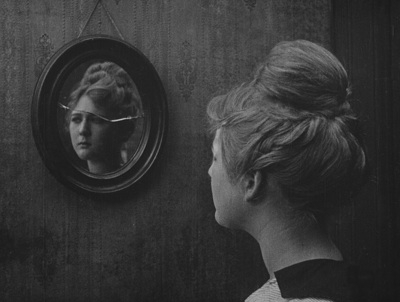 Eva Meyer (Mary MacLaren) looks at her image in a
cracked mirror in Lois Weber's 1916 silent film, Shoes
Although Eva yearns for a pair of stylish boots that are on display in a nearby store window, her penny-pinching mother's refusal to let her daughter spend any of the money she earns on herself has tragic consequences. One of the shop girls (Jessie Arnold), suggests that Eva could easily get her boots by going out with Cabaret Charlie (William V. Mong). But Eva, who has been raised to be a good girl, stubbornly continues to fashion pieces of cardboard into temporary insoles for her battered shoes.
Meanwhile, Mr. Meyer (who has become quite used to sitting at home, smoking his pipe, and reading the newspaper) is oblivious to Eva's needs. Only after his exhausted daughter loses her job and sacrifices her virginity in order to get the boots, does her father become sufficiently motivated to put down his newspaper and leave the house in order to seek employment. Shoes was directed by Lois Weber, a fascinating figure from the age of silent film:
In 1914, Weber became the first woman to direct a full-length feature film (a silent version of William Shakespeare's tragedy, The Merchant of Venice).
In 1916, she released 19 films and became the highest paid director at Universal Studios.
For many years, Weber was the only woman to have been granted membership in the Motion Picture Directors Association.
Legendary film director, John Ford, worked as Weber's assistant before moving on to make his own films.
During her career Weber directed 140 films.
Weber died penniless on November 13, 1939 at the age of 58.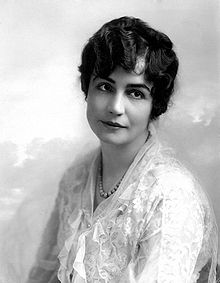 Lois Weber (Photo courtesy of Wikipedia)
A former street corner evangelist, Weber tackled controversial issues such as birth control, drug addiction, white slavery, alcoholism, abortion, and miscegenation. Shelley Stamp, who is currently working on a book entitled "Lois Weber in Early Hollywood," explains that Weber:
"...celebrated her ability to 'set forth in a dignified and dramatic manner some of the complex questions which are challenging intelligent thinkers the world over.' Working at Universal in the mid-1910s, where she garnered enormous respect and substantial creative control, Weber wrote and directed a series of ambitious features on highly topical, often deeply contentious, social issues of the day -- including drug addiction, capital punishment, religious intolerance, and contraception. Though she would later distance herself from what she called the 'heavy dinners' she produced at Universal, Weber was, for a time, at the forefront of progressive filmmaking in America, foremost among a host of filmmakers who sought to use cinema as a kind of living newspaper, capable of bringing discussions of complicated cultural questions to life."
Following a three-year restoration project undertaken by the EYE Film Institute Netherlands, San Francisco audiences were treated to a "new" print of Shoes in which the previous Dutch titles had been translated into English and the original color tinting recreated. The screening accompanied with gusto by Dennis James on the Mighty Wurlitzer organ.
Directed by Clarence Brown, 1925's The Goose Woman was inspired by the 1922 Halls-Mills murder trial in which a witness's unreliable testimony sank the prosecution's case. Starring Louise Dresser in the title role and Jack Pickford (Mary Pickford's younger brother) as her illegitimate son, Gerald, the film also featured Constance Bennett as Gerald's fiancée, Hazel.
Based on a short story by Rex Beach, the character of the Goose Woman was inspired by Jane Gibson, the unreliable witness in the Halls-Mills trial who, because she raised hogs for a living, was nicknamed "the Pig Woman." If audience members wondered why the San Francisco Opera had opted to co-sponsor this particular screening, the answer soon became apparent.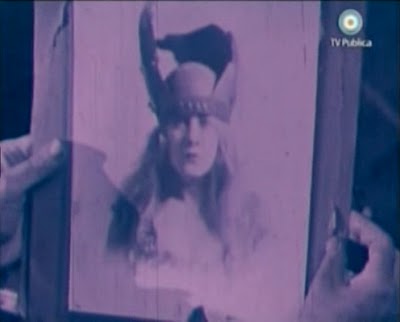 Louise Dresser as famous opera star, Maria de Nardi
This article was cross-posted on My Cultural Landscape. To continue reading, click here.
Calling all HuffPost superfans!
Sign up for membership to become a founding member and help shape HuffPost's next chapter