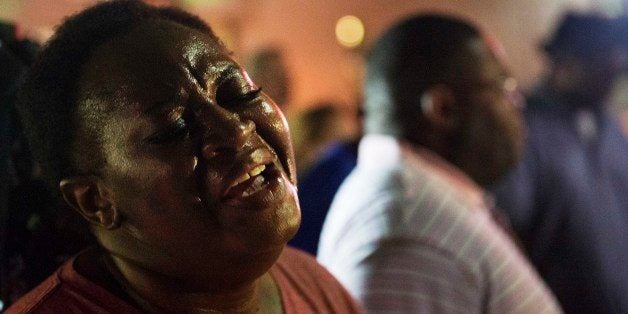 "In the streets they bind on sackcloth; on the housetops and in the squares
everyone wails and melts in tears." -Isaiah 15:3 (NRSV)
"To be a Negro in this country and to be relatively conscious is to be in a rage almost all the time." -James Baldwin
Above my bed hangs my certificate of ordination in the African Methodist Episcopal (AME) Church. It is much more than a piece of paper, but the physical representation of my call and life journey pursuing justice for God's creation in the name of Jesus Christ. The day I was ordained was the most meaningful day of my life. Peering out into the crowd that day, I saw a snapshot of my life story. There sat Erik, my best friend of 13 years, who was my first call in high school when, paralyzed by depression, I thought about ending my life. Behind him were Dom, Juli, Charles and Geoanna, who accompanied me across that bumpy terrain into adulthood known as college. My parents wiped tears of pride from their eyes. Three rows of friends, family and mentors in ministry were there, all standing witness in solidarity and affirmation of my vocational path. Toward the end of the service, I took my first communion as "Reverend Jennifer" with my 81-year-old grandmother, who softly repeated, "Thank you, God," over and over again.
This morning, I awoke under the watchful eye of that certificate into a living nightmare. Reports about the shooting at Mother Emmanuel AME Church in Charleston, South Carolina, dominated my social media feed as texts from friends and colleagues poured in. Some expressed sorrow. Others shock. Yet, the most visceral feeling in my gut was rage. Nine bullets pierced the side of nine black bodies and in the process, shattered lives and any remaining illusion that there are spaces where black lives are protected in the United States. They were mothers, grandmothers, fathers and grandfathers crucified at the foot of the cross for embodying the virtue of hospitality. If, as a Christian, rage is absent from your analysis of what happened in Charleston, I am not sure we worship the same God.
Nine people are dead today and I am angry. I have no doubt the anger I feel is righteous. My God is one who stands on the side of those who are marginalized and oppressed. My God is not docile, and is big enough to hold my anger, frustration and questions. My God understands that narratives of reconciliation and peace are not what my community needs right now. What we need is truth-telling and accountability. We need this horrific massacre to be named for what it was: a racist act of domestic terrorism. We need those in positions of power to acknowledge that this was not simply a "single incident," but the latest in a 400-year history of violence against black people in the United States. We need religious leaders to step up and speak out against implicit and explicit acts of racial violence in their congregations. Until then, I'll adorned in sackcloth and ashes in mourning for my people and the nation they call home. I will also be in the streets continuing to raise the profile of these issues in solidarity and sorrow. The virtue of anger is that it does not remain static. It is active and will not stop working until justice rolls down like water, and righteousness like an ever-flowing stream (Amos 5:24).
Related
Popular in the Community