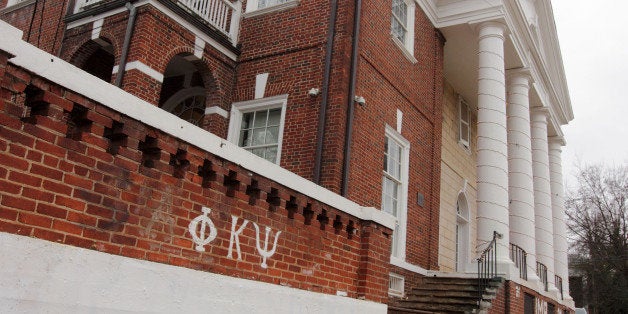 NEW YORK -- Sabrina Rubin Erdely, the author of a now-disputed Rolling Stone story on an alleged gang rape at the University of Virginia, hasn't spoken publicly as her explosive story has unraveled over the past two weeks.
While Erdely has ignored interview requests, including from The Huffington Post, she has reportedly been contacting students she quoted in the story -- some of whom she never approached before publishing the piece in November.
On Dec. 5, Rolling Stone issued an editor's note acknowledging discrepancies in the story featuring UVA student Jackie's description of a horrific gang rape at a fraternity house. While apologizing, Rolling Stone did not fully retract the article and has said it is reviewing what happened.
Erdely relied primarily on the account of a woman she referred to as Jackie, and apparently did little to corroborate information provided to her by Jackie. Erdely and Sean Woods, her editor, initially said Erdely tried reaching the alleged attackers for comment before publication, but was unable to. However, Rolling Stone has since acknowledged she didn't try.
In the 9,000-word article, Erdely also said three friends of Jackie -- identified as "Randall," "Andy" and "Cindy" -- discouraged Jackie from reporting the crime. The students have recently disputed Erdely's description of events and have said she never contacted them before publication. In the article, Erdely wrote that "Randall" declined to comment out of loyalty to his frat.
Ryan Duffin, a 20-year-old student identified in the story as "Randall," told The Associated Press on Sunday that he "couldn't help but notice that everything that the article said about me was incorrect." Duffin told the AP that he started dialing the police on the night of the alleged attack, but Jackie begged him not to.
Duffin, Kathryn Hendley and Alex Stock -- the latter two previously identified as "Cindy" and "Andy," respectively -- said that Erdely "told them she is re-reporting the story," according to the AP. Hendley also said that Erdely apologized to her.
Rolling Stone's top editors have gone silent over the past 10 days, as other news organizations continue to poke holes in its story. Founder and editor Jann Wenner, managing editor Will Dana, and Woods, the magazine's deputy managing editor, have not any given interviews in that time.
Melissa Bruno, a spokeswoman for the magazine, told The Huffington Post that the magazine "is conducting a thorough internal review of the reporting, editing, and fact-checking" of Erdely's story. Bruno did not comment specifically as to whether Rubin herself is re-reporting the story, or if that task is being left to others at the magazine.
Typically, news organizations assign reporters and editors not involved in a disputed or discredited story to re-report it in an effort to figure out what went wrong. The New York Times, for instance, assigned several reporters to investigate the work of plagiarist Jayson Blair. Last year, CBS News tapped Al Ortiz, an executive overseeing executive standards and practices, to conduct the review of a discredited "60 Minutes" report on the 2012 Benghazi attacks.
While it's unclear if Erdely is independently contacting students now or is officially part of the magazine's attempt to re-report the story, she's not the only reporter from Rolling Stone looking into it. Stock told The Washington Post that another Rolling Stone reporter had contacted him, too.
Alex Pinkleton, a student and rape survivor who spoke to Erdely for the article, said Sunday on CNN's "Reliable Sources" that she believes something traumatic happened to Jackie, but faulted the reporter for not adequately vetting the account. She said Erdely's "intentions were good" in writing on sexual assault on campus, but that the "job was done poorly."
"I am upset with that aspect of it, but I also know that she was trying to come from a point of advocacy," Pinkleton said. "But as a reporter, you can't be like an advocate and support a story and listen to it and think everything is true and then report on it without trying to figure out if it's true. My job as an advocate was never to question Jackie's story or question the details, because I didn't need to. But the role that she's in as a reporter, she needed to do that."
Pinkleton said Erdely recently emailed her, but she did not respond to the writer.
WATCH SUNDAY'S "RELIABLE SOURCES" SEGMENT" BELOW.
Related
Popular in the Community