Mick Jagger turned 72 yesterday, July 26. If you can't get no satisfaction from simply knowing that calendar fact, here are five more deeper cuts about The Rolling Stones.
1. The band would play with an inflatable penis on stage. The giant phallus even had its own nickname.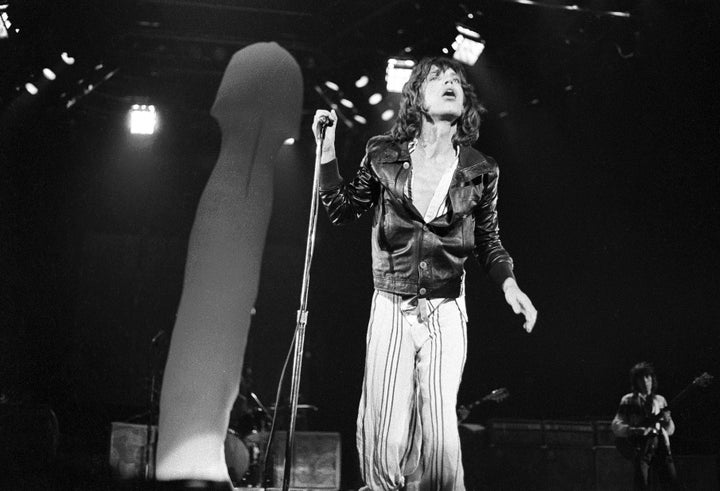 The band's "Tour of the Americas '75" featured a giant inflatable penis, nicknamed "Tired Grandfather," due to its general inability to stay erect. 
Jagger would occasionally ride this penis and other times attack it until it deflated.
Apparently the penis wasn't welcome at all concert stops. Rolling Stone Magazine published a concert review in 1975, where the band was informed by Memphis police that they would be arrested if the penis showed up.
Since they didn't use the inflatable outdoors and this was at the open-air Memphis Memorial Stadium, it didn't become a problem. Jagger did end up singing a song that the police had tried to ban, "Star Star," however, with the chorus "star fucker."
2. Carrie Fisher has implied that she and Harrison Ford were drunk while filming a scene from "Empire Strikes Back," thanks to partying with the Rolling Stones the night before.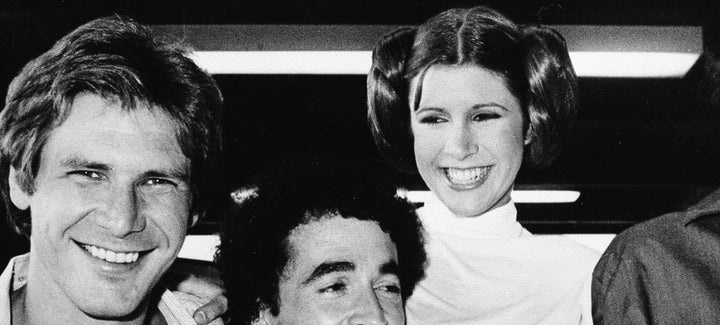 In 1999, Fisher wrote a piece for Newsweek, recalling various memories she had while filming the original "Star Wars" trilogy.
Starting one memory with, "I shouldn't tell this story, but what the hell," Fisher wrote about staying at Eric Idle from Monty Python's townhouse for the "Empire Strikes Back" shooting. After he wrapped filming on "Life of Brian," Idle returned home and brought back a highly alcoholic drink which he said was given to the extras to make them work longer. Fisher nicknamed it Tunisian Table Cleaner.
A makeshift party started with Ford, Fisher, Idle and The Rolling Stones, which led to the two "Star Wars" actors staying up all night. Fisher claimed she and Ford had drank so much with the Stones that they weren't hungover to film the arrival at Cloud City, but instead "like the extras in Tunisia, more than willing to work."
Fisher said this is one of the very few times she and Ford can be seen smiling in the entire series. 
3. Keith Richards once momentarily stopped playing at a concert to whack a stage rusher in the head.
While playing "(I Can't Get No) Satisfaction" at Virginia's Hampton Coliseum in 1981, a presumed fan rushed the stage. HuffPost reached out to the Hampton Coliseum, but did not get a response on the incident.
Richards thought fast, swung his guitar off his shoulder and whacked the fan until security could deal with him more properly.
In a video interview put together by Google Music, Richards explained, "Security was a bit slow, and I saw some guy heading straight for Mick." He continued that he didn't think there was anybody between Mick and the fan, saying, "All I know is that he's trying to get his hands on Mick, and this I have to prevent, and I do have a weapon in my hands."
Apparently this didn't affect the rest of the song, as Richards claimed, "The damn thing stayed in tune, and this is the greatest advert for Fender that I can give you." 
4. The Rolling Stones are credited with popularizing the Tequila Sunrise, by telling bartenders across the country how to make it while on tour.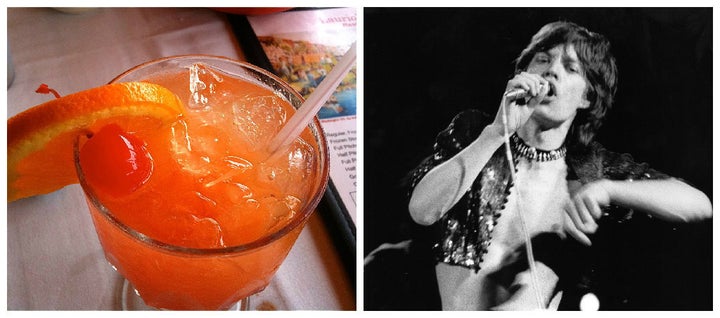 In 2012, National Geographic published a long history of the tequila sunrise on their blog. Writer Jeff Burkhart explained how in 1972, the band was introduced to the then virtually unknown cocktail during a private party at the Trident restaurant in Sausalito, California. 
After this introduction, the band began to order the drink at bars all across America during a string of shows that was unofficially known to the band as the Cocaine and Tequila Sunrise Tour, as detailed in Keith Richards' book, Life.
This tour, according to legend, pulled the drink out of obscurity and led to its popularity.
5. Mick Jagger bit off part of his tongue while younger, which altered his voice from "posh" to the iconic, rougher timbre he's now known for.
A 1981 issue of New York Magazine claimed that Jagger started to sound like the American rhythm-and-blues singers he admired after he bit off part of his tongue in a fall.
The incident has been brought up many times over the years, but the exact details remain hazy -- for example, some say it was a basketball injury while growing up, while it's also been said to have happened during a gymnastics accident.
Regardless, in 1971 the band's now iconic "Tongue and Lip Design" debuted, which certainly proves Jagger's at least a little bit proud of what's inside his famously large mouth.
PHOTO GALLERY
Rolling Stones Glastonbury
To subscribe to our HuffPost Entertainment WhatsApp account:
1. Download WhatsApp on your phone.
2. Save this number, 347-334-1794, in your phone's contacts.
3. Text "POP" to that number via your WhatsApp account.
You can unsubscribe at any time by texting "STOP" to the same number.
Calling all HuffPost superfans!
Sign up for membership to become a founding member and help shape HuffPost's next chapter