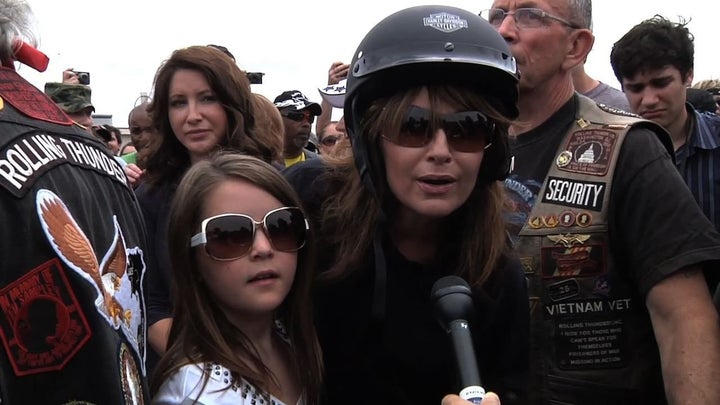 WASHINGTON -- Sarah Palin came prepared.
Thousands gathered among idling motorcycles and tricked-out hogs to catch a glimpse of her appearance, and to the well-wishers who managed to wiggle and squirm their way through the media horde and Altamont-esque security team, Palin had a black sharpie ready.
"This is awesome," Palin told HuffPost of the event. "This is good. Anything we could do for all the vets."
Palin did not come to the Pentagon's far north parking lot to give a lengthy discourse on veteran's issues or pinpoint exactly where the Obama administration had failed our P.O.W.s and those still missing in action. She came to be seen and prove to the chattering class that her celebrity could still steal the spotlight from all the other leading Republican presidential hopefuls -- even at a news-free photo op. (Quick: Imagine Tim Pawlenty or Mitt Romney riding a Harley.)
She could even still flirt. "You got all this leather," she cooed at one fan as she fingered his leather vest. "Cool!"
Her daughters, Bristol, 20, and Piper, 10, stood awkwardly nearby. Bristol refused to comment on whether she thinks her mother should run for president. Piper, behind oversized shades, hid behind her mother and therefore could not be reached for comment.
A big beefy Sammy Hagar doppleganger bounded up to Palin and insisted on showing off all of his many tattoos. Of his body art, Palin noted she liked the Jesus fish best.
The former Alaska governor managed to stay message free. When someone shouted if she could do better than President Obama in some kind of motorcycle race, she demurred, joking that she could definitely beat him a snow mobile race.
One old head shouted "President Palin!" Others, realizing that the title had to be earned, yelled that Palin should at least run in the Republican primary. Palin at least represented Real America, they argued. Even with the multiple homes, bestselling books, and the snow mobiles.
Before hopping on the back of a Harley and riding out among the first wave of riders, HuffPost asked Palin about the reason for her popularity -- what does she think representing 'Real America' actually means?
And for one brief moment, she stopped smiling and wasn't quite so sure what to say next.
REAL LIFE. REAL NEWS. REAL VOICES.
Help us tell more of the stories that matter from voices that too often remain unheard.