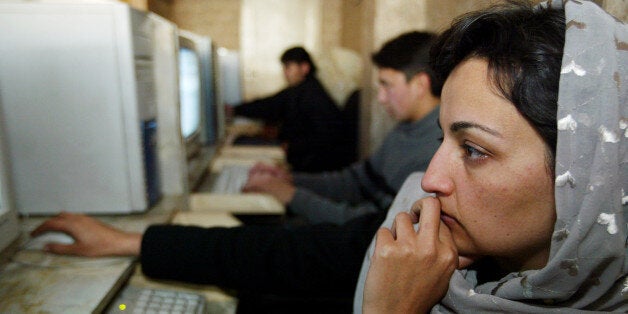 "My dream is to have a source of income to cover my basic needs without the need to rely on my family or others but by relying on only myself," Fatma Alqarra, a 25-year-old from Khan Younis in the Gaza strip, told me.
Last April I hired Fatma online via Nabbesh.com, an online work marketplace I co-founded with my Syrian partner, Rima Al Sheikh in 2012. I was looking for someone to translate a blog post and Fatma had the experience to do the job: she had been doing translation and content writing for a while and she delivered great work. Only later did I discover that her degree was actually in computer engineering -- a field where she'd been unable to find a job living in Gaza. "This is the state of all students after graduation" she said.
The benefits of our exchange -- to Fatma's life and to my company -- would have been unimaginable only a few years ago, before the advent of online work.
Online work is unleashing the talents of Fatma and tens of thousands of other women previously locked out of the Middle East and North Africa's labor market. Think of all the economic value that can be created -- and the empowered energy that is unleashed -- when someone who was not participating in the economy because of gender expectations or the absence of jobs in their specialization is all of a sudden able to complete short term projects using skills in-demand by businesses. The economic implications are incredibly powerful for the individual and the business they are servicing. All of a sudden, a university student, a stay at home mum or even a retiree can make use of skills they didn't even realize had market value.
Fatma paints the story of the Arab world in a brighter color than the negative media coverage, and she's proof that the internet could transform work in the region -- especially for women.
Over 25 percent of Arab youth are unemployed and 100 million jobs will need to be created by the year 2020 just to maintain the Middle East & North Africa's current, dismal employment rate. New startups like Nabbesh.com and others see themselves as part of the solution to the problem by leveraging technology to link young and educated women like Fatma with online project work from the region and the world.
My co-founder Rima and I grew up in the Arab world and learned about its intricacies first hand. Like so many Arab entrepreneurs today, we were frustrated by the system of 'wasta' or connections that you need to get a job, and the limits that many ambitious women face in working in a traditional office environment because of family, cultural or safety concerns. That is quickly changing with the proliferation of online work, which democratizes the hiring process by basing it on peer reviews -- many of them -- versus biased recommendations or personal family connections.
The vision is simple: build a giant meritocracy, a marketplace where the 140 million Arabs who are online today could use their skills to find online project work and are able to transact in a transparent and safe environment, and get paid for on time, securely and via a method of their own choosing. This is especially important for unleashing the power of women who may choose to enter the workforce if they can work from home. The response has been tremendous: over 42,000 freelancers are now working online, scattered across the Arab world from the United Arab Emirates all the way to Morocco.
Online work is not just about a salary. It's about empowerment and choice that people -- especially women -- simply didn't have before. Omnia Amer, a 30-year-old new mother, told me that, "I am not working full time, I left my job after I had my baby... I preferred to stay home with my baby temporarily and work online. But honestly I'm enjoying the experience and am thinking of continuing working as a freelancer." Although Omnia has benefited from finding project work in her field of Human Resources, she aspires to start her own business one day.
As I regularly browse through the database of freelancers being connected to projects online, it is striking to see how many of the connections are cross-border. Today, a woman who would prefer not to leave her home to work in an office in her town can instead work for a corporation on a different continent.
I can't help but think of it as a treasure chest: a place where amazing talent is discovered daily and individuals get the exposure they need to have a shot at improving their lives and becoming employers for future generations themselves.
Let's give these pioneering women the respect that they deserve by acknowledging that the Arab world is in the middle of a paradigm shift and its women are, as a matter of fact, rising.
This post is part of a series produced by The Huffington Post and Education For Employment (EFE), a non-profit focused on creating job opportunities for unemployed youth in the Middle East and North Africa (MENA). Conflict and upheaval have dominated the news on MENA in 2014, and some see a region spiraling into chaos. But beneath the alarm bells, some digital pioneers are doubling down on their bets that the region's next generation could have a brighter future tied to technology and skills. For more information on EFE, read here.