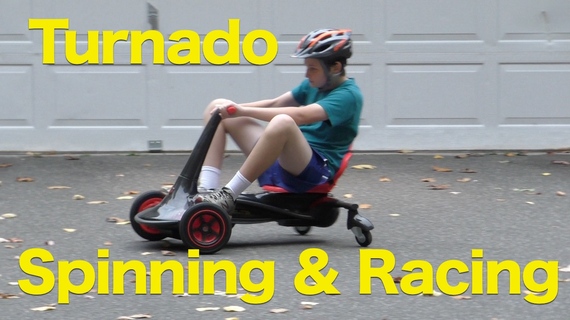 As a kid I had my Big Wheel and felt pretty special. Not to brag or anything, but I could do some slick skids and drifts on that bad boy. Or so I thought...
After spending a week testing out the Rollplay Turnado 24 Volt Ride-On ($249), I now realize what real racing, spinning and drifting is all about. The Turnado puts my Big Wheel tricks to shame and shows to the youth of today, yes you can have loads of fun when you put down the iPad and venture outside!
A big thank you to Rollplay for providing the Turnado for this review.
Please watch our full video review of the Rollplay Turnado Ride-On Go-Kart -
The Rollplay Turnado has the right formula for outdoor fun - speed + spin = fun. The Turnado can go up to 12 MPH and thanks to the design of the back wheels can do crazy spins and drifts. Here are the key specs -



12 MPH Top Speed, Offers Thrills and Excitement


Versatile torque steering for turns, twists, drifts and spins


Pneumatic wheels provide deeper tread and smoother road contact


Low center of gravity, so lots of spinning, but no tipping


Runs for up to 30 mins on a single charge; full charge time 8-12 hours


Includes a spare 24 Volt Battery


Recommended for children ages 8 years and up


Listed weight capacity 150lbs (but still worked with heavier riders)


If Only The Turnado Was Around When I Was a Kid...
I have to say, if I had a Turnado as a kid, and you didn't need to recharge it, I am not sure I would have ever gotten off the thing! It is fun to race on it, but even more fun to do spins and drifts and you get plenty of power with the 24V battery.
Unfortunately, after about 30 minutes of driving fun you will need to recharge the Turnado, which takes a totally fun killing 8-12 hours. So in reality, you are looking at 30 minutes of play time per day.
If you don't mind unscrewing a few screws, Rollplay has a solution to double your playtime. They include a bonus battery with the Turnado. So, when one battery dies, you can take out a few screws under the seat and swap out batteries and be ready to go for another 30 minutes.
If you have been looking for a way to get the kids off their electronics and outside playing, the Rollplay Turnado is an excellent choice.