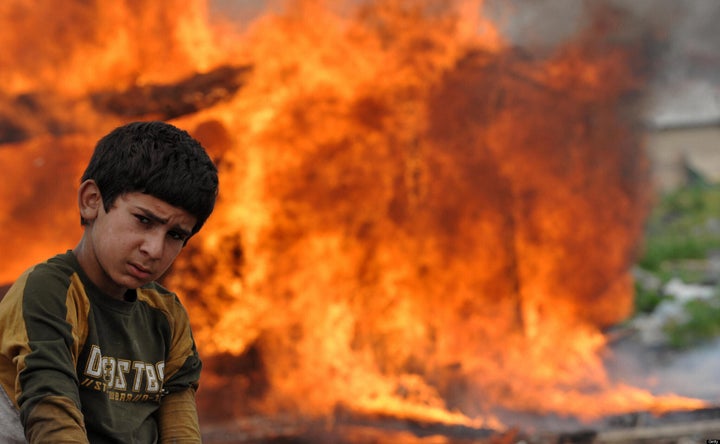 BERLIN, Aug 4 (IPS) - A ceremony at Auschwitz Sunday to commemorate the half a million Sinti and Roma killed by the Nazis became a reminder of the threats these people continue to face across Europe.
Evidence of the threats came the following day with the murder of a Sinti woman in her home in Kisleta village in Hungary 230 km east of Budapest. Her 13-year-old daughter was injured in the attack. The police in Budapest say that at least 16 attacks on Sinti and Roma people have taken place in the last 12 months.
The Roma are a people who have migrated to Europe since the 14th century. The Sinti are an offshoot of this group living mostly around Germany and Austria. There are an estimated 12 million Roma and Sinti in Europe.
Sinti and Roma, popularly known as gypsies, are the largest ethnic minority group in Europe, and have endured racism and discrimination for centuries. The Nazis killed some 500,000 of them in concentration camps and in raids.
The Aug. 2 ceremony was held because on that date in 1944 Nazi forces killed 2,800 Sinti and Roma detainees - among them children, women, and the elderly - in the gas chambers of Auschwitz. They were brought in from the concentration camp Birkenau that was constructed to imprison gypsies.
Sinti and Roma delegates spoke at the ceremony of the significance of Auschwitz and Birkenau in the history of European racism against gypsies.
"For us Sinti and Roma, both concentration camps constitute a symbol of the affliction and death of hundreds of thousands of our relatives," said Roman Kwiatkowski, chair of the Polish Union of Sinti and Roma. "We, Sinti and Roma from all Europe, are united by the memories of the crimes committed by the Nazi dictatorship against our people."
Kwiatkowski and other Roma leaders called on European governments to protect Sinti and Roma against continuing racism, and to support economic development of the group.
"All political forces in Europe must proscribe racism against this group as they have anti-Semitism," Romani Rose, chair of the German central council of Roma and Sinti said at the Auschwitz ceremony. "Even centrist parties misuse racist clichés and distorted images of our people to chase votes."
The discrimination Roma face was evident at the Aug. 2 ceremony itself. The event was nearly cancelled after the Polish government withdrew a grant of 25,000 euros. It was saved by the Polish Jewish community.
"When I heard that the Polish government had withdrawn its financial support for the Sinti and Roma commemoration, I immediately picked up the telephone," Piotr Kadlcik, chair of Poland's Jewish community told IPS. "We cannot allow a moment such as the commemoration of August 2 to fall into oblivion." He called friends and organisations, and persuaded them to donate money for the ceremony.
"Normally we Roma and Sinti are liked only when we sing and dance," said Kwiatkowski. "So when Piotr Kadlcik called, and then his other friends, and said we have the money, I was extremely happy. It is wonderful to know that in Poland there are still some people with heart and decency that allowed us to remember our dead."
European governments and institutions are aware of the situation of Sinti and Roma. Numerous reports by the Council of Europe (CoE), an independent 47- nation grouping that supports human rights, and the European Union, have pointed out in recent years that the Sinti and Roma continue to live in extreme poverty, and are victims of discrimination and persecution.
"In most (European) countries, the (Sinti and Roma) populations face considerable obstacles to the enjoyment of basic rights, notably in the fields of access to healthcare, housing, education and employment and are often disproportionately affected by poverty," the CoE said in a 2005 report.
"Discrimination and racism, also resulting in violence, remain serious problems throughout the continent, and present a major impediment to the full enjoyment of human rights and fundamental freedoms."
Such reports led the EU to call a conference on the Sinti and Roma in September 2008. European Commission president Jose Manuel Barroso called the living conditions of Sinti and Roma "dramatic", but said their problems could not be "solved from (the European capital) Brussels." Instead, he said, individual states must act to stop discrimination and alleviate poverty.
But such calls, and commemorations, have changed few attitudes. On the weekend that European delegates were in Auschwitz condemning racism and discrimination against Sinti and Roma, in the German village Diedenbergen people were complaining that too many gypsies had come visiting.
Some 200 Sinti and Roma had come to Diedenbergen to take part in a religious ceremony. The visitors camped in house trailers in a nearby field, and apparently ignored hygiene regulations.
Local mayor Klaus Ernst complained that "the odour reached Hofheim," a village four kilometres from Diedenbergen. The portable toilets installed by the Sinti and Roma could not be used because they had been vandalised.
Calling all HuffPost superfans!
Sign up for membership to become a founding member and help shape HuffPost's next chapter