The new profile of New Holland Island, the former St. Petersburg military base that art-loving billionaire couple Roman Abramovich and Dasha Zhukova plan to transform into a mini-art metropolis, is beginning to take shape. Last month, Abramovich ended his international search for an architect, settling on the New York-based Work AC's warehouse and landscape-heavy design. Meanwhile, the island has moved forward with a full roster of summer programming: having opened to the public this June for the first time in 300 years, it has already seen over 75,000 visitors, according to the Moscow Times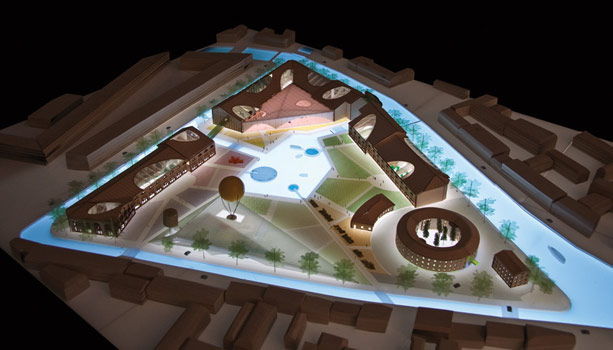 An aerial rendering of the redeveloped New Holland Island / ARRAY.
The development began last year, when Abramovich's Millhouse LLC investment company won a tender to invest at least $400 million in the revitalization of the triangle-shaped island. Since then, New Holland has reintroduced itself with a list of attractions -- art exhibitions, concerts, yoga, organic food, flea markets -- that sound a lot more Brooklyn than Russia. But what will the Russian hipster island look like once Work AC gets a hold of it?
The firm's winning proposal includes a hotel, education and exhibition centers, and plenty of outdoor space. The island's old warehouses will be renovated and a few new spaces will be built, including a triangular tent to house exhibitions in the winter and a sculpture garden in the summer. (Photos of the design on the firm's Web site also show some kind of ice skating rink/hot tub combination, but unfortunately, no additional description was provided.) All warehouses will be linked together by High Line-esque elevated promenades.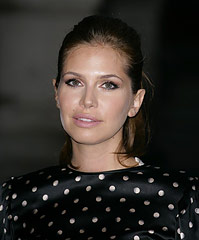 Russian model and art enthusiast Dasha Zhukova / © Patrick McMullen
Abramovich has also brought in Zhukova's Iris Foundation as a contractor for the project, according to the MT. A branch of the foundation established for the island, Iris New Holland, will be closely linked to Zhukova's Moscow exhibition space, the Garage Center for Contemporary Culture, according to the Art Newspaper. The multitasking art doyenne is planning to construct an outpost of the Garage on New Holland, according to previous reports.
Named after its resemblance to Amsterdam, New Holland Island is an artificial 18-acre island built by Peter the Great in the early 18th century for timber storage, shipbuilding, and later, a military prison. A previous project funded by an unnamed investor was scuttled when British architect Norman Foster's design was deemed too modern for the historic constructions on the island.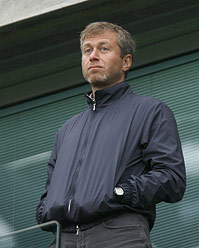 Russian billionaire Roman Abramovich / © Patrick McMullen
All in all, the fast-growing project sounds a bit like a privatized version of Governors Island in New York, the former military base that also fell into disrepair before the city converted it into a public park. New Holland's summer programs included an inflatable rat installation by the New York-based Bruce High Quality Foundation (which, coincidentally, has also completed projects for Governors Island) as well as a surprisingly controversial public vegetable garden. (Residents criticized the high price for a patch -- $85 per season -- complaining that only wealthy individuals or high-end restaurants can afford it.)
"If everything works out, St Petersburg will suddenly become a center of contemporary culture and contemporary art, and will go along the path of Venice," Mikhail Piotrovsky, director of the State Hermitage Museum, said at a meeting of Russian government cultural advisors in July. "This is a good path."
Calling all HuffPost superfans!
Sign up for membership to become a founding member and help shape HuffPost's next chapter