I think Tosca is harder to pull off than we give it credit for. The piece is so full of dramatic potential and the music is some of Giacomo Puccini's most atmospheric and inspired, but to fully convey that, you need three singing actors at the top of their game, a taut orchestral accompaniment, and a production that that effectively balances the personal conflicts with the political ones while still acknowledging the libretto's strict specifications about setting. Bringing these elements together is no small feat and the result can be massively rewarding. With that in mind, is it even possible to have a truly good "routine revival" of a Tosca that maximizes on all three of the key components? At the Met, at least, the answer seems to be no.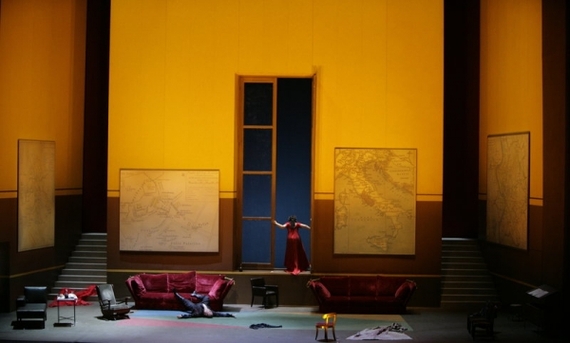 The problem that lies in Met performances of Tosca is that they have made the extraordinary painfully ordinary. In the case of the performance I caught on November 28th, the blame could belong to Richard Pedruzzi's overpoweringly plain sets, Milena Canonero's universally unflattering costumes, or Luc Bondy's leaden, uninspired production, now six years old and still baffling in the worst possible ways (Why would Angelotti descend into the barren Sant'Andrea della Valle with a rope when there's a ladder attached to the window on the other side of the archway? How come there are so many fallen leaves in a church in June? How come there is barely a desk in Scarpia's office? And don't even get me started on the stunt dummy, complete with Super Man-arms and all.). It could also belong to Liudmyla Monastyrska (one of this season's four Toscas and the one I saw on Saturday) and her wavering chemistry with her costars and seeming disinterest in Bondy's production and tired blocking. Or maybe the culprit was Marco Vratogna's overly suave Scarpia, or Joseph Colaneri's conducting that, though exciting and evocative most of the time, sometimes stranded the singers when they fell behind the surging tempi. Tosca has always felt, at least to me, like a special opera. The character Floria Tosca is a celebrated diva. Shouldn't performances of Tosca try to capture some of the excitement that would come from seeing Tosca herself perform? A performance of Tosca should be a special occasion, and many Met revivals of such a weak production have sucked all the special out of it.
Liudmyla Monastyrska in the title role may yet not be naturally intuitive onstage, but she sings with security and intensity from top to bottom. The high notes are, for the most part, loud and exciting, and the chest voice, which she has no qualms about dipping into, is commanding and provides a nice contrast to the rest of the voice. You can tell that she has some burgeoning ideas about the character, but she is shoehorned into unenthusiastically doing the motions of Bondy's production (In the now-famous moment in which Tosca pierces the painting that Cavaradossi has done of the Madonna, Monastyrska didn't tear the canvas in half, but instead poked the Madonna square in the nose and gave her an extra nostril.).
Roberto Aronica shined as Cavaradossi. He may not exude stage presence, but his voice has a warm ping to it and his Italianate phrasing fit the bill for this character. Though both of his arias finished stronger than they started, his was still a successful performance that left me wondering 1) where he has been all this time and 2) when we will next hear him in a role like Cavaradossi?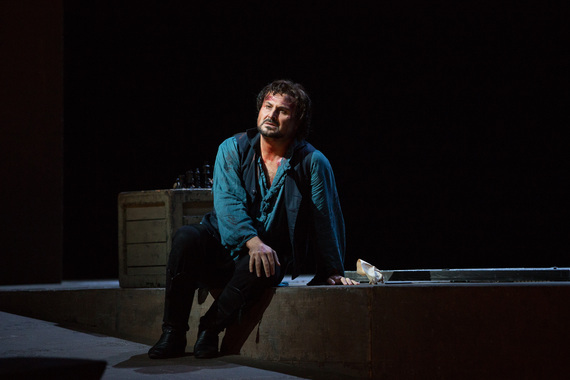 Marco Vratogna brought a covered, throaty voice to the part of the police chief Scarpia. He opted not to exploit the interesting dynamic created by his and Monastyrska's appearing close in age (Often, Scarpia is portrayed as an older predator preying on a younger, more defenseless Tosca.) Vratogna's career is primarily made up of Italian baritone villains (Scarpia, Iago, Jack Rance, so he more or less has the shtick down. Similarly to Monastyrska, though, his interpretation was confined by Bondy's production.
A new production of Tosca by Sir David McVicar is rumored to open on New Year's Eve in 2017. Maybe a new beginning is exactly what Tosca at the Met needs.
Photos by Ken Howard and Marty Sohl, respectively
Calling all HuffPost superfans!
Sign up for membership to become a founding member and help shape HuffPost's next chapter