"It's time to put an end to the rape culture that fosters an environment in which it is okay to minimize, excuse, and perpetrate sexual violence," reads a petition that was launched on Oct. 25 by the feminist activist Laure Salmona. "And it's time to put an end to the immunity that famous men who rape, assault, harass, and kill women and children without it getting in the way of their careers enjoy."
The petition's goal is to get a Roman Polanski retrospective from the French film organization Cinémathèque Française canceled — a request that the organization has very clearly declined in a press release.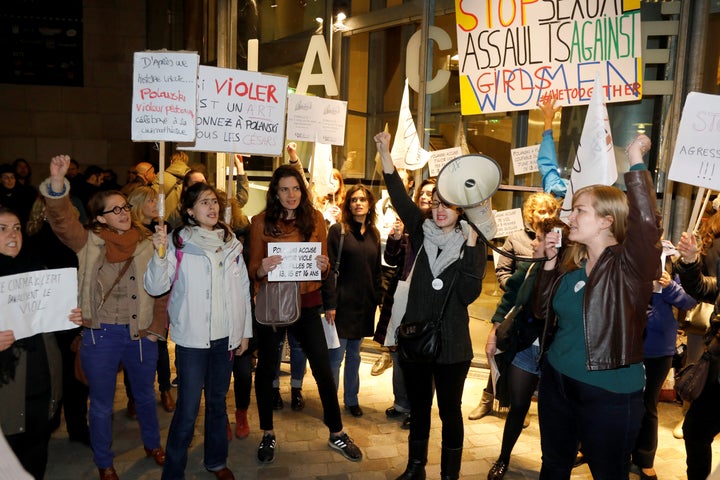 The retrospective, which is taking place amid a deluge of testimonies against alleged perpetrators of sexual harassment and assault, wasn't going to escape the attention of activists. Is the rather sympathetic attitude that the French have long held toward Polanski now souring? If France ― emulating Switzerland and Poland ― was, back in 1978, a place that welcomed this man who was fleeing the United States, today it could become the site of a public trial.
In 1977, after a photo shoot in California, Polanski, then 43 years old, was taken to court and charged with raping Samantha Geimer, age 13. After spending 42 days in prison and then being released on bail, the filmmaker pleaded guilty to "illegal sexual relations" with a minor. Prior to the verdict being announced and fearing a heavy sentence (he was facing up to 50 years in prison), he chose to flee the United States. 
Since then, the filmmaker has made some of his best films. Polanski was a major innovator in film technique, and is arguably one of the greatest directors of the 20th century. His movies have won him all of the film world's honors. Oscars, César Awards, Palme d'Or... he has been bestowed with the greatest accolades in the industry. "Chinatown," "Tess" and "Rosemary's Baby," not to mention "The Pianist," have all contributed to making him into a widely admired artist.
Now, however, his indisputable talent isn't necessarily enough to "set aside" his past. At a time when women are coming forward about their own experiences of sexual assault with the #MeToo campaign, when dozens of women have courageously accused Harvey Weinstein, the ultra-powerful Hollywood producer, of rape, harassment and sexual assault, it may well be that having the status of a powerful male artist will no longer be enough to silence the uproar.  
And yet, the Roman Polanski story is hardly breaking news, and for a number of years, the media didn't even concern itself all that much with this part of his past. "Roman Polanski, the Survivor," reads the headline of a September 2002 article in Fémina magazine, referring to his childhood in a Krakow ghetto and to the 1969 murder of his wife, the eight-months pregnant Sharon Tate, by Charles Manson and his accomplices. At the time, the sexual assault was only mentioned in a single line, and the magazine asked, "Was it a setup?"
When "The Pianist" came out in 2002, Polanski received many accolades, even in the U.S., where the filmmaker, in spite of his absence, got a standing ovation when he received the Oscar for best director. Some of the faces in the room seemed confused, but the majority of those assembled stood up, following Martin Scorsese and Meryl Streep's lead.
In France, though, he can still count on a number of artists who will seemingly always defend him. During the César Awards scandal, a number of them continued to defend him. Among them were Catherine Deneuve, as well as the producer Dominique Besnehard, who deemed it a "tired debate." George Clooney, for his part, finds it "frightening to imagine that people are still after him," when Polanski is now 83 years old.
But some dare to. During the Molière Awards, in February, French actress Blanche Gardin attacked Polanski, albeit without naming names, by recounting a childhood story: "I loved being on stage with my little fellow actors, especially because while we were on stage, the director couldn't touch us. He was a brilliant director, by the way, you know – it's important to be able to separate the man from the artist. It's strange that this is something we only tolerate in artists. Nobody says, for example, of a baker: 'It's true that he kind of rapes kids inside the bakehouse, but he still makes an extraordinary baguette.'"
The French Film Directors' Society also seems to be changing its tack in the wake of the Weinstein affair. The society, which hadn't said anything until now, has deemed it necessary to issue a press release clarifying its position: "We are living out the symptoms of a highly hierarchical, still deeply unequal ecosystem, one that concerns the whole industry. Abuse of power, power that remains concentrated in the same few hands, sexual misconduct... all of this makes the film industry, which is far from being the only industry concerned, an eloquent display case for these abuses... The winds of change are blowing, and it is our collective responsibility to be a part of that."
The winds are indeed changing, but the image of Roman Polanski is a complicated one, because he is viewed as both a victim and a perpetrator. A victim both in his childhood and in the violent murder of his pregnant wife several decades later, and a perpetrator because of his raping a child. But today's mindset, and the multiplying accusations, may well tip the scales.
Calling all HuffPost superfans!
Sign up for membership to become a founding member and help shape HuffPost's next chapter