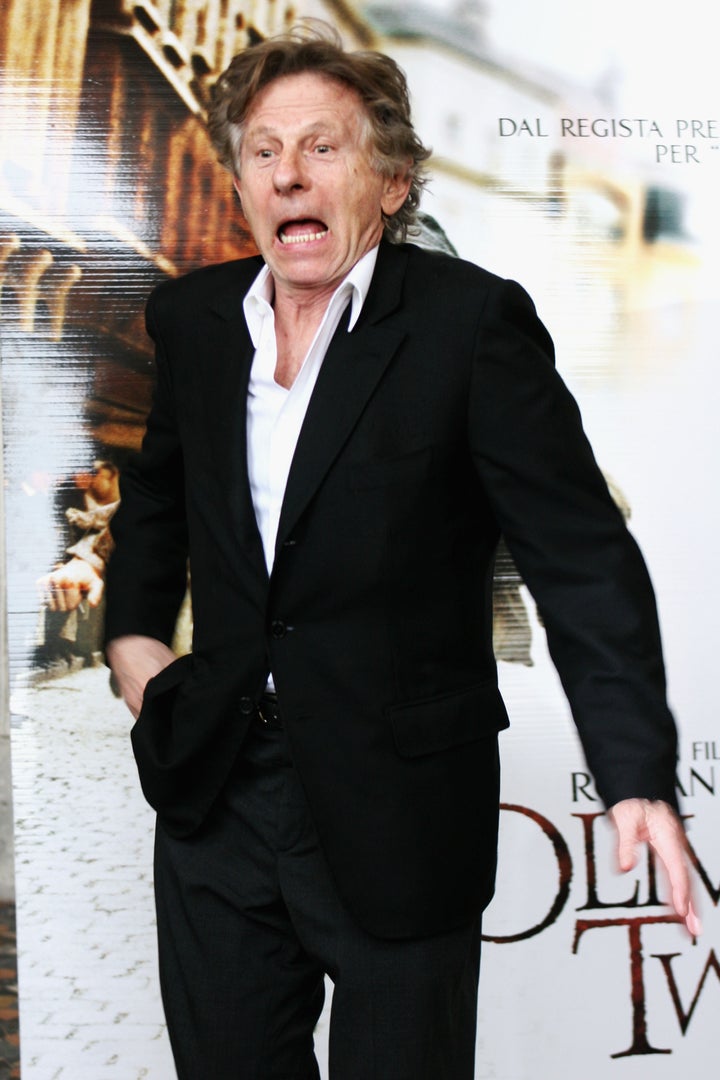 **See Photo Below**
Wikipedia administrators have blocked filmmaker Roman Polanski's Wikipedia page from being changed after an 'edit war' broke out following the news of Polanski's arrest on child sex charges.
Wikipedia's forum indicates that users of the free encyclopedia disagreed over whether Polanski's sexual molestation of a 13 year-old, for which he was arrested on September 27, 2009, should be given more weight than his professional accomplishments.
One contributor wrote that it amounted to a breach of Wikipedia's commitment to neutrality to describe Polanski only as a "Polish-French film director, producer, writer and actor" in the first sentence of the entry, because "he's just as well known as a child molester as he's known as a writer". [...]

After one contributor deleted a reference to the initial charges, another tried to get them reinstated, writing: "I'm very concerned by the attempt to remove this information from the article. After all, this is what the whole case is about."
Polanski's Wikipedia page has a note at the top alerting users, "This page is currently protected from editing until September 28, 2009 or until disputes have been resolved." (See photo below) Increasing the protection level of an entry means that only Wikipedia administrators can make edits to the page.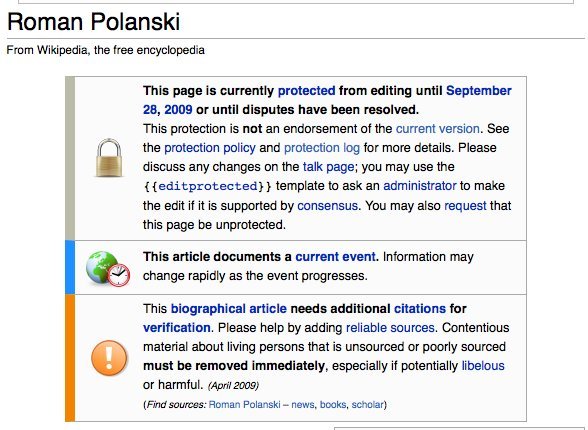 a Polish-French[1][2] film director, producer, writer and actor. Polanski began his career in Poland, and later became a celebrated[3] Academy Award-winning director of both art house and commercial films, making such films as Rosemary's Baby (1968) and Chinatown (1974). Polanski is one of the world's best known contemporary film directors and is widely considered as one of the greatest directors of his time.
His arrest for having sex with a 13 year-old is not mentioned until the second paragraph. On Wikipdia, Polanski is listed in categories that include "Sex Scandal Figures," "Fugitives Wanted On Sex Crime Charges," and "French Sex Offenders."
In the past, WIkipedia has locked other controversial entries from being edited because of the disputes over their content. The Telegraph notes, "Earlier this year members of the Church of Scientology were banned from editing articles about their church, while Palestinian and pro-Israeli groups have repeatedly clashed over attempts to correct historical "errors" on the site."
Calling all HuffPost superfans!
Sign up for membership to become a founding member and help shape HuffPost's next chapter