Archaeologists in Rome have unearthed a massive section of the ancient port city of Ostia, shedding new light on the city's historical significance.
Researchers for the Portus Project -- an archaeology initiative led by Britain's Southampton University and Cambridge University -- working in collaboration with the British School at Rome and top Roman archaeologists discovered a new boundary wall that greatly extends the Ostia city limits. In the new geophysical survey, archaeologists also found massive warehouses the size of footballs fields which most likely held imported goods before they were sent on to Rome.
''Our results are of major importance for our understanding of Roman Ostia and the discoveries will lead to a major rethink of the topography of one of the iconic Roman cities in the Mediterranean,'' Professor Simon Keay, director of the Portus Project, told The Telegraph.
The new findings counter a previously held belief that the Tiber River, which flows into the Mediterranean Sea, was Ostia's northern border. The recent excavation, however, shows that Ostia's land continued on the other side of the river. This new area was referred to in antiquity as Isola Sacra, or Sacred Island.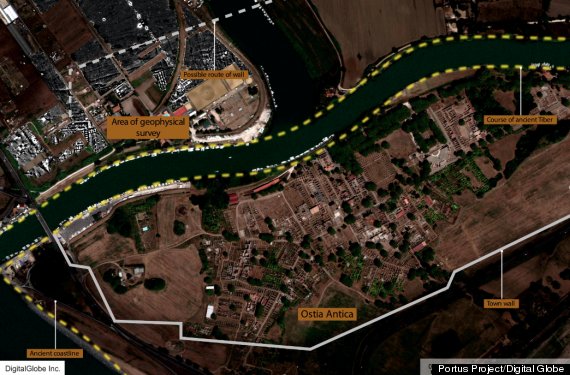 The newly discovered portion of ancient Ostia is outlined by a dotted white line, north of the Tiber River.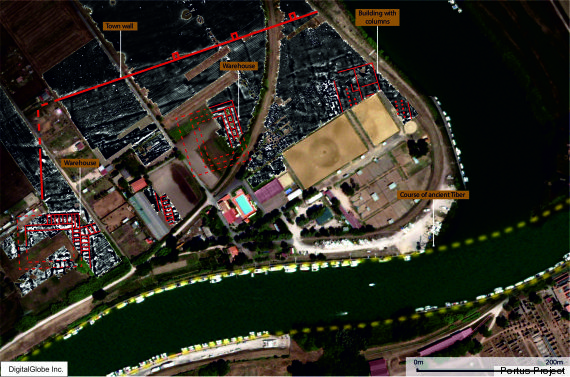 A closer view of the new geophysical survey of ancient Ostia.
"Our research not only increases the known area of the ancient city, but it also shows that the Tiber bisected Ostia, rather than defining its northern side," Professor Keay said in a press release announcing the discovery.
Situated just 20 miles outside Rome, Ostia was essential to the city, supplying nearly all of its food and goods shipped in from the western part of the empire, for the first 200 years of the millennium. As the Roman Empire transformed, its commercial hub moved to Constantinople, and Ostia was nearly abandoned by the fifth century. Eventually the city was buried beneath dirt and sand dunes from devastating floods that overflowed the Tiber, said Darius Arya, CEO of the American Institute for Roman Culture, in an interview with The Huffington Post. But when Ostia functioned as a bustling port city, roughly 60,000 people lived there, Arya estimates.
"Ostia is a mirror of Rome. So, if we want a great sense of what Rome is like ... you go to Ostia. Ostia is imperial. Ostia has a much larger arch and longer story because it's not destroyed but [was] ultimately abandoned," Arya said.
This photo by Darius Arya shows a previously unearthed part of the ancient ruins of Ostia partially submerged by recent floodwaters.
The ruins of this once-bustling port city are now a public park, where "drug addicts" and the occasional pet owner abound just outside its perimeter, Arya says. As new evidence emerges, enlightening historians of Ostia's significance in Roman history, Arya hopes others will be inspired and work to preserve Ostia's legacy.
"The more we learn about these fascinating people, the more we learn about our own collective past," Arya told HuffPost. "We can gain insights from their successes and failures, and so much of what they did can continue to inspire generations of not just archaeologists, but urban planners, graphic designers, architects, engineers, people of business, economics. Really, it has something for everyone."
Related
Before You Go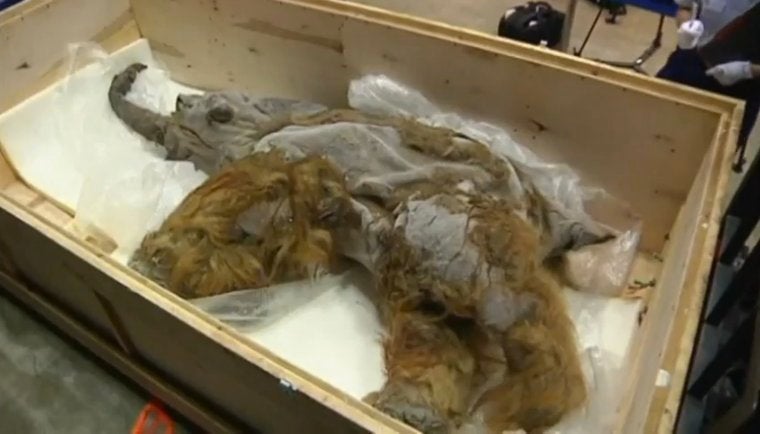 Unearthed
Popular in the Community