First they plundered Britain. Then they gave each other the shaft.
Apparently all that conquering made Roman soldiers thirsty for a drink out of a penis-decorated pot.
The third-century vessel is featured in a new "Sex in Objects" workshop at Cambridge's Museum of Archaeology and Anthropology in England.
One of the pot's prominent designs is a chariot pulled by penises, surrounded by other phalluses and images of couples copulating. According to the museum, it's believed that Roman troops drank from the pot to tickle their funny bone as they attacked Britain.
"They would be drinking watered-down wine from it and surely having a laugh about the decoration," Imogen Gunn, the collections manager for archaelogy, told The Huffington Post Monday. "I would be inclined to say that the decoration was meant to be humorous and a bit titillating."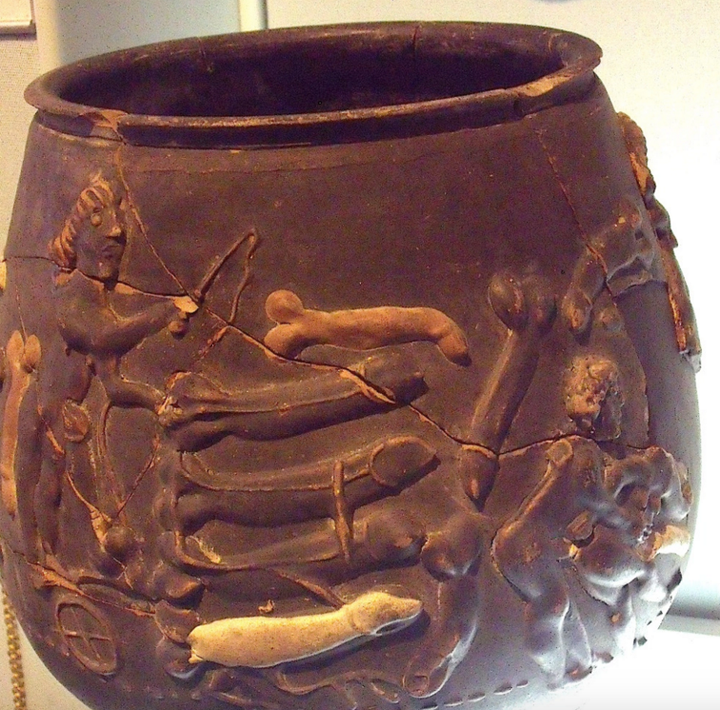 Gunn said the beaker -- believed to be excavated during a dig in the mid-19th century and in the museum's hands since the 1940s -- was probably from Great Chesterford, Essex, the site of a Roman camp.
According to the BBC, the Romans began their invasion about 2,000 years ago, calling the region "Britannia," or "Land of Tin." Interested in the precious metals, they killed and pillaged while also building new forts and spreading their laws and language.
Apparently they weren't too busy to leave their middle school sense of humor behind either.
Popular in the Community