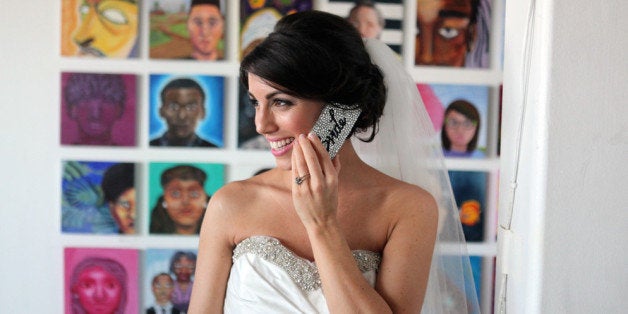 Some people fall in love at first sight. For me, it was first tweet. This wasn't terribly surprising to my friends, who had been listening to tales of my internet flirtations since I was a pre-teen, but how my husband and I met continues to be something newcomers to our lives gawk over.
"Wait, you can find love on Twitter?" they'd ask. "I thought that was just for reading news."
When I first saw Thomas, he was simply a tiny avatar on my screen. My mouse hovered over his gorgeous eyes, piercing through the pixels, causing my fingers to hesitate so I could linger another second longer. Most say eyes are the windows to the soul, though his Twitter stream is what really wooed me. He was insightful, witty and a little raw. Even though there was a computer screen and a few hundred miles between us, I felt like I got him, this virtual stranger. After retweeting his words to catch his digital eye, I Direct Messaged to ask if he wanted to meet for a drink the next time I was in his city, visiting my family (yes, turns out we grew up two towns away from each other).
A month later, we started dating exclusively, sneaking mid-week Amtrak trips into our schedules, giggling at each other over the tops of our laptops when it was time to work and ending our short time together with slow dance parties for two in my studio apartment. But we often returned to Twitter to type more characters in our love story.
@eFlirtExpert: Four years later and I still swoon a little when @URwingman pulls out my chair.
In a world where technology is often how we disconnect with reality, Thomas pulls out his iPhone from his pocket and I from my purse, and we use tech to share experiences, saving memorable moments in our relationship scrapbook in the cloud. Checking into Foursquare from our Central Park picnic blanket or snapping an Instagram of our date at Fenway wasn't the result of a habit, something that got in the way of our romance. Instead, this is part of our courtship, a shared experience that brought us closer together because of the emotion behind the seemingly meaningless action of tapping 'Send.'
This year, we wed with 4,000 paper Twitter birds flying overhead. An infographic save-the-date announced the timeline of our relationship, from our first kiss in Boston (@minibar) to our Christmas Eve engagement.
On that snowy day in December when Thomas proposed, we celebrated with our families, called our closest friends and gushed to them over the phone, but stayed silent on social media for a few weeks. We wanted to make sure all the important people in our lives heard from us personally before finding out on Facebook, and it seemed a milestone worthy of a bigger internet proclamation. So we each wrote a blog post from our own perspectives about the engagement and posted at the same moment, reading each reply to our individual tales of love while we snuggled together, in love.
Having others join in our #lovestory inspired us to invite them to continue to digitally share in our moments on our big day. As the lights twinkled above, guests were welcomed with personalized place cards that resembled Twitter bios, table numbers listed as hashtags from our courtship, like #skypedate. At most weddings today, couples encourage guests to unplug, but our nuptials were live-tweeted by our friends and family, streams of congratulations and photos of dance-floor Instagrams filling the iPad screens around the room, which served as the centerpieces in our magical Twitter forest.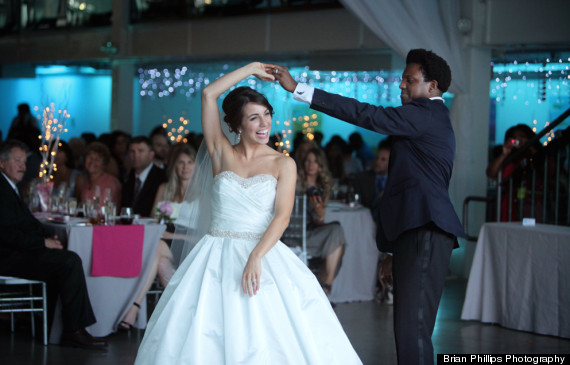 Many say that meeting through technology isn't romantic, that social media all too often becomes a barrier in a relationship. But with small adjustments to your approach, the internet can become a magical and dreamy place for a relationship to unfold. For my husband and I, it's where our #happilyeveredwards will always continue to exist.
REAL LIFE. REAL NEWS. REAL VOICES.
Help us tell more of the stories that matter from voices that too often remain unheard.