Last Tuesday, as protesters chanted outside of government offices in Bucharest, Romania, the Romanian legislature rejected Law 330/2013, which would have amended the current Romanian mining law in order to allow the Rosia Montana Gold Corporation's (RMGC) gold mining project to go forward.
The proposed gold mine in the beautiful mountain village of Rosia Montana has been the subject of months of strident protests both domestically and internationally, where protesters chant that Corporations shouldn't write laws and decry the corruption and collusion of the Romanian government.
The rejected generic mining law was put forward after a special law designed specifically for RMGC failed. In a turn that is no doubt unsurprising to many Romanians, much of the pertinent language in the failed generic mining law was more or less copied and pasted from the earlier project-specific law, specifically in its empowering of the state to expropriate for the furtherance of the project.
Certainly, Tuesday's vote against the new mining law is a victory for the protests, which have continued unabated for months. But few are cheering in the streets.
This past Tuesday is also being referred to as Black Tuesday. There were several matters voted on that same day, while the public's attention was fixated on the mining law.
Perhaps the most incredible of these was a series of amendments to the country's penal code that would immunize the political class (e.g., the president and parliament, mayors and, yes, lawyers!) from corruption charges by removing their status as "public officials." Further, this immunity may well extend to prior acts.
Worried about corruption charges, abuse of office, bribery (perhaps with, say, a large transnational corporation from the extractive industries)? Look elsewhere, it would appear.
While there is no explicit link between this vote and the Rosia Montana mining project, or Chevron's shale gas projects, it is worth nothing that there is now a criminal investigation against RMGC (a Romanian subsidiary of the Canadian Gabriel Resources) concerning money laundering and corruption charges.
Unsurprisingly, commentators in Romania and the EU and abroad are troubled by these events. But there is more to be worried about in Romania. The state is now violently using its police forces against its own people, who are rightly distrustful of the state's appraisal of their best interests. The epicenter of this violence is a small village called Pungesti.
The protest movement, which surged to public life this autumn despite government and press efforts to delegitimize it, initially circled around the Rosia Montana mining project. But as I saw even in the first weeks, these protests were about much more than stopping one deeply problematic mining project. One could not but understand that the tens of thousands on the streets every Sunday and their countless supporters were fighting for the very future of Romania.
The people railed against cyanide mining and the destruction of their patrimony, but also shale gas, exploitation and neo-colonialism, corruption in the government and the press. If a name were to be given to the protest movement, perhaps the best one comes from the popular hashtag #unitisalvam, "United We Save."
There is a strong sense in this country that the paradigm shift promised by the fall of the dictator Ceausescu in 1989 never came. There is a sense (among capitalists and left-wingers alike) that the old oligarchies -- amidst the shadowy milieu brought on by the dynamics of free market capitalism and rampant corruption -- wrote themselves into Romania's post-Communist future.
There is a particular event from that post-1989 disorder that has a keening relevance: the Mineriad. In mid-1990, a wave of student protests occurred in Bucharest, as people began to see the change they had hoped for in the winter of '89 disappearing. The government then summoned up a large group of miners, deceived into believing they were saving a besieged democracy, and brutal violence ensued.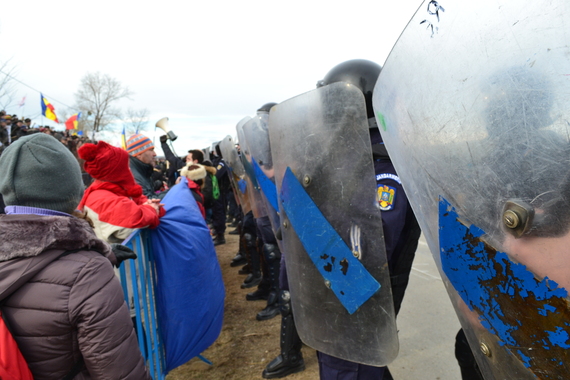 Photo by Robert Frunzescu
And history repeats itself. In the small rural village of Pungesti, the community has united against Chevron's efforts to drill for shale gas underneath the lands they have farmed for generation upon generation. In turn, they have seen police of all colors (from regular police to riot police to peacekeeper troops) descend upon their village, violating civil rights, beating individuals, and intimidating the entire community.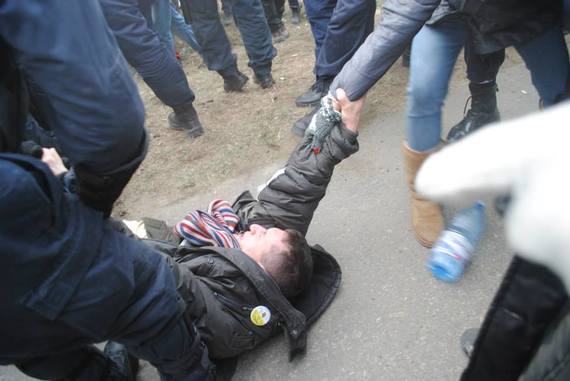 Photo by Ioana Pasc
I spoke with Oana Dorobantu, a journalist for Vice Magazine Romania, who was on the scene providing live coverage while her colleague Mircea Topoleanu streamed video. She recounted the events. Just after December 1, some 1,000 riot police were patrolling the village of Pungesti. Last Saturday, a scheduled protest began at noon across the street from a Chevron drilling site. There were some 300 to 400 protesters, mostly villagers. Shortly thereafter, some of the villagers crossed the street, where roughly a dozen riot police waited as well as Chevron's privately contracted force, with hundreds more police down the road. A hundred villagers then began to tear down the fence surrounding Chevron's site, chanting, "You are like us, you are Romanians! We will not hit you; do not hit us!" After the fence was halfway down, the terrorized villagers then began crying "riot police are protecting thieves!" The police then began abusing the protestors.
Police then began arresting protesters left and right, including activists who had only just arrived (Col. Neagu of Bucharest and second in command of Romania's riot police, Ovidiu Vasilica, were on the scene to identify prominent activists). Protesters were dragged onto the streets and struck, with the police targeting activists (none of whom had crossed the streets).
The video above, captured by Mihai Sabotnicu, shows a young boy screaming as he is violently pulled apart from his dazed father, who is being dragged into the back of a van (beginning around 4:20). No reason was given for these arbitrary arrests in apparent contravention of Article V of the European Convention on Human Rights. Children were singing an anthem they had written: "Cry, my mother, cry, my father, the country has been stolen."
The police separated everyone into groups and IDed them, arresting many and caring little for press badges. Having cleared the protesters camp, the police then searched the private property therein and returned with a single Molotov Cocktail. It is worth nothing that these protests throughout Romania have been singularly peaceful, with the motto "without violence" commonly shouted when the riot police begin to shoulder in on the crowds.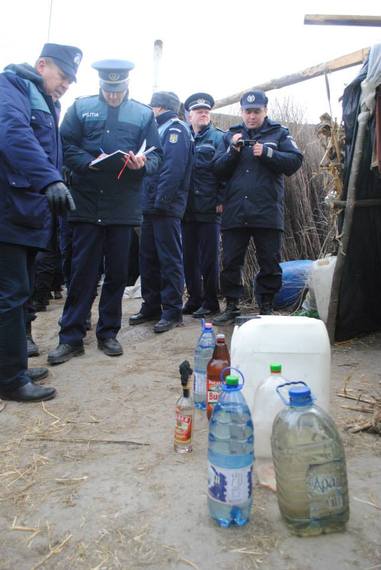 Photo of 'Molotov Cocktail' by Iona Pasc
The logic of state violence requires little more than a brick through a window. Armed with this evidence of violence, the riot police declared a state of emergency and began entering people's private property in search of activists.
Later in the evening, several prominent activists arrived and were found at the village store and summarily arrested. One of them, Claudiu Craciun, a political science professor and leading activist in the protest movement, described his experience, explaining that he was put in a van with other activists and beaten by masked policeman. Mr. Craciun explained what he saw on the evening of Saturday the 7th as "a village under siege," stating that "it looked like a war zone." He described Pungesti last weekend as "a place where the constitutional rights and the European and international conventions for human rights are suspended."
This past Tuesday, even as the mining law was rejected and Rosia Montana granted another brief respite, the Romanian parliament and lower chambers elected to grant themselves immunity. This vote happened days after the police violence in Pungesti. It happened some six weeks after the prime minister of Romania, Victor Ponta, sat with Chevron and Exxon representatives on his trip to the United states after having done a 180º on a green election platform. It happened days after a criminal investigation was opened concerning RMGC and political corruption.
The logic of state violence is a fragile thing, and it may bring a people together where it was meant to quash dissensus.
CORRECTION: A previous version of this post indicated that the included video was produced by Mircea Topoleanu.
Popular in the Community