As countries go, Romania often gets a bad rap. What associations come to mind when you think of Romania? Maybe it's roaming gypsies or hordes of stray dogs. Hardly makes you want to book a ticket on the next plane to Bucharest. What about its tourist highlights? It seems they often revolve around medieval sights and fortified churches. But I found a different Romania, one with bucolic valleys, scenic mountain villages, fine wines, verdant parks and chic boutique hotels.
Cafes & Crafts
Just off Bucharest's broad thoroughfare, Calia Victoriei, a shaded alley beckons. On the weekend, the Green Garden, an outdoor crafts market, is in full swing. Hand-painted cotton slippers, ceramic plates with images of bay windows, felted animals, collage ceramic pendants, glass jewelry, even an origami candleholder are all for sale. As I wander among the vendors, I gaze past the clutch of shoppers to the alley's terminus where Green Hours 22 Club Jazz Cafe is situated. Sitting under an old sycamore, I ordered one of their many freshly made lemonades (one with rose syrup) and a pizza topped with red onions, corn and tuna. One resident who lives down the street tells me this is his favorite spot where all the cool people hang out -- he's seen celebs that include Keifer Sutherland and Demi Moore. The place has such a low-key but hip vibe that it wouldn't be out of place in Manhattan. I return the next day for a glass of full-bodied wine from Romania's Prahova Valley.
Green Spaces
The middle of Bucharest is coated with an expansive green space that's the second oldest park in Bucharest. Cismigiu is populated by a diverse selection of 19th- and 20th-century trees, including weeping willows, oaks, red spruce and Japanese red pines. On Saturdays and Sundays, the whole city seems to gravitate here to row on the man-made lake, stroll the network of paths and picnic on the spacious lawns. Several cafes are positioned with scenic lake views. I wander to the many petite gardens, including a peaceful Asian-landscaped plot with trickling water. Nearby, a long pedestrian way is crowded with flea market vendors selling everything from herbal tinctures to fur coats.
Sinaia is dominated by the Carpathians, which form a dramatic backdrop in this charming ski town that's also popular in the summer for its hiking. Most of the buildings in town display a mountain chalet-type architecture that is more typical of Swiss villages. Located in the Prahova Valley, the town is rimmed by thick forests. Beyond, cable cars rise up the slopes of the Bucegi Mountains. I escape the summer heat in nearby Dimitrie Ghica Park, an oasis with conifers, spruce and chestnut trees. Snuggled in the park are two hotels from another era: the Caraiman Hotel dates to the late 19th century, and the Palace Hotel has been open since 1911.

Set at 3,000 feet above sea level, under the shadow of the massive Caraiman and Costila peaks, Busteni is a much more economical resort compared to Sinaia. Rugged heli skiing, rock climbing and extreme skiing are the prime activities here where the sawtooth mountains display their barren pinnacles. Visitors can stay in the town's few hotels and then take a quick train ride to Sinaia for more skiing options.

At an even higher altitude (3,400 feet), Predeal is at the border between Transylvania and Walachia provinces. The recently renovated Hotel Orizont presents a contemporary option to the typical Swiss-style architecture. In the expansive nature-themed reception-lounge space where I sipped a cappuccino, Y-shaped tree barks with gilded studs stand at attention while the floor is inset with glass portions covering river stones. Designed by architect Christian Boltres, the hotel, which retains some traditional elements, including homestyle Romanian offerings in their restaurants, boasts sun-filled suites, including my favorite: the executive apartment on the top floor. (One of its bedrooms is complete with a hot tub.) The mountain views are so captivating, particularly from the Sky Lounge, the bar that's open until 5 a.m., that I find it hard to pry myself away from the windows.
Wine
Azuga isn't just another ski town that beginner-intermediate skiers favor. It's also a center for sparkling wine production. The Rhein Wine Cellar-Rhein and Company has been in operation since the 19th century, even providing wines to the royal family -- their Brut Imperial was their preferred selection. (It's a blend of mostly Chardonnay and plus Feteasca grapes.) In their museum room, you can explore the array of vintage wine labels and wine making equipment. Their informal accommodations are named for grape varieties. But probably the most curious finding is the bear warning poster displayed prominently on the door to their restaurant. (Apparently, brown bears make occasional appearances looking for food -- not wine -- as they wander from the surrounding slopes.)
Medieval Towns Offering More Than History
Brasov is on the list of most who visit Romania. But I wander beyond the usual tourist haunts in this city that was first mentioned in the 13th century. Though located in the new part of town, the five-star Villa Prato makes for a luxe base to explore the old town that dates back to the 16th century. For those who'd rather stay at an enclave in the older part of the city, Hotel Bella Musica occupies a 400-year-old building that's dressed with vintage furnishings. (One apartment even retains part of the old fortress wall.) Veering off the Strada Republic, the main pedestrian street, I stop for dinner at Proto that specializes in homemade pasta, such as tagliatelle with porcini, shrimp and cherry tomatoes. I watch the foot traffic along this narrow walking street from an outside terrace. For dessert, I head to newly opened Deliciile Kronstdt, a quaint pastry shop where a flower motif is prominent. Ensconced at a wee table outside, I nibble on tiny Disney marzipan characters and a mascarpone cake with walnuts, peaches and white chocolate.
On the periphery of Sibiu, a village founded in the 12th century, the ASTRA National Museum in Dumbrava Park offers lessons in history in a nature-centered, open air venue. A network of walking trails wander through this museum that's snuggled in a 240-acre forest. Myriad ethnographic structures, from a pipe maker's homestead to a wooden watermill, dot the wooded landscape. I stroll the lanes, passing families and couples of all ages, to get up-close views of a paddle wheel ferry, a canoe hollowed out of a tree trunk and a windmill.
Because I have a medical background, whenever I have the opportunity, I drop into medical, surgical, dental or pharmaceutical museums. I find the Pharmacy Museum situated in a 16th-century building, to be little visited. In fact, asking my concierge for directions elicited bewilderment: He had never heard of it. More than 6,000 items spanning more than three centuries are packed into four rooms in this museum that's smack in the middle of the old quarter. Wooden jars with herbs, a bronze grinding mortar, elaborately-painted porcelain storage vessels, a pill-making press and a medicine cabinet, all from the 17th to 18th century, are just a few of the memorabilia on display.
A narrow ribbon of a road curls up the densely wooded slopes on the way to Balea Lake, set at 6,700 feet. It's hard to not gape at the bucolic scenery dominated by deep valleys, tumbling waterfalls and ragged peaks. I count myself lucky to experience this road in September: It's usually only passable in July and August. (The rest of the year it's often coated with massive amounts of snow.) Near the base of the terminal of the cable car that soars up to the lake, vendors sell cheeses, sausages, pork and breads. Farther up the mountain, on one precipice, a family sets out a colorful blanket and picnic basket.
Beside the teal blue glacial lake, the Cabana Balea Lac, an accommodation and restaurant, is replete with taxidermy: Bear skin, wild boar and wolf skin rugs decorate the walls; antler chandeliers hang from the ceiling. I sit on the waterfront patio and order their specialty, trout cooked with olive oil, onion and garlic and baked in foil. While I wait for my lunch, I notice a lone hiker tackling one of the network of slim paths that course through the high peaks. Knowing it's almost five hours back to Bucharest, I forgo dessert and roll slowly down the sinuous mountain road that never fails to provide atmospheric views. A vendor sells sausage and cheese beside a small cascade where many visitors stop for photo ops, and a dense flock of sheep migrate into the road followed by the shepherd's two aggressive dogs that have no problem keeping them in line.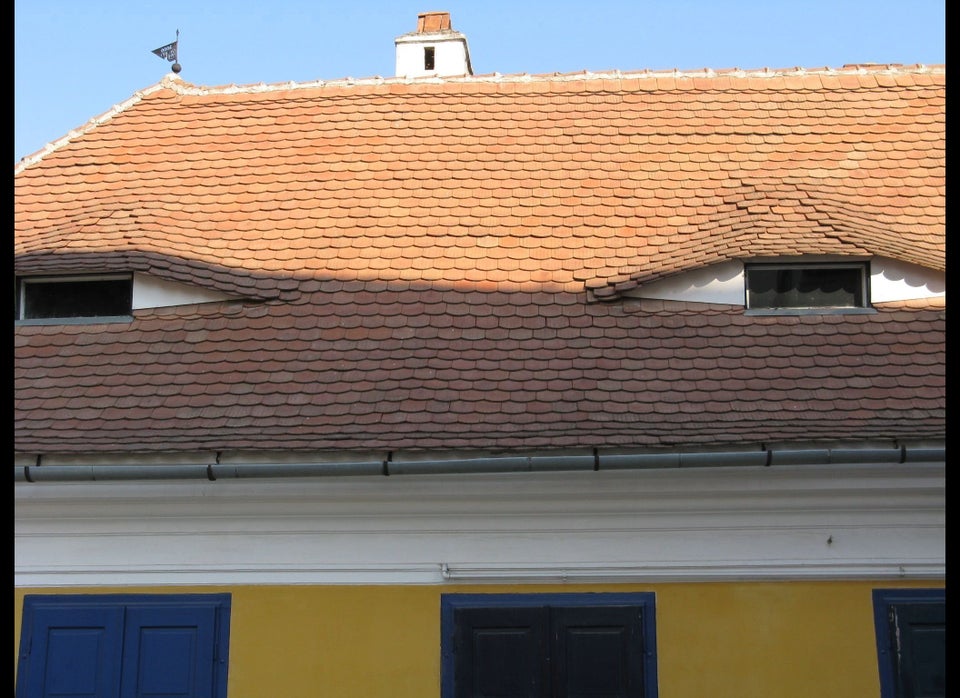 Romania-photos