MOGOSOIA, Romania (AP) -- Solace for world leaders trying to enforce painful austerity measures: At least you're not running Romania. (Scroll down for photos)
Angry witches are using cat excrement and dead dogs to cast spells on the president and government who are forcing them to pay taxes. Also in the eye of the taxman are fortune tellers, who should have seen it coming.
And President Traian Basescu isn't laughing it off. In a country where superstition is mainstream, the president and his aides wear purple on Thursdays, allegedly to ward off evil spirits.
Witches from Romania's eastern and western regions will descend to the southern plains and the Danube River Thursday to threaten the government with spells and spirits. Mauve has a high vibration, it makes the wearer superior and wards off evil attacks, according to the esoteric group Violet Flame -- which practices on Thursdays.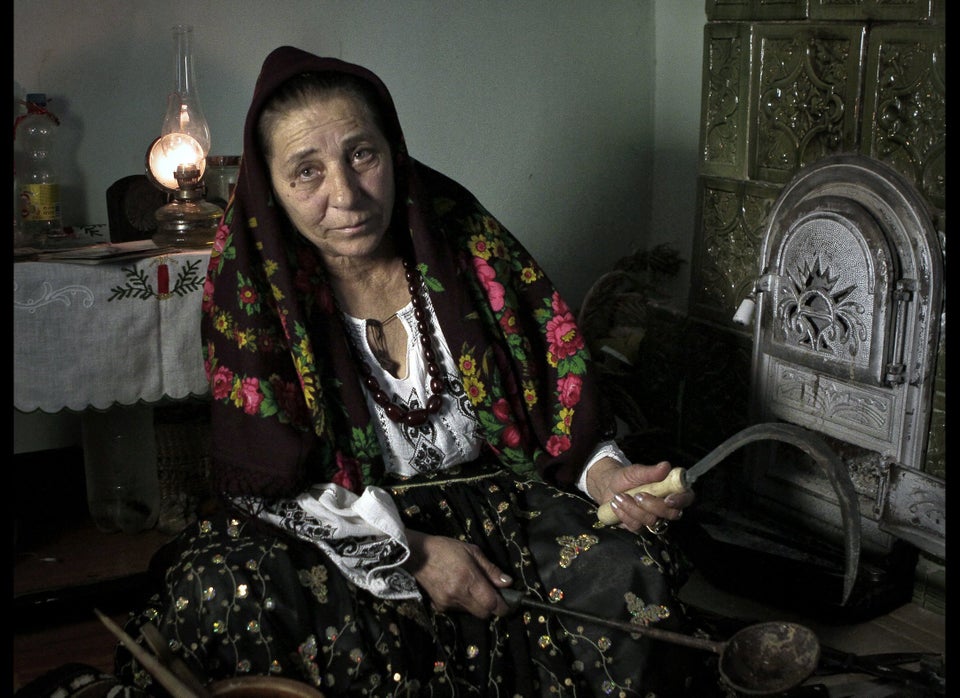 A dozen witches will head to the Danube to put a hex on the government and hurl mandrake into the river "so evil will befall them," said a witch named Alisia. She identified herself with one name, as is customary among witches.
"This law is foolish. What is there to tax, when we hardly earn anything?" she said by telephone on Wednesday. "The lawmakers don't look at themselves, at how much they make, their tricks; they steal and they come to us asking us to put spells on their enemies."
The tax on witches went into effect Saturday as part of the government's drive to crack down on tax evasion in a country that is in recession. Like any self-employed person, they will pay 16 percent income tax and make contributions to health and pension programs.
And it's not only witches: Astrologers, embalmers, valets and driving instructors are now considered by law to be working real jobs, making it harder for them to avoid income tax. Some argue the law will be hard to enforce, as the payments are made in cash and relatively small at 20 to 30 lei ($7-$10) per consultation.
Magic in Romania is no laughing matter. Centuries-old superstitions are rife and are tolerated even by the Orthodox Church, to which more than four-fifths of Romanians belong.
In 2009, the loser in Romania's presidential race, Mircea Geoana, and his wife claimed he was subjected to attacks of negative energy by Basescu's aides during a crucial debate in which he performed poorly.
Geoana aide Viorel Hrebenciuc alleged there was a "violet flame" conspiracy during the campaign. He said Basescu and others aides dressed in purple on Thursdays to increase his chance of victory. They continue to be seen wear purple clothing on important days. Before that, late Communist dictator Nicolae Ceausescu and his wife Elena had their own personal witch.
Queen witch Bratara Buzea, 63, who was imprisoned in 1977 for witchcraft under Ceausescu's repressive communist regime, is furious about the new law.
Sitting cross-legged in her villa in the lake resort of Mogosoaia, just north of Bucharest, she said Wednesday she planned to cast a spell using a particularly effective concoction of cat excrement, a dead dog and a chorus of witches.
"We do harm to those who harm us," she said. "They want to take the country out of this crisis using us? They should get us out of the crisis because they brought us into it."
'My curses always work!" she cackled in a smoky voice. She sat next to her wood-burning stove, surrounded by potions, charms, holy water and ceramic pots
Not every witch is threatening fire and brimstone.
"This law is very good," said Mihaela Minca. "It means that our magic gifts are recognized and I can open my own practice."
Read more: http://dailycaller.com/2011/01/05/romanian-witches-use-spells-to-protest-new-taxes/#ixzz1ABWlOKkY
Popular in the Community