UPDATE: The Bucharest Herald reports that the Romanian Patriarchy is refuting the calendar producers' claims, saying the models are merely "posing as Orthodox priests" and that the product is "indecent" and created with an "obvious intention to calumny and defame Orthodox ministers and desire to promote and justify their own ideology."
A calendar spread featuring men who claim to be Romanian Orthodox priests in scintillating poses is making the blogosphere rounds.
The Romanian Orthodox calendar includes "12 seductive artistic pictures of Orthodox priests and their guests" according to its official website. The calendar's description reads as follows:
"It is a time when the Orthodox Church is embroiled in corruption scandals, artist repression, gay sex cover-ups, outrageous behavior and homophobia. Yet some of their members have agreed to strike a pose and openly stand for who they are underneath the priest's clothing they wear: regular people with passions, preferences, interests and desires."
Preview photos which appear on the calendar's Facebook page contain some double entendre-laden captions. Reads one: "Father Daniel has a simple plan to collect enough funds from his church to help needy children in his village. But the size of some men's projects have made his jaw drop."
Describing the calendar as "homoerotic" with shots "mingling the edgy with the hot," officials go on to note: "This first 2013 edition tells the individual story of 12 intensely masculine young men and their guests representing different parts of eastern Europe. All are open-minded and believe that besides their passionate devotion to the Orthodox Church, it is important to be perceived as individuals committed to diversity and acceptance."
Check out photos from the calendar as they appeared on the calendar's Facebook page below:

Before You Go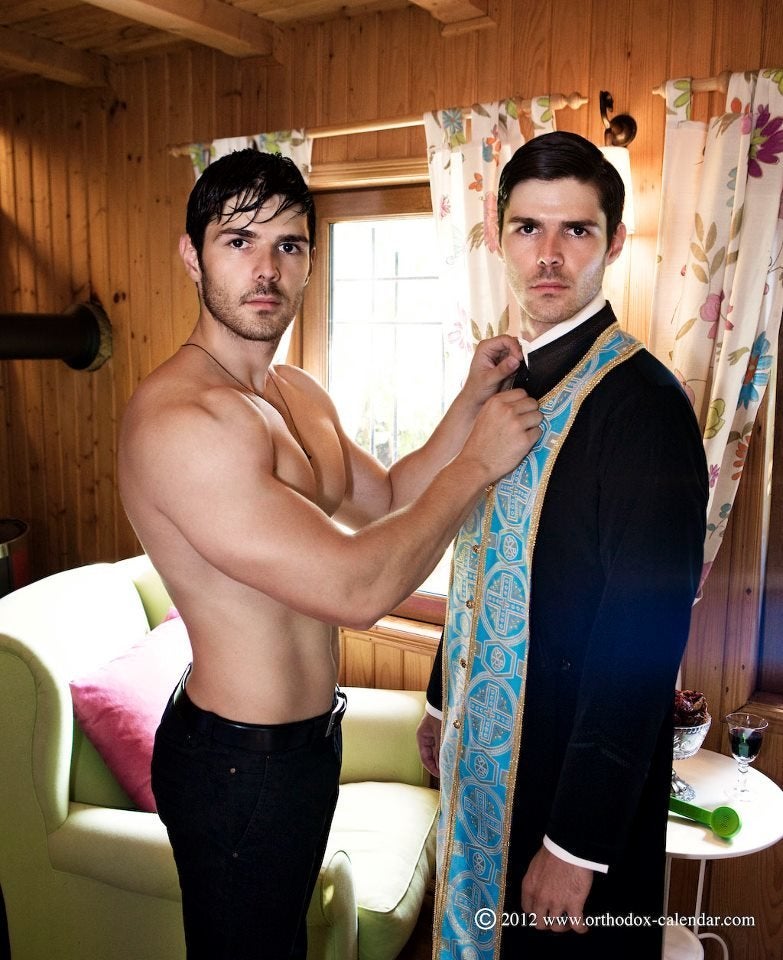 Romanian Orthodox Calendar 2013
Popular in the Community