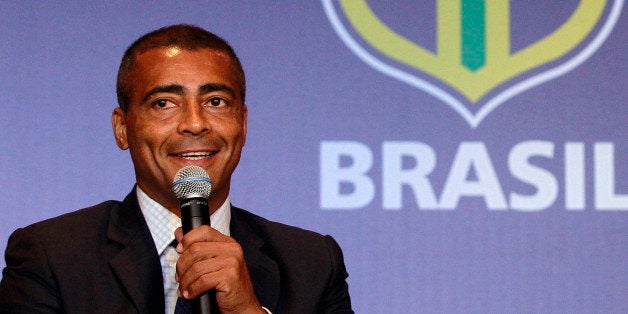 One of Brazil's most dynamic political figures first rose to fame on the soccer field.
Romário de Souza Faria -- commonly known just by his first name -- led Brazil to victory in the 1994 FIFA World Cup, earning himself both the FIFA World Player of the Year award and a cult following in the soccer-crazed country. But over the past few years, he has channeled his legendary status in his home country into a dynamic presence in the political arena. In 2014, he was elected senator for the State of Rio de Janeiro by a landslide, winning over 60 percent of the votes. The former footballer has succeeded in bringing Brazilians closer to the debates taking place in the halls of Congress, democratizing a political process that can seem arcane or complex to the masses.
A father of six, Romário was inspired to become a politician by his youngest daughter, Ivy, who was born with Down syndrome. The former football hero was motivated to fight for the rights of people with rare diseases and disabilities. He was elected a federal congressman for the Socialist Party in 2010, and within his first months in office won passage for a legislative article that created special subsidies for the disabled. Throughout his terms in office, Romário has regularly campaigned for disability access. In 2013, he became the leading critical voice in the country, protesting Brazil's choice to host the 2014 World Cup. He spoke out openly against the relationship between the government and FIFA, and argued that the money poured into preparation for the event was starving social programs of critical funds. Romário has leveraged social media to build and maintain a loyal political following. An active Facebook user, he regularly garners thousands of likes for his posts -- which focus on topics as diverse as the need for more widespread Brazilian sign language education to thoughts on his favorite movies. Romário, former football star, continues to charm his fans with his rough-edged, sincere and candid political persona.
What is the greatest personal achievement you expect to have in the next 10 years?
I have eight years in office ahead, and I am sure many challenges will arise during this period. As a public figure who holds a popular representation mandate, I cannot speak of personal challenges. I believe that each bill voted on in Congress is a challenge. Because the real intentions of a legislative text are not always clear. A vote can decide on reducing the age at which someone is considered an adult criminal in this country, for example. It sounds simple, but with every decision we make, we are changing the lives of millions of people.
So the main challenge is to always make the right choices in the slippery and misty world of politics. Ten years from now, I want to look back and be sure that I did well for my country. Now, there are some specific issues that I consider to be personal achievements, but they are public issues. For example, achieving full integration of disabled people in society, and helping to improve health care for people with rare, chronic and serious illnesses in the public system.
What was the greatest challenge you had to face last year?
Certainly, the election for the Federal Senate.
Who has been your inspiration, your role model, in adult life?
My father and mother have always been the people who inspired me the most. My father died 10 years ago; my mother is still alive and well. They gave me the best examples of integrity and values. Ivy, my daughter who has Down syndrome, is a great inspiration, too. It was because of her that I got into politics.
What do you think deserves better coverage in the press?
I think political news coverage is very poor. They focus too much on gossip. Often, the legislative agenda of important projects for the country is set aside. Few journalists know how to cover the legislative work. I see some media vehicles giving a lot of space to controversial figures with absurd ideas, whereas good parliamentarians and good ideas have no place in newspapers.
Which (living) person do you most admire?
My mother. Pope Francisco, a very serious person, and a good human being who is above religion, a light person. Former Secretary General Kofi Annan, who, in my opinion, did a great job when he was head of the UN. It didn't come as a surprise that he won a Nobel Peace Prize. The former president of Uruguay, [José "Pepe"] Mujica, has given a good example of humbleness and honesty for all politicians.
What advice would you give to a young man who is trying to decide what to do with his life?
There are no limits to dreams.
What are you most grateful for?
For many things. For the health that Our Father in Heaven gave me. For sports, which have given me the opportunity to change my life and the lives of many people around me. And for the recognition of people for what I did and what I do.
What is the problem or issue you are most interested in seeing resolved in the next 10 years?
I think we're going through very bad economic times in our country, and hopefully we can get through it without going back on social, labor and social security rights. In the world as a whole, I hope extreme social inequality is eradicated and that we may have peacetime, without conflicts. I hope to see the problem of drug addiction solved, and the cure of various diseases that plague humanity. Finally, the climate...
What's the first thing you do when you wake up in the morning?
I open my eyes... (Laughs.) Lately, I've been saying thanks to God and asking Him for a good day.
What do you do to unwind, relax, recharge your batteries?
I play footvolley, football, I date, I hang out with my friends.
What trends of today do you think we will think of with disbelief in 10 years' time?
How many hours do you sleep per night? How important has sleeping been in your life?
From 18 to 35, I slept very little. Now I sleep a lot, and very well. During the week, maybe about eight hours. But on weekends I get to sleep for 10 hours.
What do you value the most?
Friendship, gratitude and loyalty.
This piece was originally published on HuffPost Brazil. It was translated into English and edited for an American audience.