For those who think the Orient Express exists only in the movies (case in point, the film adaptation of Agatha Christie's Murder on the Orient Express) and the history books, think again. The Venice Simplon-Orient-Express is indeed alive and well, carrying 15,000 passengers yearly, on stylish train journeys between European capitals. While the London-Paris-Venice route is the train's most famous itinerary, few people realize it is possible to ride the Orient Express within Italy itself, between Venice and Rome, and vice versa.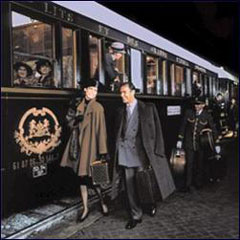 The opportunity presents itself just a few times a year however, so careful planning is in order. The Venice-to-Rome run takes place during the day, with passengers served lunch on board. Rome to Venice is an overnight trip, leaving Rome just before dinner Sunday and arriving in La Serenissima just after breakfast on Monday.
While I am always eager to try something special on my visits to Italy, the chance to ride on this famous train has added meaning for me. My late grandfather, whom I was especially close to and with whom I spent practically every day of my childhood, was a railroad engineer for over 50 years, beginning shortly after World War I. He taught me to sing"I've Been Working on the Railroad," told me the legend of Casey Jones and recounted the highlights of his days on the rails -- from meeting Harry Truman (he greeted the crew with, "How ya doin' boys?") to crossing New York's Hell's Gate Bridge on his runs between New York City and New Haven, Connecticut. I have trains in my blood and can't wait to ride one of, if not, the most legendary train in the world.
The original Orient Express was founded in the 1880s by Georges Nagelmackers, founder of Compagnie Internationale des Wagons-Lits et des Grands Express Europeens. The popularity of the Orient Express increased when the Simplon Tunnel was built in 1906, significantly reducing the trip between Paris and Venice. The luxury train enjoyed its heyday during the 1920s and 30s. World War II and the age of airplane travel reduced demand for the service and although the original train operated into the 1970s, it appealed to a less sophisticated crowd.
In 1977, entrepreneur James Sherwood bought two of the train's carriages at a Sotheby's. He spent the next few years and $16 million locating, purchasing and restoring some 35 vintage sleepers, Pullmans and restaurant cars. On May 22, 1982, the reborn Venice Simplon-Orient-Express made its maiden run from London to Venice.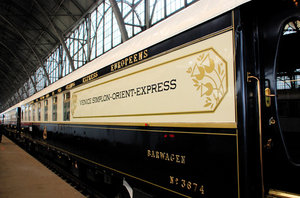 My mother and I arrive at Rome's Ostiense Station about an hour before our 8:05 p.m. departure for Venice. While our journey will take about 14 hours, Trenitalia's Eurostar train takes less than five hours; but speed is not our goal tonight. As we approach the train, every inch of the black carriages shine as if they are brand new and many of the passengers stop to take photos. As we climb on board and reach our cabin, the sense of awe only increases.
My mother and I are the envy of our neighbors -- a British couple celebrating an anniversary -- as we have a cabin suite, with two interconnecting double cabins, giving us double the room of a double cabin (at about one and a half times the cost). The jealousy may be warranted as the cabins are small (that's why they encourage us to take a small bag for the night and check the rest of our luggage) but they are so richly decorated and detailed.
Dressed in a crisp blue uniform, our cabin steward Michael appears to show us the various features of the cabin, explain that he is just down the hall if we need anything at any time and ask us what time we would like to have dinner as well as when he should deliver breakfast to our cabin.
I ask about the number of people on board and the train engine. He says that there are just 40 people on our journey tonight, although there had been 135 passengers on the day trip from Venice. Given my nostalgia for trains, I am disappointed to learn that modern engines pull the Venice Simplon-Orient-Express carriages, yet it makes sense. Within Italy, a Trenitalia engine and crew is used and when the train crosses international borders, an engine from the new country takes over.
Dinner and Drinks on the Rails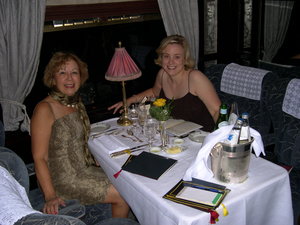 Since the train's promotional materials assure us that "you can never be overdressed on the Orient Express," my mother and I don short cocktail dresses, my silk brown ruffled dress reminiscent of the 1920s. Most of the male guests are wearing tuxedos, although nice suits are not out of place.
Each of the three dining cars seems more opulent than the next. Our table, in a carriage decorated in dark wood and Lalique crystal, is covered in a crisp white linen table cloth and VSOE-engraved china and crystal. We sit in grayish-blue velvet chairs topped with lace runners.
My mother and I raise our glasses of Prosecco to toast my grandfather and a journey he would have loved. Although my grandparents traveled all over the world following my grandfather's retirement, they never had the opportunity to ride the Orient-Express. We're quite sure though, that they are with us in spirit tonight. We are seated next to the windows but since it is dark out there is very little to see, except the lights of the small town train stations we pass along the way.
The head chef has prepared a four-course menu for this evening. Passengers can also choose from an a la carte menu (duck, lobster, caviar) for an additional fee. The meal begins with a vegetable and ham pastry. Our main entrée is braised beef seasoned with rosemary, topped with foie gras, accompanied by buttered broccoli and roast potatoes. The dinner proceeds at a perfect pace and next we enjoy a choice of excellent Italian cheeses. The meal is topped off with an exquisite iced meringue studded with chocolate flakes.
What makes dinner on the Orient Express and indeed the entire VSOE experience is the service. Our international waiters are of the highest caliber, conducting a finely-tuned performance of sorts, with a friendly, yet understated demeanor. They clearly understand the meaning of this once-in-a-lifetime experience for their guests.
After dinner, we join General Manager Bruno Janssens for after-dinner drinks in the bar car. The first half of the carriage consists of sultry brown velvet loveseats and small tables for drinks. A piano player tickles the ivories of a baby grand in the middle of the car and the bar is at the end. It is hard to fully describe the electricity of the scene; I practically expect a tuxedo-clad man to appear and announce that a murder has been committed and be asked to solve it. I ask Janssens about any celebrities who have been on board. He lists off J.K. Rowling, Keith Richards and John Travolta. In case I win the lottery, I ask about the cost of renting out the entire train for a private event. It costs about $300,000 for three days.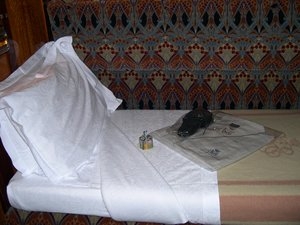 Returning to our cabin, we find our sofas turned into beds with a VSOE night shirt, VSOE slippers and a small box of candies waiting on each bed. My mother and I each had the lower bunk in our connected cabins (suite). Alternatively, a couple may have the upper and lower bunk of one cabin turned into beds and continue to use the other cabin as a sitting area. At this point, enquiring minds probably want to know about the bathroom situation. Each cabin has a wash basin with hot and cold water. Although there are lovely, wood-paneled bathrooms with toilets at the end of each carriage, there are no showers on board. Those traveling on the Orient-Express on multi-day journeys spend some evenings in hotels.
The rhythm of the rails lulls me into a sound sleep and I wake up well rested. One advantage of the suite configuration is that my mother, an early riser, gets up without disturbing me. She has asked Michael to come by at 7:00 a.m. and he arrives with a tray of rolls, pastries, coffee and fruit juice.
A night on the Orient-Express in a regular cabin costs $1,350 per couple. Comparatively, the same amount would buy a night in a room or even a suite at any of Italy's most exclusive hotels. Yet it is hard to put a price tag on how unique the Orient-Express experience is, especially for those of us who love trains. The journey is ideal for those celebrating a special occasion, such as a honeymoon or anniversary. With children welcome on board, a night on the train would certainly be the highlight of any family vacation.
We sit by the windows as Venice comes into view. Leaving the train and collecting our luggage, we walk by the train staff, lined up to bid us farewell. Our departure is not unlike leaving a time machine, I think to myself. Luckily, Venice awaits. If anything can compare to this beautiful, mysterious and historic train, it is certainly this city, that holds the same unique magnetism.