I'm always skeptical - almost scared - of restaurants smack in the middle of tourist areas, but a recent experience in Italy made me wonder whether I've been too cynical.
One of the great day trips from Rome is to the ancient town of Tivoli, where you can see the gorgeous house and gardens of the Villa d'Este and, a few minutes away, the remains of Hadrian's Villa. If you want to eat in Tivoli, well, you are by definition in a tourist zone, which would too often be a reliable signal of mediocre food no matter how much or how little you were ready to pay. But thanks to the ministrations of the excellent tour guide Stuart Harvey (we were there as part of a group - how touristy can you get?), we had lunch at a restaurant whose name would have been enough to frighten us even if it hadn't been a 90-second walk from the gate of the Villa: L'Angolino di Mirko. Mirko? That doesn't sound very Roman to me....
But as it turned out, lunch was terrific. The menu was interesting and the cooking careful, elegant and flavorful, making use of excellent ingredients. For Jackie and me, the highlight was as good a bellyful of fresh porcini mushrooms we've ever encountered, first on lightly grilled bread with excellent olive oil and a little parsley; then tossed with homemade fettuccine. They were cooked to perfection: fully enough to bring out their fruitiness and their almost foie gras-like texture, but not so much that they began to lose their integrity. I tasted a couple of other dishes too, including an artichoke alla romana, with more of that great oil, and everything was delicious.
Sure, it'll cost a few euros more than the place around the corner that sells Nutella crepes, but you'll continue your day of tourism with the happy feeling that lunch was almost as beautiful as the Villa d'Este itself.
L'Angolino di Mirko: Excellent food right near the Villa d'Este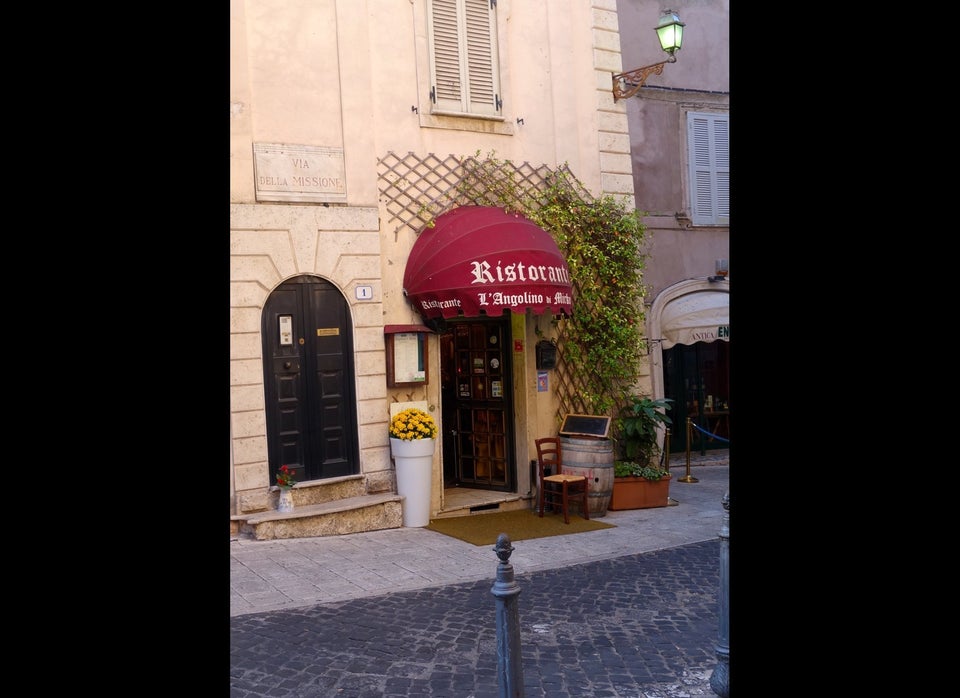 Porcini mushrooms on grilled bread: About as good as they get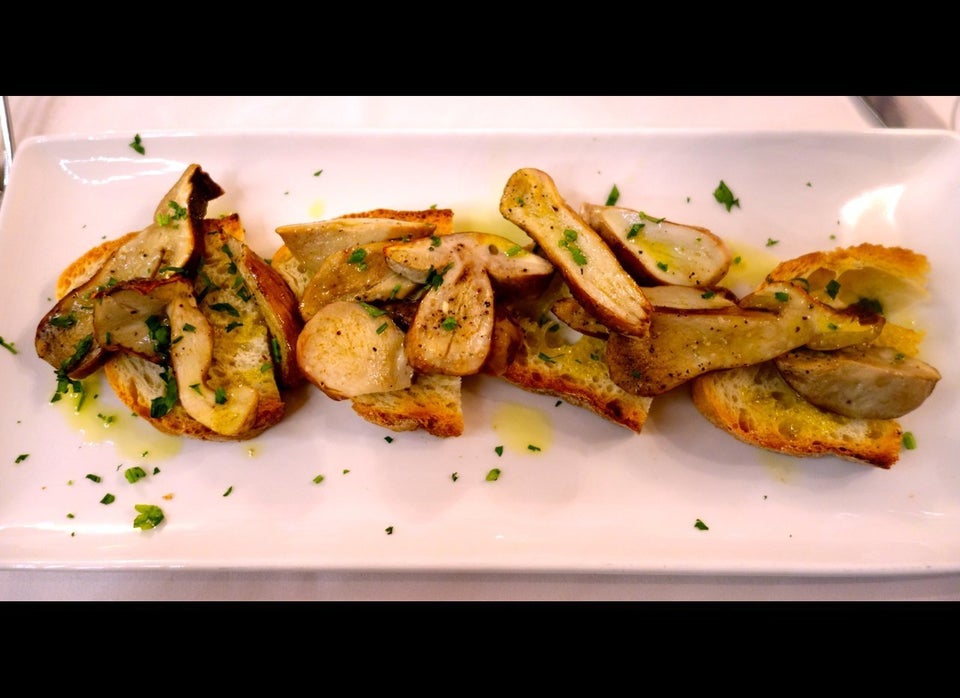 L'Angolino di Mirko. 3 via della Missione, 00019 Tivoli; +39 0774 312027; http://www.angolinodimirko.com; info@angolinodimirko.com. Closed Sunday evening and all day Monday. Our porcini cost €14 ($17) for a generous portion on grilled bread and €12 ($15) with fettuccine. A full lunch or dinner with a modest wine starts at around €25 ($31), but you'll probably spend somewhat more: There are many temptations.