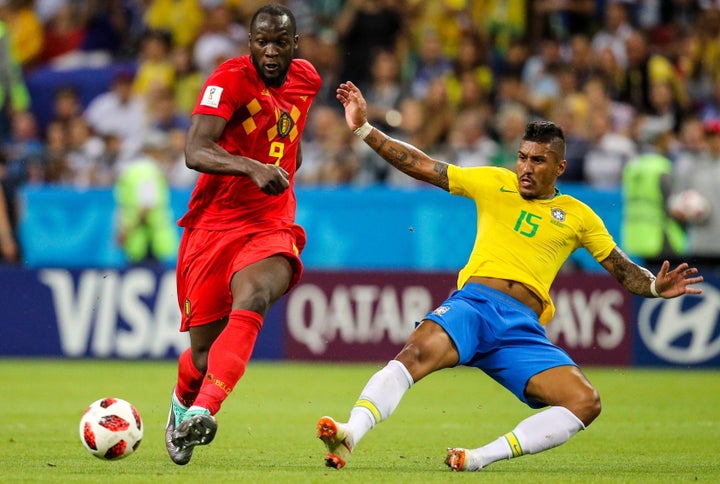 If you take one lesson from the 2018 World Cup in Russia, let it be one that the striker who wears No. 9 for Belgium's national team has been trying to teach soccer fans for years now.
Romelu Lukaku is brilliant.
Lukaku started his second World Cup appearance with two goals in Belgium's 3-0 win over Panama; he bagged two more against Tunisia in Belgium's second match of the group stage. He's the tournament's second-leading scorer and could still win its Golden Boot.
But his true brilliance as a footballer has emerged in the knockout stages, as Lukaku has steered Belgium to its first World Cup semifinal appearance since 1986 without finding the back of the net a single time. Lukaku and Belgium will take on France on Tuesday, with the Belgians' first-ever trip to a World Cup final on the line.
Here is the Belgian striker ― in red, at the bottom left of the screen when this GIF starts ― making a slaloming run that leads to Belgium's game-winning goal in its round of 16 match against Japan. It's a move that drags two defenders out of the play completely, that opens space for the two passes necessary to set up the goal, that includes Lukaku's daring dummy, when he passes up a shot, steps over a pass and allows the ball to run through to a wide-open Nacer Chadli. At no point in this sequence does he touch the ball.
Here is Lukaku, a few days later, turning the feet of Brazil's Fernandinho ― one of the world's better defensive midfielders ― into clay with a simple hip fake, then playing an inch-perfect pass to Kevin de Bruyne just as Paulinho slides in to try to break up Lukaku's one-man counterattack. Four seconds later, Belgium had a 2-0 lead that it would use to knock the pre-tournament favorites out of the World Cup.
In the coded language so often used to discuss sports, words like "brilliant" are typically reserved for players like de Bruyne and Eden Hazard, another of Lukaku's Belgian teammates. They are the sort of playmaking midfielders who dazzle fans and opponents alike with crafty dribbling and stylish play, or a sort of cerebral approach to the game that suggests they make up for what they lack in brawn with smarts and skills developed through long hours on the training grounds. They are dangerous not because of their overwhelming physiques but because of their guile and their craft. They are smart and they are brilliant, descriptors that in soccer, as in so many other sports, often means that they are white.
Contrast that with a player like Lukaku, the black Belgian son of Congolese immigrants whose quality is usually attributed to his sheer size and athleticism. At 6 feet, 3 inches and a shade north of 200 pounds, Lukaku is a giant by soccer standards. His qualities are natural, they say, the result of born athleticism rather than a studious approach to the game. To borrow one of soccer's worst cliches, reserved almost exclusively for black soccer players and all-black soccer teams, Romelu Lukaku supposedly beats his opponents not with his brain but with his "pace and power."
In England, where Lukaku has played his club soccer since moving from the Belgian league to Chelsea in 2011, that pace and power must explain his success, because for English pundits the possibility that intelligence and brilliance are part of the equation has never seemed possible. His club move from Everton to Manchester United last summer was panned by opposing managers and pundits who relied on the same old stereotypes.
Lukaku lacked "cleverness," according to longtime Premier League manager Alan Pardew. He was "not bright enough to play with Eden Hazard and Cesc Fabregas" at Chelsea, former player Paul Merson claimed. "I would always prefer an intelligent player in my team," a European journalist said of Lukaku in criticizing United's new signing. "Even if he doesn't score as many goals, even if he doesn't do whatever he needs to."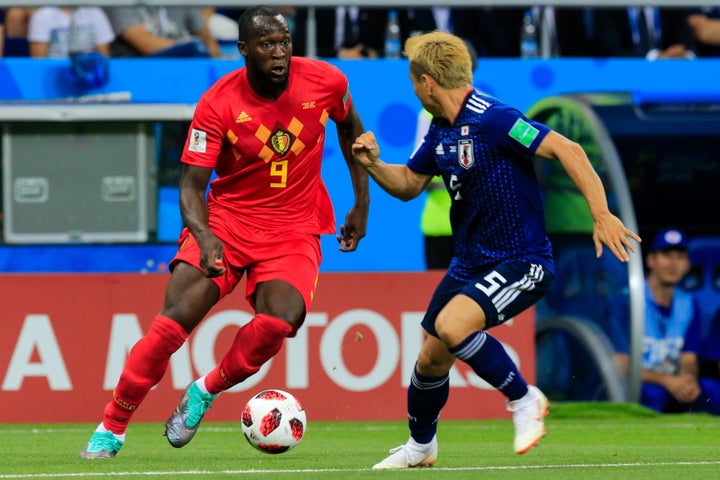 But watch those attacking moves again. Lukaku's speed and size mean something, of course, but not nearly as much as his smarts and his skills. It is not natural athleticism that gives him the ability to see how a play might unfold 40 yards early and then make the runs necessary to force that play to unfold exactly the way he envisioned. It is not strength that allows him to turn one of the world's best defensive mids inside-out and then follow that with a sublime pass that he makes look routine. That is the work of a player for whom speed and athleticism are components of his game, not the definitive qualities of it.
Here he is, between those knockout stage matches, answering a question from a reporter in nearly perfect Portuguese:
During the same press conference, Lukaku answered questions in Spanish, Dutch and French, too. He did an English-language interview with The Players Tribune before the World Cup. Lukaku also speaks the Congolese language of his parents and can reportedly understand German. He picked up Portuguese from a teammate during his short spell at Chelsea, as he explained after answering yet another question in the language following Belgium's win over Brazil.
As for that match, it was Lukaku who laid out Belgium's counterattacking game plan for de Bruyne and Hazard, because his previous time under manager Roberto Martinez gave him the intimate understanding of Martinez's tactical plan for scuttling Brazil. Lukaku wasn't just an integral player, he was a second manager on the pitch ― a quality Martinez recognized in his striker when he managed Lukaku at Everton.
"The first time I spoke with him I realized that he was not a typical center forward, power whatever," Martinez said of Lukaku in 2013. "He is a thinker. He is a really knowledgeable man ... and is someone who looks at games in a very different way. He is like a manager in the way that he looks at movement. He speaks about games that he's seen, different moves ― not the normal conversation that you would have with an ordinary 20-year-old footballer, believe me."
Lukaku's size and strength have been major parts of his story since he was young: As a youth player, he often had to show his ID to skeptical parents who couldn't believe he was the same age as their comparably diminutive sons. But Lukaku did not become one of only five players in Premier League history to score 50 goals before his 23rd birthday on sheer size and athleticism alone, and he has not dominated this World Cup that way either. To reduce his game, now, to something as banal as "pace and power" (as some still want to do) is to miss so much of what makes Lukaku one of the world's most captivating players, to fail to appreciate what has made Romelu Lukaku one of this World Cup's most brilliant players.