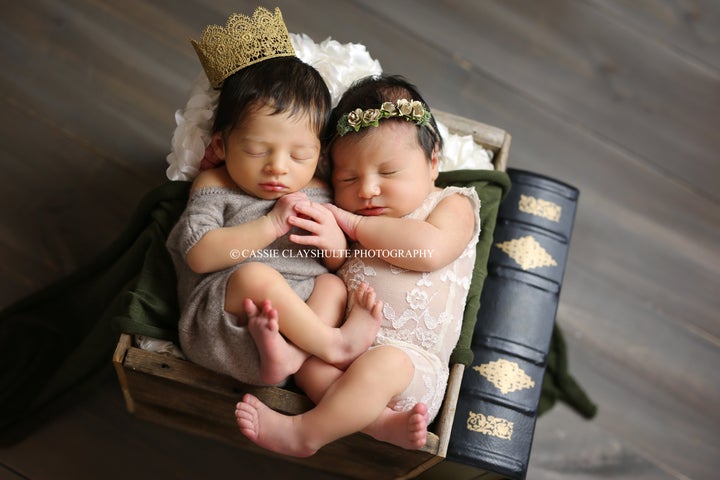 Two babies born 18 hours apart in the same hospital made headlines last week when they were coincidentally named Romeo and Juliet.
Romeo Archangel Hernandez was born at 2:06 p.m. on Sunday, March 19 at Coastal Carolina Hospital in Hardeeville, South Carolina. Juliet Evangeline Shifflett appeared on the scene 18 hours and 8 minutes later, at 8:14 a.m. the following morning.
Although the parents were in adjacent rooms, no one made the connection until newborn photographer Cassie Clayshulte spotted the babies' names. After coordinating with both sets of parents, she proceeded to take some adorable photos of them together at the hospital.
Now that the babies are both home with their families, Clayshulte arranged a themed newborn shoot as a nod to their Shakespearean names.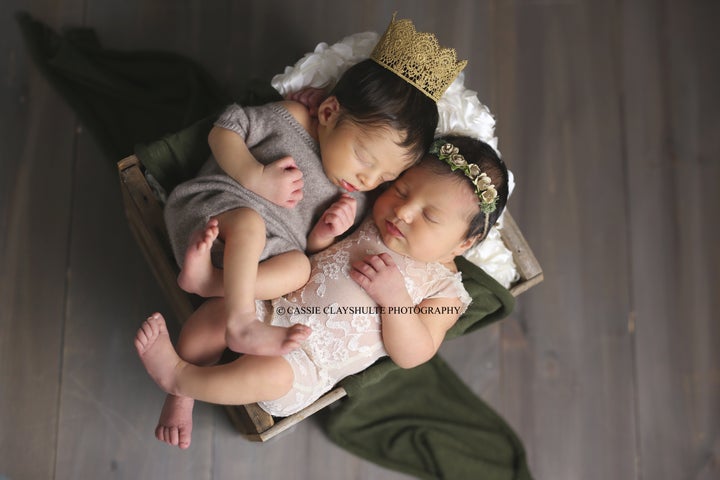 "I had been thinking about doing a little themed shoot for them since their first photo was taken in the hospital, but I wasn't sure how I was going to style a newborn Romeo and Juliet shoot without it looking a little bit cheesy or morbid because of the way the story ends and because newborns are typically asleep for their session for safety reasons," Clayshulte told The Huffington Post.
Though the photographer was hesitant to suggest the idea due to concerns about negative online comments, she was thrilled when the parents reached out to her requesting a Shakespeare photoshoot and promised to do her best to keep internet trolls at bay.
"We didn't want to do an overly themed shoot, just a little session of the two of them with a Shakespearean feel," Clayshulte explained. The photographer makes her own props, backdrops and outfits. She selected a lace romper and made a floral crown for Juliet, and Romeo's mom chose a brown romper from a few options Clayshulte presented. The artist also created Romeo's crown.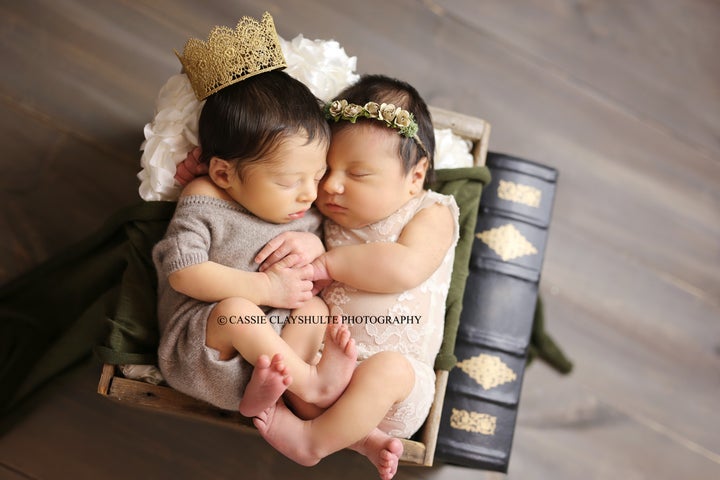 The day of the shoot was very joyful. "Romeo and Juliet were content through their shoot! They were so happy and comfy snuggling each other!" Clayshulte said, adding that it was great to see the two families, who have become friends since meeting at the hospital.
The finished product turned out wonderfully as well. "The parents and I love the photos and could care less what the trolls of the internet think," said the photographer. "And yes, we know how the story ends, and we don't care because guess what, this isn't the 1300s."
Popular in the Community