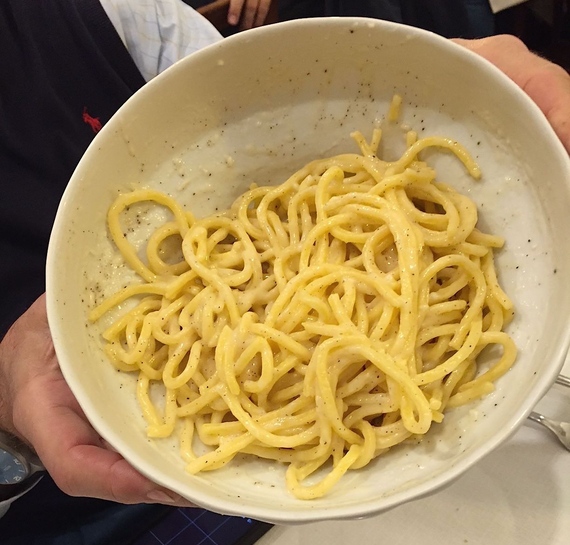 Romans favor the same restaurants and dishes they always have, and everyone will have an opinion as to which restaurant serves the best pasta, the freshest seafood or the most flavorful lamb. Still, new restaurants do open that help diversify the city's dining scene. Here's a some of my favorites.
L'Hostaria Romana
via del Boccaccio 1
http://www.hostariaromana.it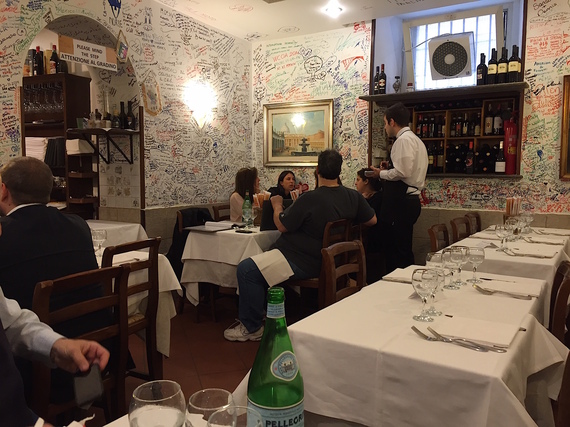 L'Hostaria Romana, not far from the Trevi Fountain, is a no-frills trattoria begun sixty years ago and run since 1979 by the Camponeschi family. The upstairs room overlooks the narrow street; downstairs is an odd, windowless, brightly lighted room whose only décor is the thousands of graffiti left by satisfied customers over the years, which, in any other city, would make the place seem positively hipster.
The menu is fairly lengthy, with all the old Roman dishes, like bucatini all'amatriciana, spaghetti alla carbonara, tonnarelli cacio e pepe, and ravioli ricotta e spinaci--generous tangles of color, rich with butter, pecorino, tomato, pancetta, and eggs, the pasta truly al dente--brought with dispatch to the table piping hot, the aroma in the room smelling of honest cooking.
A couple can have a three-course meal with wine (tax and service are always included in the menu prices) for under $100.
LA MATRICIANELLA
Via del Leone, 4
+39 06 6832100
http://matricianella.it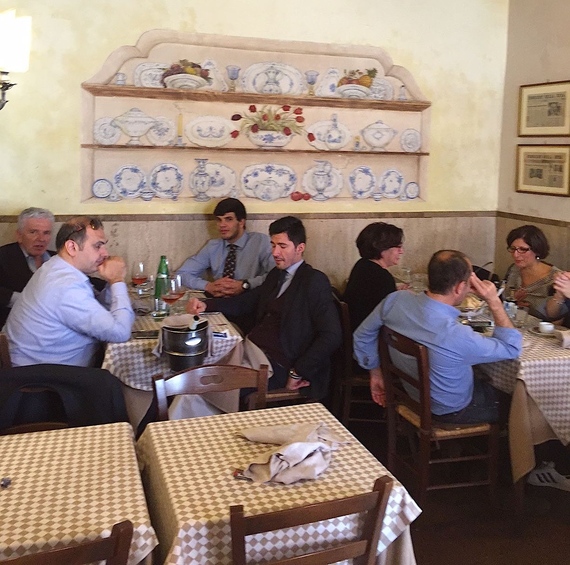 La Matricianella, near the Piazza Borghese, has been around since 1957, and brother-and-sister Giacomo and Grazia Le Bianco welcome tourists with the same affability they do their Roman regulars, all of whom sit inches from one another at old tables with checkered cloths to feast on solid Roman cooking, with an emphasis on twelve delicately fried foods like artichokes alla giudia, zucchini flowers, baccalà and much else.
There are as many lusty pastas, including rigatoni with what we'd call chitlins, and excellent, creamy carbonara, tagliolini with truffles, and tonnarelli with radicchio, most of them costing 11 euros (about $12).
The wine list is one of the most comprehensive in the city. There is also a cramped outdoor terrace, though there's not much to look at besides the throng of international and local customers and the Fiats and Vespas sprawled across the curb.
DA GIOVANNI
via Lungara 41A
+39 066 861514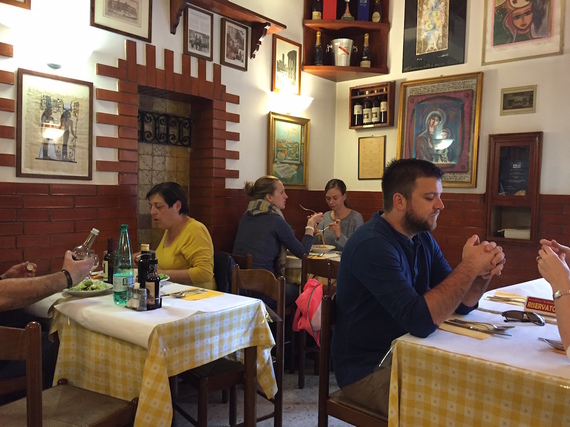 Trastevere (across the Tiber) neighborhood almost comes as a shock when you find yourself winding your way through clean, quiet streets with far fewer tourists. Trastevere is an oasis amidst the honking chaos of Rome.
On my recent trip I arrived early to find Da Giovanni almost empty--it only has about six tables; it's pretty much a two-man show--the amiable owner who waits on every table and the cook in the back. The premises are cheerful enough, spruced up a bit since opening in 1951, with a menu posted outside.
You sit, the owner comes over, he gives you the menu and a choice of red or white Castelli Romani wines, all five to seven euros. You may want to order everything as you chew on the good bread with olive oil. All the pastas, four of them, are delicious, many lavished with a long-cooked tomato-and-meat ragù, on fettuccine and ravioli; there's also spaghetti with tuna. The roast rabbit is excellent, tender and suffused with rosemary, and the roast pork pink and tender. Spezzatino is a mushroom-rich meat stew.
The bill comes: Pastas five to six euros, main courses five to seven.
Da Giovanni is hardly alone in Trastevere for its down-to-earth local flavor and atmosphere, but even among competitors, it would be hard to beat Da Giovanni's prices.
ZUMA
Palazzo Fendi
Via della Fontanella di Borghese, 48
+39 06 992 666 22
https://www.zumarestaurant.com/zuma-landing/rome/holding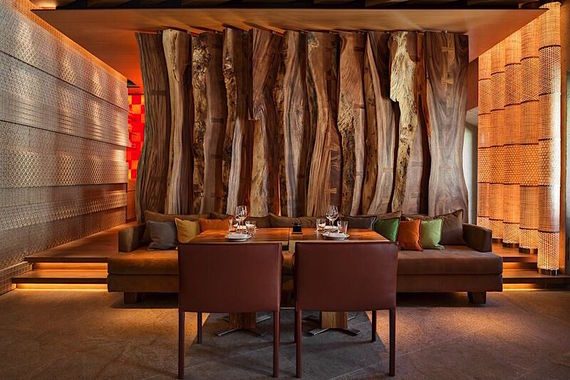 An argument can be made that it's difficult to get tired of eating Roman food in Rome, but the city does have other kinds of restaurants, not least a growing, if small, number of Japanese sushi spots. Raw fish, in Italian called crudi, has become fashionable, and there is currently no more fashionable place to find it than at ZUMA in the glamorous and very chic new boutique hotel Palazzo Fendi, owned by the Fendi fashion house.
ZUMA is actually the tenth of a very upscale chain opened by creator and co-founder Rainer Becker in 2002. Set on the fourth and fifth floors, with plenty of soaring wood, glass and stone, the restaurant is already being filled with fashionistas, models and tourists who have a chance to show off their new purchases on the Via Condotti.
Three different cooking styles are featured at ZUMA--the main kitchen, with an array of cooked and raw dishes, the sushi counter and the robata grill; upstairs is a beautifully lighted bar and lounge. On the night I visited I chose from all over those menus, with all dishes presented with an eye towards color and the texture of the serving surfaces, which range from artisanal china to polished stones and ceramic pottery.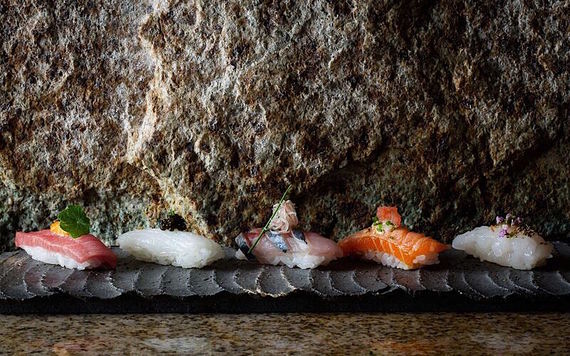 (Photo by David Carey)
For such a large menu, the food came out at a civilized tempo and temperature, including the warmth of the rice with the glistening sushi, the barely seared robata wagyu beef, and dishes in savory broth. There are about a dozen sushi offerings, ranging from yellowtail and turbot to freshwater eel and jumbo prawns, at 4 to 16 euros. The crisp, hot tempura of gamberetti (15 euros) comes with chili tofu and wasabi mayonnaise, while signature ZUMA dishes include black cod in miso (36 euros), and something you're not likely to find elsewhere around Rome--glazed baby back ribs with cashews and scallions (23 euros).

ZUMA has also managed to keep its prices in line, and this being Italy, the high quality of the ingredients is assured, so that ZUMA is not an alternative to other seafood restaurants in Rome, but a departure and innovator that's getting a lot of good looks from anyone who appreciates fine seafood and global glam.