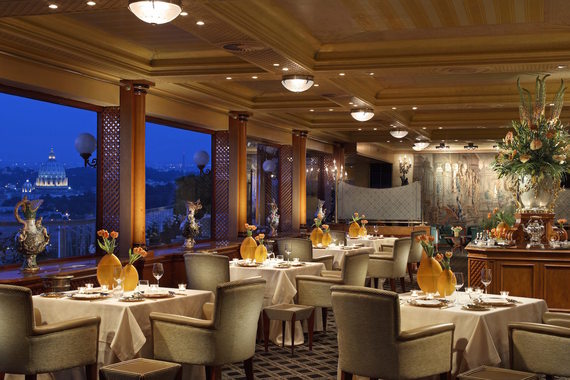 LA PERGOLA
Via Alberto Cadlolo 101
011-39-06-3509-1
Romecavalieri.com
Sprawling across the broad terrace floor of the Rome Cavalieri Hotel, La Pergola is easily one of the most romantic restaurants in the world, purposely lighted that way and configured so that simply walking through it puts you in mind of all the sweeping American-in-Rome movies of the 1950s--"Three Coins in the Fountain," "A Light in the Piazza," "Roman Adventure," and "Roman Holiday."
You wind your way through La Pergola, immediately stunned by the view, with Michelangelo's dome of St. Peter's Basilica shining white in the distance, and you notice the impeccably set tables are wide and well-spaced from one another; the handsomely dressed captains and waiters part the way as you walk toward your table, and may point out the artwork that includes a rare Aubusson tapestry, Sèvres porcelain, and an 18th Century bronze candelabra; china and silverware are vermeil-gilded.
You are presented with warm breads that include the best focaccia you'll ever taste as you peruse a wine list of astonishing breadth and depth--3,500 labels and 60,000 bottles, all under the eagle eye of Marco Reitano.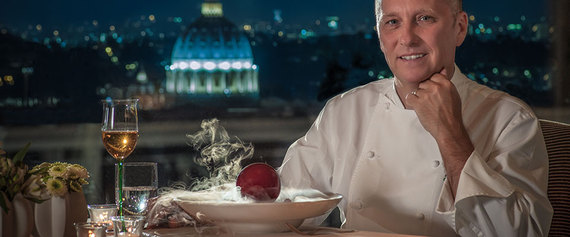 Executive Chef Heinz Beck, here since 1994, has held three Michelin stars for years. He is German, married to a Roman, and he combines his love of global cuisine with his passion for Italian. There are some modernist tricks up his sleeve and a nod towards the molecular, as evidenced by the number of well-out-of-the-ordinary kitchen appliances.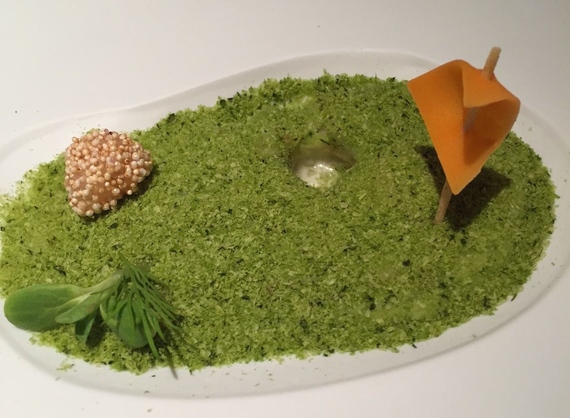 His cooking always shows whimsy but is always backed by good taste. Every dish that comes to the table is the result of intense experimentation resolved only when perfected. There are eccentricities, like making a powder from foie gras and crafting a dish called "Hole 18" to look like a golf course. But what sounds odd becomes a revelation, like his cod on kidney beans with iced parsley snow; the idea of a "Composition" of John Dory, squid and prawns treated to a citrus fruit steam adds amazing flavors, each morsel of seafood individually cooked till tender.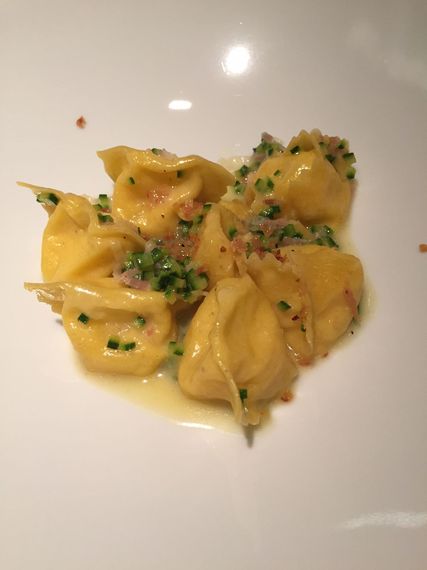 More traditional dishes, like rabbit tortellini with an essence of peas and broad beans, outshine similar dishes anywhere else, as does the classic, very simple spaghetti cacio e pepe, commonly made with nothing more than cheese and pepper, which here takes on briny nuance from the addition of lime-marinated white shrimp. A Mediterranean-inflected loin of lamb is crusted with fennel in a cereal crust, with goat's cheese pearls. Desserts, as you might imagine, are final flourishes like cannelloni filled with salty pine nuts and Chantilly cream.

Clearly, anyone seeking the pleasures of Roman food is likely to find Beck's cuisine idiosyncratic, even strange. But as you linger over coffee and bon bons brought to you in a Sterling silver chest of drawers, finding yourself satisfied but not sated, you'll look out again at the blue-black night sky of Rome and you'll know just how unique your entire evening has been.
La Pergola offers a 10-course tasting menu at 230 euros, as well as à la carte. Dinner only.


IMÀGO Piazza Trinità dei Monti, 6
+39 06 699340
Hotelhasslerroma.com

As does La Pergola, Imàgo sits within a great hotel, The Hassler, from whose sixth floor you look out over a gorgeous panorama that takes in Santa Maria Maggiore, San Giovanni in Laterano, the Quirinale, the Victor Emmanuel II, Pantheon, the Trinità dei Monti Church and Spanish Steps, with St. Peter's glowing like a holy beacon in the moonlight. The dining room epitomizes contemporary Roman elegance and has hosted every international movie star, potentate and magnate imaginable, including Jackie and John Kennedy back in 1963.
You come off the elevator, see the glassed-in terrace across the room, with its inlaid marble floors, Doric columns, soft ceiling lights, antique vases, upholstered armchairs, tables topped with thick white linens and red roses or tulips, exquisite silverware and china.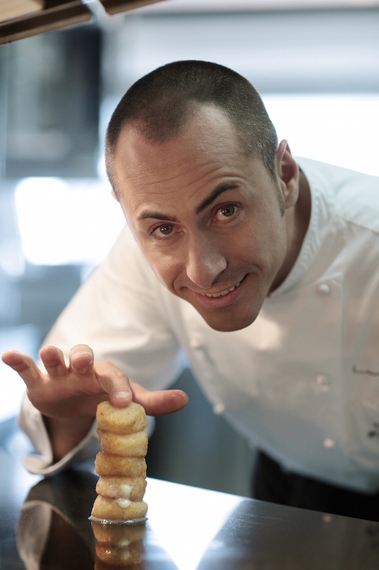 Naples-born Head Chef Francesco Apreda creates menus in constant evolution--he's held a Michelin star since 2009--grounded in Roman cuisine but boldly married to Asian flavors and cooking techniques, like octopus and seaweed with a spice he calls "uma-mia"--an Italian pun on the vague idea of umami.
Thus, even a classic Roman dish of penne all'arrabiata is melded with a Mumbai blend of spices. Soy vermicelli are graced with an amberjack sauce, while silky black cod is glazed with sake and served with purple vegetables. Tandoori-roasted duck breast comes dusted with cocoa powder, while rigatoni pasta adds shiso to a traditional pesto, as well as bacon and pecorino cheese mimicking a Roman carbonara.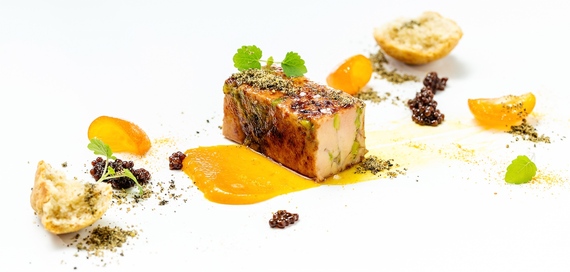 Given his birthplace, Apreda can be expected to revel in food from his home town but always with a twist, as in a Neapolitan sfogliatella "Samosa" style, green tea ice cream. He even evokes a New York cheesecake, with a "Big Apple" sour blend.
Imàgo's wine list is one of the finest in Rome, running to 51 pages and 1,100 labels. You may have a pairing of six glasses with your dinner, arranged by sommelier Alessandro Crognale.
Like his colleague Heinz Beck, Apreda is not making a cuisine intended for the traveler who is merely interested in Rome's traditional culinary culture. You have to open your mind to the way his works in an international style full of color, texture, contrasts and provocations, without straying over the line into fluttering sensationalism.
Imàgo, in Italian, does not just mean "image." It is more poetical, with connotations of singularity, and a reflection of all The Hassler and this extraordinary restaurant stand for in every detail.

Imàgo offers two tasting menus at 130 euros and 150 euros and a vegetarian menu at 120 euros. Dinner only.