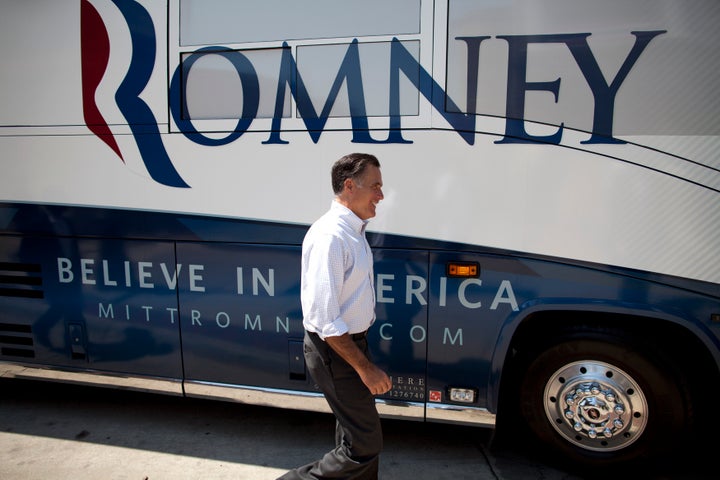 As part of his swing through Michigan on Tuesday, Mitt Romney and his wife, Ann, did several sit-down interviews with local television stations. And, as usually is the case in the Wolverine State, the governor was pressed to explain his sometimes-tortured position on the bailout of the automobile industry.
"My policy had the same objective as the people in Detroit: I wanted to see the auto industry thrive and grow, and felt it needed a managed bankruptcy to be able to do so. It took the president a little longer to come around to that way of thinking," Romney told WOOD TV8, according to a portion of the interview the network previewed. "He ultimately took the auto industry through bankruptcy. They went through that process. And now, with support they have received from government and the American people, they have come back strong. That's a good thing. I would have done it faster than he did and saved us about $20 billion."
This isn't radically new terrain for Romney. He's insisted throughout the 2012 campaign that the government never needed to bail out the auto companies, just shuttle them quickly through managed bankruptcy. But the argument ignores the role that government funds played in keeping those companies intact so they could make it to the managed bankruptcy process. And Romney certainly glossed over (once again) the fact that the Bush administration also participated in the bailout.
In another portion of the WOOD interview, Romney turned again to the auto industry, this time to make the case that it could be doing better.
"I'm not going to cause the entire economy to drop into a decline because of too dramatic or too drastic a cut," he said. "But some things have to be pulled back and at the same time you've got to create incentives for small business as well as big business to start hiring again and growing again. The auto industry for instance, I want to make it good for American people to buy cars again. I want to see the domestic auto industry -- it's doing pretty well now -– I want to see it get stronger and stronger, put more people to work."
According to a February Forbes article: "Since GM and Chrysler emerged from bankruptcy in June 2009 the auto industry has added 115,000 jobs." In March, meanwhile, roughly 10 percent of the jobs added to the economy came from the auto and auto-parts sector.
Popular in the Community