In short, Big Bird is a job creator. Hear him squawk!
Sesame Workshop, the nonprofit that produces the show "Sesame Street," made $46.9 million in revenue from licensing Big Bird, Elmo, the Cookie Monster and other characters in 2011, according to financial statements. This money helped pay the salaries of 1,320 employees.
The former Massachusetts governor cited job creation as his reason for wanting to cut programs like the Public Broadcasting Service (PBS), which airs "Sesame Street" in the United States. Slashing certain programs would help pay for tax breaks and stimulate hiring, he said.
"I like PBS. I love Big Bird," Romney said. "But I am not going to keep spending money on things [we have] to borrow money from China to pay for.
Though Sesame Workshop is a separate organization from PBS with its own revenue streams, it depends on the channel to distribute its programming for free to all families, including those who can't afford cable or satellites, said Sherrie Westin, Sesame Workshop's executive vice president, in an interview.
"[PBS] is especially important in a time when 33 percent of students arrive at kindergarten without basic skills," said Westin. "We've been a partner of PBS for 43 years and highly value their ability to connect Big Bird and friends with America's preschoolers."
Romney's comments sparked a social media rally in support of Big Bird. On Facebook, the character's name was mentioned more times than words like "Obamacare" and "taxes" during the debate.
Toy business experts say that Big Bird and other "Sesame Street" characters are profitable enough not to need loans from China. Hasbro, the toy company behind Muppet Monopoly and Let's Rock Elmo, generates $70 to $75 million a year in revenue from "Sesame Street" properties, estimates Gerrick Johnson, an analyst at BMO Capital Markets. Elmo makes up the largest percent of these sales, with Grover, Bert and Ernie and Big Bird bringing in increasingly smaller percentages, Johnson said.
"If the show ["Sesame Street"] weren't on TV, no one would know these characters," said Johnson. Still, the toys would continue to generate revenue if "Sesame Street" aired on Nickelodeon or another station instead of PBS, he noted. Hasbro, based in Rhode Island, employs 5,900 people, 3,200 of which are in the United States.
Big Bird's popularity also generates sales -- and jobs -- at small businesses like the ones mentioned by Romney at Wednesday's debate. American Plume & Fancy Feather Co. in Scranton, Penn. sells $12,000 to $15,000 a year worth of yellow feathers that go into making the world's Big Bird costumes.
"Our business is incredibly intricate and labor-intensive," said Anthony Trento, 64, who inherited the 91-year-old company from his father and grandfather. Feathers are first collected from the rear ends of turkeys at slaughterhouses, then shipped to China where they are parried (or de-boned) and dyed yellow and gold. It takes ten full-time workers a whole month to produce the feathers for a single Big Bird costume, Trento said, noting there are currently about ten Big Bird costumes in the world.
"Whenever someone asks me what I do for a living, I always mention Big Bird," said Trento, who also makes feathers for costumes worn by casino dancers and for costumes in movies such as "Chicago."
"He's relatable," said Trento. "If companies like mine didn't exist, there wouldn't be any Big Bird."
Fifty years ago, American Plume & Fancy Feather employed 100 people in Pennsylvania. Today, it employes only four and has developed partnerships with suppliers in China in order to survive. No economic policy, be it Obama's or Romney's, could bring those jobs back from overseas, said Trento. "Imagine what you'd have to charge for a Big Bird made in the United States," he said. "No one is going to pay $100,000 for a costume."
Trento, who calls himself "very conservative," will be voting for Romney in November. He said he relates to him as a businessman. But even if Romney kills PBS, Big Bird will survive, Trento believes.
"Political talk won't stop Big Bird," he said. "It's a business, and a lucrative one. As long as kids don't become disinterested, Big Bird will be around."
Related
Before You Go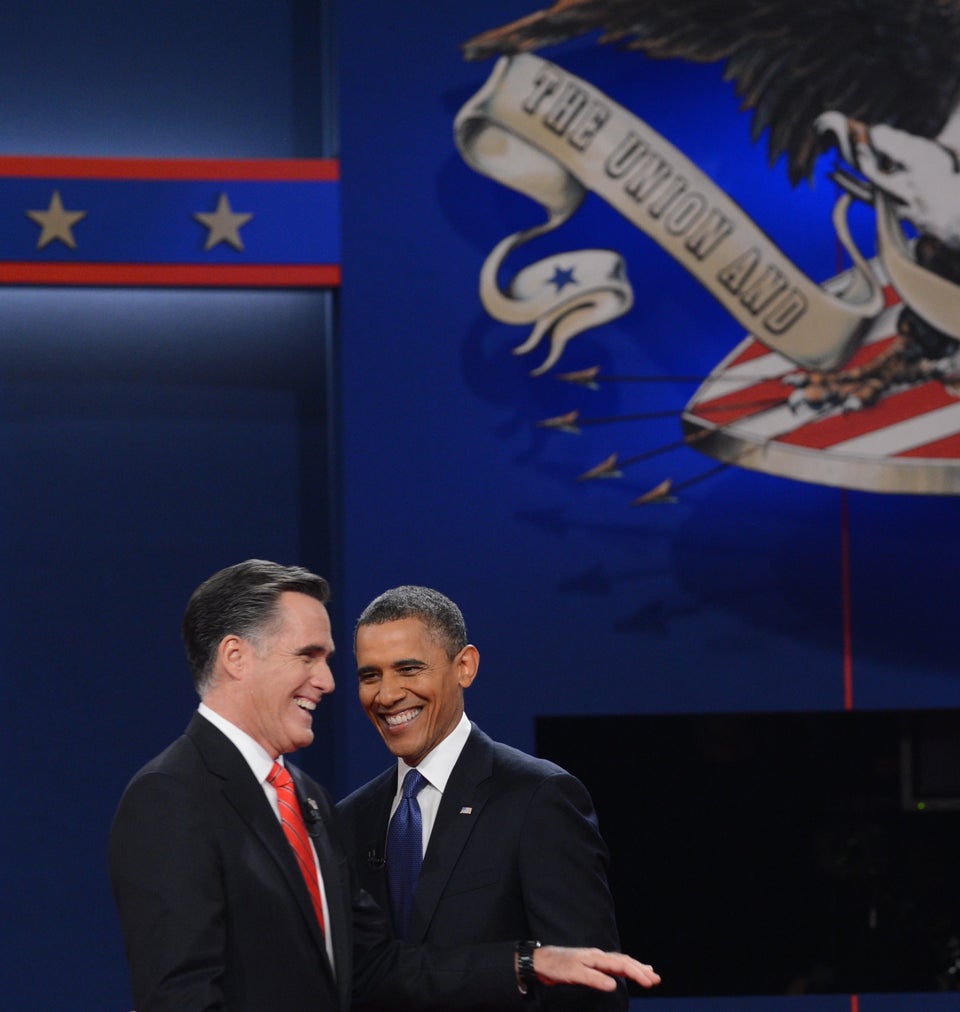 Presidential Debate
Popular in the Community