 BOSTON - Advisers to Mitt Romney on Friday said that President Barack Obama has diminished the presidency with his attacks on the presumptive Republican nominee, and defended their own questionable ads by saying they are part of a campaign that's "based on issues."
"We are betting that a substantive campaign, conducted on the high ground, and focused primarily on jobs and the economy, will trump a campaign that is designed to appeal to our worst instincts," Eric Fehrnstrom, a senior Romney adviser, told reporters at the campaign headquarters.
Fehrnstrom said the Obama campaign has made "unbelievable exaggerations that diminish the office of the president and insult the American people" and said the Democrats' campaign is "based on personal attacks."
"They are accusing the governor of being a felon. They are accusing him of culpability in killing a woman. These attacks are so outrageous and over the top that it has squandered one of the most vital attributes that Obama had," Fehrnstrom said.
The purpose of the briefing was to run the press through polling data in the four states Romney will tour on a campaign bus over the next few days: Virginia on Saturday, North Carolina on Sunday, Florida on Monday and Ohio on Tuesday.
But most of Fehrnstrom's energy was focused on denouncing Obama. He insisted that the president has "squandered one of his key attributes: that he was a different kind of politician who was going to take us to a better place."
He focused on an ad released this week by a super PAC supporting the president that showed steelworker Joe Soptic speaking about his wife's death from cancer.
In the ad, Soptic recalls being unable to afford health insurance for his wife after losing his job and health benefits when the steel plant where he worked was closed by Bain Capital in 2001. Soptic goes on to say that financial burden he faced while unemployed may have caused his wife not to seek treatment sooner.
"When you start running ads accusing your opponent of killing people then you have lost your credibility," Fehrnstrom said, conflating the super PAC, Priorities USA, and the Obama campaign. "I don't think a world champion limbo dancer could get any lower than the Obama campaign right now."
Asked about the Romney campaign's widely discredited attacks on Obama for waiving the work requirement in welfare assistance, Fehrnstrom insisted that this was a criticism of Obama's policy-making.
"We're waging a campaign that is based on issues. And for instance, we're taking issue with the president's recently announced change in the welfare to work requirement. Now they have their own argument in favor of what they've done, and they make that argument aggressively. This is what campaigns are about. We go back and forth over the issues," Fehrnstrom said. "They did promulgate a rule. It deserves to be looked at and examined. But that's not the type of campaign that Obama is running."
In response to the comments, Obama campaign spokeswoman Lis Smith accused Fehrnstrom of "faux outrage over an ad run by an outside group separate from our campaign."
Smith said Fehrnstrom's complaints rang "extremely hollow."
"Mitt Romney won the Republican primary only by tearing down each of his opponents with ruthlessly negative campaigning, including ads funded by outside allies. His campaign has questioned whether the President understands what it is to be American, attacked his patriotism, and is currently running an ad that a former president and authors of the welfare-to-work legislation have called a flat-out lie," Smith said.
"When the Romney campaign finally reaches the high ground, we look forward to greeting them there," he added.
White House Press Secretary Jay Carney on Friday responded to questions from reporters about why the president had not condemned the Priorities USA ad.

"We do not control third-party ads," Carney said. "What this president is focused on is what he can do as president and what his message is about what our economic can be and should be as he campaigns around the country."

Carney then took aim at the Romney campaign for an ad about Obama's policy positions on welfare assistance which he called "categorically false and blatantly dishonest." Carney also pointed out that the Romney campaign spent "millions and millions of dollars" on its ad, while the Priorities USA ad was not financed by the Obama campaign.

Carney added that he did not know if Obama had seen either of the ads in question.
Jennifer Bendery contributed to this report.
This story has been updated to include comments from the Obama campaign.
Before You Go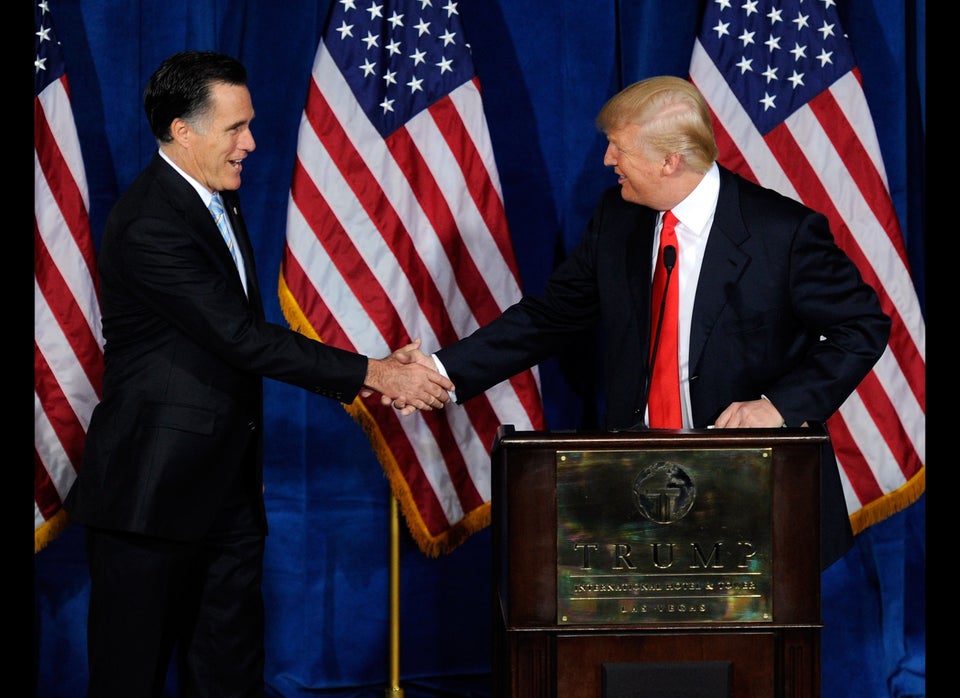 Mitt Romney's Greatest Hits
Popular in the Community