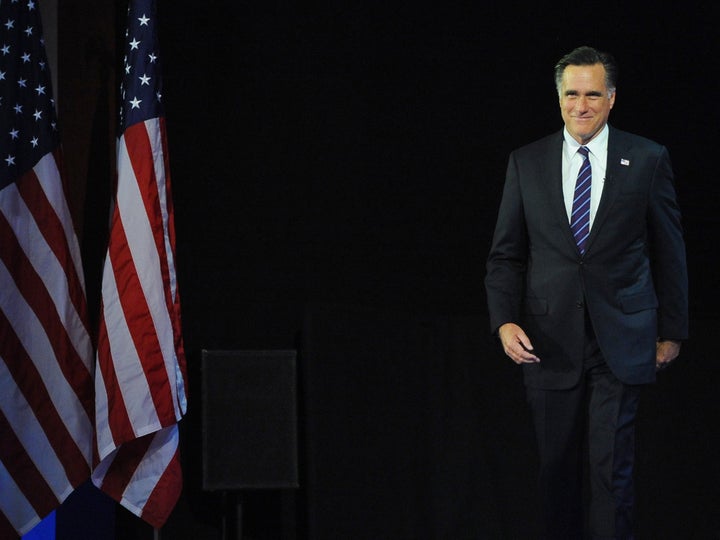 WASHINGTON -- In the end, there were winners on the Romney campaign: the firms tied to Mitt Romney's aides.
With the Federal Election Commission posting the most recent 2012 campaign finance reports, a clearer picture has emerged as to how the Republican presidential nominee spent the hundreds of millions of dollars he raised. It quite literally paid to be part of the Romney universe.
American Rambler, a media firm with ties to Stuart Stevens, Russ Schriefer and Eric Fehrnstrom (all media strategists for Romney), received more than $234 million in payments from the campaign. That total included nearly $189 million for "placed media" and $16 million for "online advertising" -- the actual costs of buying airtime and space on the Internet. When the firm bought television ads, FCC filings state that it received a 15 percent commission on those payments. Campaign officials stated that the commission fees went right back into the campaign. [updated below]
The firm made plenty of dough doing other things as well. There was $9.1 million for polling, $8.67 million for strategy consulting, $8.8 million for media production, nearly $2.4 million for communications consulting and $548,000 for "media placement fees."
Spencer Zwick, Romney's finance chairman, saw two of his companies accumulate hefty checks during the election. SJZ LLC took in a total of $9.76 million from the Romney campaign and the Romney Victory Fund, and Victory Group 2012 received $19.25 million from the Romney Victory Fund for fundraising consulting.
Another big winner was Targeted Victory, an Internet strategy firm co-founded by Zac Moffatt, an adviser to the Romney campaign. The firm was paid just under $94 million from the Romney Victory Fund for "digital consulting" and "web development" (the total likely includes the cost of placing online ads).
FLS Connect, a telemarketing and data management firm where Romney's political director, Rich Beeson, once served as a partner, received more than $18.26 million from the campaign and the Victory Fund. Much of that money went to telemarketing, but because the campaign often listed "data management" alongside telemarketing as the service performed by the firm, it is impossible to get a clean breakdown. A Republican powerhouse, the firm has become the focus of post-campaign complaints from conservatives warning about the "incestuous" nature of GOP politics.
WWP Strategies, a consulting firm where Romney's deputy campaign manager, Katie Packer Gage, serves as a partner, received more than $2.9 million. The vast majority ($2.17 million) was for direct mail; the rest went to strategy consulting.
Other firms without direct ties to Romney's aides also made out quite well. SCM Associates, a New Hampshire-based Republican fundraising and direct mail firm, received more than $50 million from the campaign and the Victory Fund combined. Much of that total paid for mailing, printing and postage fees, but a large amount ($37 million) went to direct mail consulting.
The totality of these payments to firms affiliated with Romney aides raises questions over how Romney managed the massive amount of money he raised and whether he spent it wisely. For instance, the campaign and Victory Fund spent more on outside fundraising consulting and fundraising services alone ($29.8 million) than they did on their own payroll, payroll services and payroll taxes combined ($25 million).
They also spent heavily on the use of corporate or charter jets -- in total, more than $16 million. Even in those cases, the cash seemed to find its way back to individuals with connections to the candidate. Easterly Capital, a limited liability corporation registered to Romney's chief financial officer, Bradley Crate, received more than $1.58 million for the use of its jet.
Requests for comment from two former Romney aides were not immediately returned. When the Los Angeles Times first reported on the tendency of Romney to send business to the firms associated with his aides, his spokesman Ryan Williams defended the payments, noting that they included money for services like "polling, video production, political mail, get-out-the-vote phones, online advertising, website development, and budget and compliance management, among other things."
UPDATE: A former Romney campaign aide emails in to state that the 15 percent agency commission charged by American Rambler on the ads it purchased didn't go to the hands of the firm's consultants. Rather, the money was sent back to the Romney campaign which had set up Rambler.
"It can be confusing because standard TV billing includes the agency commission but in this case the "agency" is American Rambler, which is the Romney campaign," said the aide. "No commissions were paid on ad buys."
A second campaign official confirms that while FCC filings state there was a 15 percent commission paid on the ads, American Rambler was "paid a flat fee for our services."

This story has been updated to reflect that not all Romney strategists ran American Rambler
Calling all HuffPost superfans!
Sign up for membership to become a founding member and help shape HuffPost's next chapter
BEFORE YOU GO
PHOTO GALLERY
Romney's Objectively False Statements